It is increasingly possible, if not yet probable, that Donald Trump will be the Republican Party's candidate in next year's US presidential election. It is possible because he has clearly captured the imagination of many party stalwarts, but equally because none of the more mainstream candidates appear to have much traction.
Six months ago it appeared that the 2016 election would be a battle between the Bush and Clinton dynasties. That might yet be the case. But Jeb Bush, despite his ability to raise campaign funds, has been an uninspiring campaigner and is distrusted by many in his party.
The changing nature of both parties
The pragmatic business-oriented men who have largely controlled the Republican Party are increasingly being supplanted by populists who are primarily interested in wrecking government and preventing any of President Barack Obama's initiatives. Their leader in the House of Representatives, Speaker John Boehner, recently resigned out of apparent frustration at his inability to hold the party together.
Currently, surgeon Ben Carson is Trump's closest rival in the polls. His policies, if not his style, are even more extreme than Trump's. He supports a 10% flat tax and describes the climate change debate as "irrelevant".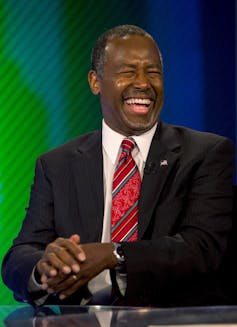 In the winner-takes-all logic of first-past-the-post voting, the only way for a more moderate Republican to win early primaries is for the field to narrow, leaving someone like Bush or perhaps Ohio Governor John Kasich as the clear choice against Trump and Carson. Rick Perry and Scott Walker have already withdrawn, but these departures from the race have not been enough to build a coalition around one clear contender against Trump.
At the same time, Hillary Clinton – who early in the year seemed to be heading for a Democratic coronation rather than a contest – is struggling, both against the self-described socialist Bernie Sanders and, more significantly, against the possibility of Vice President Joe Biden making a run.
Sanders' real support will decline once larger states vote in the primaries next year. But Biden, who is yet to declare his intentions, is a more realistic prospect to win Democratic Party support.
The baby boomers' last hurrah
The current race might well be described as the last hurrah of the baby boomers.
Clinton (born 1947) is challenged by Bernie Sanders (1941) and possibly by Biden (1942). Trump (1946) is their contemporary, while Carson (1951) and Bush (1953) are also over 60. Florida senator Marco Rubio's (1971) attempt to win support as the voice of a new generation has had little resonance, though his campaign remains viable.
Why American politicians continue to be active far longer in life than do their Australian counterparts is a paradox worth exploring. A number of the more influential senators, such as Dianne Feinstein and Orrin Hatch, are in their eighties, at least a decade older than their oldest Australian counterparts.
If the Democrats opt for either Clinton or Biden they will further encourage the Republicans to support a candidate who can claim to have no history within the "Washington establishment".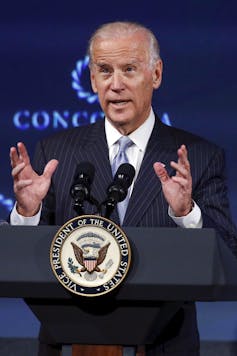 From outside the US, Trump might seem a buffoon who cannot be seriously thought of as president. But precedents should teach us caution. It is true that most of the time a candidate who is seen as outside the mainstream of American politics does badly, as when the Republicans nominated Barry Goldwater (in 1964), and even more so when the Democrats nominated George McGovern (in 1972).
This may be why the betting markets heavily favour Clinton, while breaking even between Bush and Rubio on the Republican side. So we may yet see an election in which Clinton fights to return to the White House – where she lived for eight years as first lady – against Bush, whose father and brother occupied it for a combined 12.
Increasingly, though, there is no centre to which candidates can appeal to voters concerned by the apparent extremism of the other side. In a deeply polarised political system the righteous minority is able to exercise disproportionate power within the two parties. As a result, both Clinton and Bush – as the putative frontrunners – have increasingly moved towards the positions of their major rivals.
The most likely outcome is a presidential contest between two candidates who will be older on taking office than Obama when he leaves. The generation who grew up during the Cold War and came to age through the unrest of Vietnam and the civil rights movement still dominate American politics.