Last summer, the world shared in Usain Bolt's infectious enthusiasm as he achieved a remarkable "triple treble" of Olympic golds in the same three sprint events. So news that he will lose one of them was a sudden drenching in cold water.
Bolt himself is not at all to blame, which must make the news even harder to take – but this has been coming for a while. Last June, it emerged that Nesta Carter, one of Bolt's team members in the 4 x 100m relay at the 2008 Beijing Olympics had tested positive for methylhexaneamine, also known as 1,3-dimethylamylamine and DMAA, when a urine sample taken in 2008 was re-examined.
Yesterday, the International Olympic Committee (IOC) announced that Carter – and the other members of the quartet, Bolt, Michael Frater and Asafe Powell – would lose their gold medals for that event. The Jamaican Olympic Association – and Carter himself – may appeal.
But what is Methylhexaneamine? It was first reported in 1944 by two chemists working at the American pharmaceutical manufacturer, Eli Lilly. They were trying to make a substance that would supplant amphetamine as a nasal decongestant. Eli Lilly marketed methylhexaneamine under the trade name Forthane from 1948 until they withdrew it from the market in 1983. It is not that difficult for an organic chemist to make, however, and it would not require a sophisticated laboratory to do it. It is widely available on the internet.
Although methylhexaneamine is not a member of the amphetamine family, it has similar effects in the body and it has been suggested that the molecule can wrap itself into an amphetamine-like shape so that it can plug into the same bodily receptors as amphetamines.
Performance enhancer?
More recently, Methylhexaneamine has been used as a stimulant, especially when ephedrine was banned for everything but medical use in 2004. As well as dietary supplements, it found its way into weight loss products and it was claimed that it could also improve athletic performance.
Back in 1996, some Chinese researchers reported finding methylhexaneamine occuring naturally in a sample of geranium oil. Several other research groups haven't been able to repeat that finding, while others have. Possibly, it is only produced by some geranium plants.
At events, people started calling it "geranamine". Some have suggested that this was a marketing ploy, a way of making it sound more like a "natural" chemical. Nevertheless, it is now on the prohibited list of the World Anti-Doping Agency (WADA). Regulations also warn against taking such substances accidentally: "Ultimately, the athlete is solely responsible for the substances in his or her body."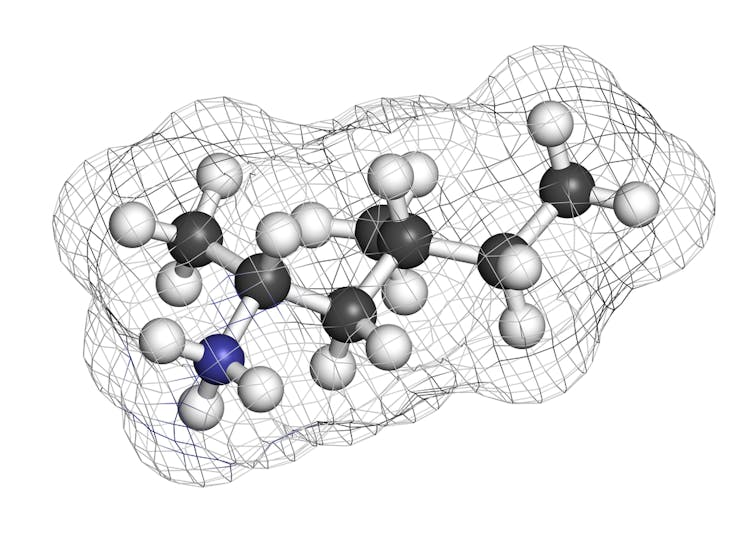 'Drug of the year'
By 2010, it certainly had come to prominence and was named "drug of the year" by one publication. At that year's Delhi Commonwealth Games, women's 100m champion Damola Osayemi also lost her gold medal after testing positive for it.
Its presence does not seem to have been advertised in some supplements. Simon Mensing, a Scottish footballer, received a short ban in 2011 when methylhexaneamine turned up in a post-match urine sample. He said it had not been listed in the contents of a dietary supplement he had taken, a claim that was accepted by the authorities.
And at the 2014 Winter Olympics in Sochi, German biathlete Evi Sachenbacher-Stehle, received a two-year ban – although this was subsequently reduced on appeal to six months, on the grounds that there was accidental contamination and her "degree of fault was minimal".
But worse than that can happen. Like amphetamine, methylhexaneamine affects heart rate and blood pressure, and it has been linked with panic attacks, seizures, liver damage and a stress-induced thickening of the heart.
At one time, "party pills" in New Zealand contained methylhexaneamine, and a 21-year-old man suffered a cerebral haemorrhage after taking two of them, along with caffeine and alcoholic drinks. It has also been implicated in the deaths of two soldiers who took it in dietary supplements.
The most publicised case was that of 30-year-old Claire Squires, who collapsed and died from a heart attack a mile from the end of the 2012 London Marathon. She had unwittingly consumed an energy drink which contained methylhexaneamine.
Perhaps we should reflect that taking performance-enhancing substances can have far worse consequences than losing a gold medal.