Infection with group A streptococcus bacteria (strep A) leads to a wide array of diseases. These range from uncomplicated infections such as strep throat (tonsillitis) and skin sores (impetigo), through to severe invasive diseases such as deep soft tissue infection, sepsis and streptococcal toxic shock syndrome.
If strep infections are left untreated, they can lead to rheumatic fever and rheumatic heart disease. These are caused by the immune system's response to the initial infection.
Globally, more than 616 million new cases of strep throat are recorded each year. While this places a significant burden on health systems and causes substantial productivity losses, the invasive and post-infectious diseases are responsible for the most death and disease.
It is estimated at least 18.1 million people have rheumatic fever or rheumatic heart disease and there are more than 645,000 new cases each year. In urban China, rheumatic heart disease affects approximately 2 million middle-aged to elderly people (186 people per 100,000). This is about ten times higher than the rate in countries such as Canada (22 people per 100,000) and Japan (14 people per 100,000).
Of particular significance to Australia is the rate of rheumatic heart disease in our Indigenous population, estimated to be a staggering 651 per 100,000 people.
Overall, strep A is responsible for more than 500,000 deaths worldwide each year. This is more deaths worldwide than malaria.
Strep A vaccine
The development of a vaccine to combat strep A has been particularly challenging. Group A streptococcus is a gram-positive bacterial pathogen, meaning they have no outer membrane and are thus generally more susceptible to antibiotics. More than 200 known strains are circulating globally.
Not only do we need a vaccine able to address the diversity of various strains of strep A in the community, we also need to ensure the vaccine itself does not induce autoimmune complications.
Our team has invented a vaccine candidate comprising a small peptide (part of a protein) found on the surface of all strains of the bacteria. We found this peptide is effective at stimulating the body's immune system to protect against infection by multiple strains of streptococcus A.
Our latest discovery is to embed this peptide into a liposome (a tiny, synthetic ball), which mimics the structure of microorganisms to better stimulate the correct immune response.
Our vaccine has the additional advantage of being delivered needle-free (via a spray into the nose) and directly to the lining of the upper respiratory tract. Not only is this method of delivery less invasive (and hence preferential to a jab in the arm), it elicits a better response from the immune cells in the respiratory tract lining, which is the most common site of strep A infections.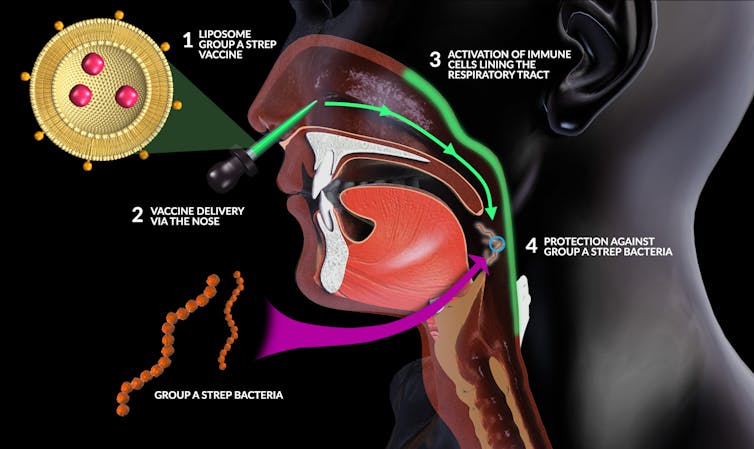 When will it be available?
Griffith University has just entered into a major co-development and licence arrangement with Chinese vaccine company Olymvax Biopharmaceuticals Inc. We have demonstrated in the laboratory that our vaccine is effective, so now we will be able to manufacture vaccine material and complete phase one human clinical trials in healthy volunteers.
We plan to conduct parallel trials in China and Australia within the next two years. In Australia, we propose to conduct studies in an Indigenous population – where it is most urgently needed.
We plan to have the vaccine on the market within six to eight years. Olymvax has the rights to commercialise the vaccine in China, while Griffith retains the ability to commercialise the vaccine in Australia and other global markets.
Given its global significance, there is a very strong case for a strep A vaccine to be incorporated into universal immunisation programs, in particular the routine childhood vaccination schedule.
---
Dr Phil Ellery, Business Manager, Institute for Glycomics, Griffith University, contributed to this article.