Give them enough blood and vampires keep on feeding – but give academics Buffy the Vampire Slayer (1997-2003) and the same phenomenon occurs.
Much Ado About Whedon: The 6th Biennial Slayage Conference on the Whedonverses takes place this week in California State University-Sacramento, with up to three parallel panels per session, plus a smattering of special events, from eight in the morning until 11 at night.
That's an astonishing scholarly commitment to a show that finished more than a decade ago, and it raises the question: what is all this "ado" about Buffy?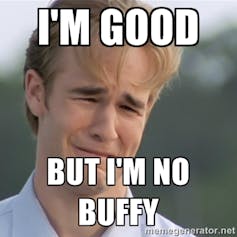 In 2004 the first and – it was then assumed – only Slayage Conference on Buffy the Vampire Slayer was held in Nashville, Tennessee, hosted by Middle Tennessee State University and organised by David Lavery and Rhonda V. Wilcox. Its overwhelming success meant the conference has since become a biennial event, gathering together hundreds of scholars and other enthusiasts from across the US, UK, Canada, Italy, Germany, Turkey, and, of course, Australia.
Combining elements of action, drama, comedy, romance, horror, and occasionally musical, Buffy sits uneasily within the taxonomies of television genre. Darker than Dawson (1998-2003), and infinitely funnier than Felicity (1998-2002) (two primetime teen dramas that aired alongside Buffy's first seasons), the series was explicitly conceived as a feminist reworking of horror films in which "bubbleheaded blondes wandered into dark alleys and got murdered by some creature".
From its mid-season US premiere in 1997 to its primetime series finale in 2003, the chronicles of the Chosen One (Sarah Michelle Gellar) have generated, in the affectionate words of its creator and director Joss Whedon, a "rabid, almost insane fan base".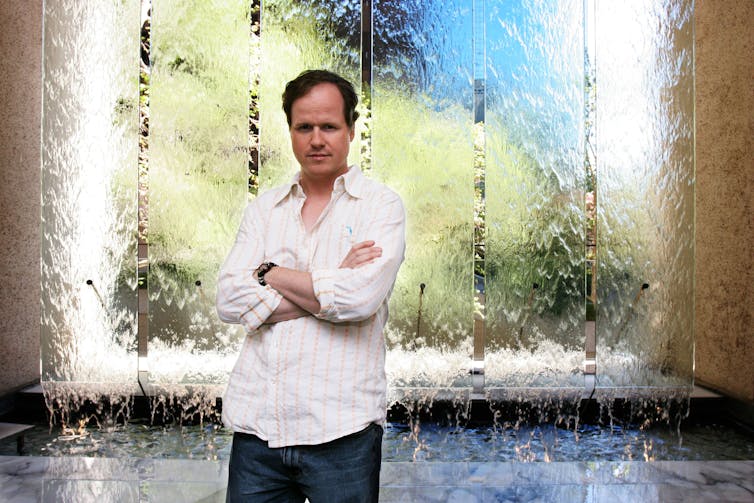 Subverting the conventional gender dynamics of horror, action and sci-fi serials, as well as the best expectations of its producers, the series followed the fortunes of the Slayer as she struggled through the "hell" that is high school, a freshman year at U.C. Sunnydale, and the ongoing challenge of balancing the demands of family, friends, relationships and work with her inescapable duty to fight all manner of evil.
As the voiceover to the show's opening credits relates:
In every generation there is a Chosen One. She and she alone will fight the demons, the vampires and the forces of darkness. She is the Slayer.
The end of the series in 2003 did not herald, as many must have expected, the passing of a fleeting academic fancy, but has instead ushered in an unprecedented number of monographs, edited collections, conferences, book chapters, journal articles, and even university courses that grapple with the Buffy phenomenon in one way or another.
In June 2012 Slate magazine ran an article naming Buffy the most written about popular culture text of all time. In an online search for scholarly articles on popular media texts, Slate noted that Buffy criticism far outweighed any other potential contenders:
[M]ore than twice as many papers, essays, and books have been devoted to the vampire drama than any of our other choices – so many that we stopped counting when we hit 200.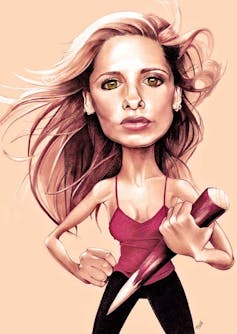 Thoroughly multi-disciplinary in scope, the field of Buffy Studies brings together academics and independent scholars working not only in literary, film and television studies, but also in sociology, psychology, religious studies, media studies, American studies, mathematics, philosophy, law, music, art, performance studies, women's and gender studies, queer studies, linguistics, bibliography, rhetoric and pedagogy.
Gender analysis has been a driving force in the field since its inception, and debates about Buffy's suitability as a feminist role model, and her perceived connections to second-wave, third-wave and post-feminism, continue to be contested.
Scholars of fandom have also found Buffy and its active fan communities fertile sites for analysis, as have teachers who study Buffy's pedagogical potential in the classroom.
A relatively recent development has been the rise of auteur scholarship that positions Buffy in the context of Joss Whedon's wider and expanding oeuvre.
Buffy's ongoing popularity is tied to its specific contexts of production in ways that shed new light on popular culture consumption. Its unique location in media history – in the infancy of internet fandom and during the rise of commercial marketing of series TV, makes Buffy an obvious site for studies of contemporary convergence culture in all of its many manifestations.
In this context, the internet has provided a powerful platform for Buffy fans, whose own creative outputs – in the form of art and video – are themselves attracting the attention of Buffy scholars. Jonathan McIntonsh's Buffy VS Edward (see video below) is just one of many interventions that pit the feminist smarts of the Slayer against the sullenness of Twilight's sparkly vampire:
Buffy's centrality to the field of popular culture studies is partly a matter of serendipitous timing.
According to Whedon, the series was deliberately designed to be a cult television classic. But it was also one of the first to engage directly with fans through the medium of the internet via message boards and websites, and it benefited enormously from the exponential growth of series TV on DVD, making Buffy today – as much as in the last two decades – a movable feast, to be consumed on demand, available for multiple repeat performances, rather than an ephemeral text that, enjoyed once, disappears after first viewing.
To the understandable question "Is there really anything new to say about Buffy?", the 6th biennial Slayage conference provides a resounding "Duh!"
To sceptics questioning the show's relevance today, the conference offers ample evidence of the ongoing importance of Whedon's texts to a wide international audience.