Former NSW premier Barry O'Farrell handed his review of online gambling to the federal government late last year. The government says it will publicly release the report and its response together.
Under the Interactive Gambling Act, only wagering may lawfully be offered online to Australian gamblers. Offering other forms of internet gambling, such as casino-style games or online poker, is illegal. However, gamblers who use such services do not commit an offence.
Gambling reformers hoped that the current review would concentrate on the harm already being done by licensed Australian wagering providers. A report released just prior to the review's announcement highlighted some of the dubious practices of current licensed bookies. These include:
offering unsolicited credit;

providing inducements to gamble;

calling and chasing gamblers who may not have bet recently; and

apparently sharing data about customers with other bookies.
When they were announced, however, the terms of reference for the review were a disappointment to those who had hoped for reform.
The review was explicitly identified as being into "illegal offshore wagering". Three of its four terms of reference were focused on this. A fourth allowed the review to examine consumer protection measures more broadly.
What was submitted
The review received 79 submissions, according to the Department of Social Services. Those made public included submissions from online bookies such as CrownBet, bet365, Sportsbet, and Tabcorp.
The bookies want to be able to offer in-play betting. At the moment they can't do so lawfully. The law prohibits in-play bets over the internet, although you can place such bets at a TAB or over the phone.
Online bookmaker William Hill has a workaround of dubious legality on its app, which opens the device's microphone to emulate a phone call. No-one need speak, but it argues that this gets around the current prohibition. The Australian Federal Police declined to investigate this practice, indicating that its resources were not adequate for pursuing it.
The bookies are not asking, at this stage, for micro-bets. These are bets in-play on specific activities – such as who will kick the next goal, or whether the next over will include a six. The sports don't want this: it makes the job of maintaining integrity too hard. Integrity agreements (side deals to sponsorships, mostly) provide for sports approving the types of bets that can be made.
The Coalition of Major Professional and Participation Sports asserts that making in-play betting lawful for Australian licensed operators will stop people going offshore. This, it is argued, will improve the integrity of Australian sport because bookies will share data and detect irregularities.
This is pretty much the line that the bookies take, too. Bet365 basically argues that it can be trusted, because it is licensed in Australia (and other places), not in some tiny tax haven. Sportsbet argues the same, but also maintains that its self-exclusion and voluntary pre-commitment programs are first-class.
CrownBet has a big program of reform. It wants the government to enforce the act to prosecute offshore operators, and impose penalties (no-one has ever been prosecuted under the act). It wants to have such providers blocked via ISPs.
CrownBet also wants online in-play bets legalised for Australian operators but it wants a national policy framework and an active federal regulator. It also wants a national self-exclusion register and to include non-account cash-based betting in this.
Tabcorp also wants the act enforced and it wants gamblers who use offshore providers penalised. However, Tabcorp wants to limit online live betting to retail venues. This would be of considerable benefit to its chain of venues. It argues that it doesn't want to harm hotels and clubs, which also host TAB outlets.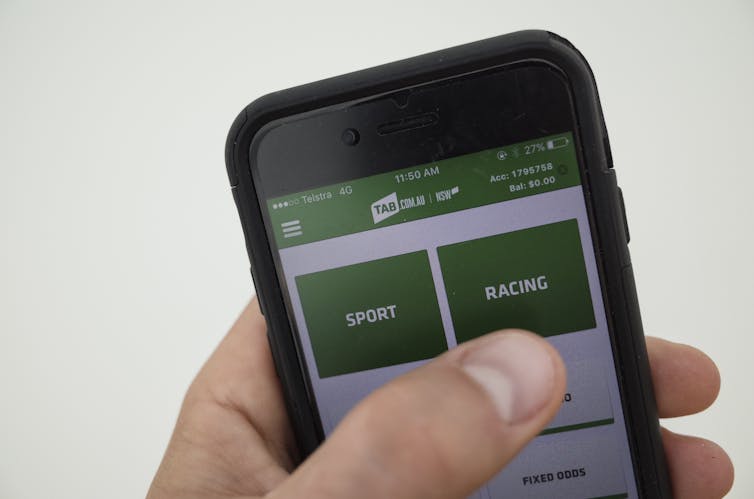 What to expect
Overall, vested interest is the predictable horse to back in this review. And this is hardly surprising.
Online in-play betting is likely to be a big growth area for the bookies, and consequently for the TV stations (who don't want TV advertising any more regulated than it already is). FreeTV's ad code was recently revised so that gambling ads can be shown after 7PM. It used to be 8:30PM.
Sports broadcasts continue to be exempt from this modest restriction. More money means more ads. That also seems to be the motive behind the professional sports' argument – if the bookies are making more money, they can spend more of it on sponsorship.
The problem is that in-play bets will permit quite high-intensity (and uncapped) gambling via mobile apps, for example. Even without micro-bets (and these may not be far off), gamblers will have more capacity for sustained gambling. High-intensity and regular bets are a risk factor for developing addiction; in-play bets are a step closer to that, particularly if it's available in your pocket 24/7.
What reforms would offset this danger? An IT-based national self-exclusion register is a good idea. Punters should be able to effectively exclude themselves from every operator in the country with one click. The technological platform of online gambling makes this much easier than for poker machines.
Such a system could be configured to allow gamblers to set maximum bets and daily, weekly or monthly limits for their gambling. If the bookies are serious, they need to demonstrate it by adopting such approaches.
It would be great if the federal government implemented its own policy and banned credit betting, as well as requiring gamblers to transfer funds via direct deposit rather than via credit cards. Getting rid of inducements to gamble is also an excellent idea.
The government's policy also talks about regulating advertising if the gambling industry fails to respond adequately. The watered-down code might easily be construed as such a failure.
It's hard to know if O'Farrell or Social Services Minister Christian Porter have the will to take on not only the bookies, but broadcast TV stations and major sports. Gambling addiction has many under its sway – state governments, major sporting codes, TV stations and gambling businesses, to name a few. They are all addicted to the seemingly endless stream of revenue.
Sports betting is worth around A$750 million in Australia. In-play bets could boost this even faster than the 16% growth rate of recent years.
This comes at a cost to the economy and society. But the costs of gambling don't seem to weigh heavily on the bookies. Perhaps O'Farrell and Porter can bear that load, and balance the interests of bookies, sports and TV stations with those of the partners, children, and employers of any new wave of gambling addicts.