On Sunday, La Trobe University held its most successful Open Day ever, with more than 19,000 visitors. But the day was disrupted by student protests against recently announced changes to our Faculty of Humanities and Social Sciences.
We knew in advance that students intended to use the Melbourne event to stage a protest. But because of the importance of Open Day to the university's recruitment of future students, and thus to the future job security of our staff, we had asked students to let us know in advance of their plans to stage protests.
We felt that this was the best way to strike a balance between preserving free speech, while allowing the university to go about its business on one of the most important days of the year.
The Student Union informed us in advance of their plans to stage a protest on a central part of the campus. However, a small minority of students, who were joined by others from outside the university, chose to protest by roaming freely around the campus, invading buildings, entrapping me and making many staff and visitors to our campus feel under threat.
These students' behaviour was an abuse of the freedom of speech we had sought to preserve.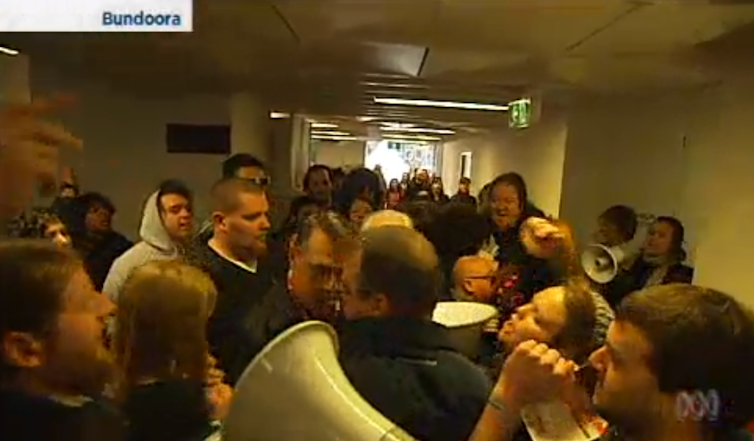 Students have the right to protest. Indeed, for many it is an essential part of student life. Over the 30 years I have been employed by universities, I have observed peaceful, meaningful and engaging protests relating to causes ranging from nuclear disarmament to anti-vivisection.
I have seen students skillfully argue their case and achieve real change as a result. I have also seen students debase their causes through unreasonable and damaging conduct, and lose.
We plan to streamline our courses, where currently we offer one course for every seven students, more than three times the equivalent ratio for our local competitors. We also plan to redesign our Bachelor of Arts (BA) degree, making it more relevant to the interests of our students and the needs of those who may wish to employ them.
In the process, we intend, reluctantly, to make 37 staff redundant in the faculty, down from an initially proposed 50, in areas where student enrolments have been at a record-low for a number of years. The truth is that it is because of students' own choices that the changes are required in Humanities and Social Sciences.
We may all wish it were otherwise, but we must recognise that traditional arts degrees are no longer sufficiently enticing nor relevant to school leavers and employers alike, and students have been voting, in effect, for a smaller humanities faculty with their feet.
La Trobe University has an enviable reputation in humanities. We have a long and proud history as a contributor to the national conversation through our public intellectuals, from Australia's only Pulitzer-prize winning historian, Rhys Isaac to the household name, Robert Manne. We intend to continue the university's fine reputation in these disciplines.
La Trobe's students have a proud tradition of challenging the status quo. I am confident that in time they will embrace the changes now under way.