Victorians will head to the polls in exactly three months to elect their new state government.
Like New South Wales, South Australia and Western Australia, Victoria has fixed parliamentary terms. Since 2002, Victorian state elections have been held on the last Saturday of November every four years.
In the 2010 election, the coalition of Liberal and National parties ended Labor's time on the government benches after 11 years. The election result was one of the closest in Victoria's history.
On a two-party preferred basis, the Coalition won less than 52% of the vote to Labor's 48%. In terms of seats won, however, the result was much closer. The Coalition won 45 seats to Labor's 43 in the 88-seat lower house.
First-term government on its second leader
Having failed to lead the Coalition to victory in 2006, Ted Baillieu was regarded as a champion by his side of politics when he became premier in 2010.
The Coalition appeared to show resilience and discipline by backing Baillieu during its time in opposition. This sense of stability soon unravelled in government.
In 2013, Frankston MP Geoff Shaw openly criticised his party's leadership and resigned from the parliamentary Liberal Party. This precipitated the fall of Baillieu as pressure from some sections of his own party forced him to resign as premier.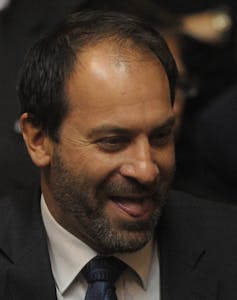 Shaw's impact did not end there. By effectively reducing the government's majority, his move to the crossbench forced the Coalition to behave as though it was a minority government.
Denis Napthine replaced Baillieu and immediately sought to put out some policy spotfires his predecessor struggled with. Some of these concerned policy issues at the heart of state government: education, health care and transport. Napthine also tried to position himself as a more likeable leader.
The problem for the Coalition, however, was a growing sense that it was disunited and undisciplined. Managing Shaw proved difficult and led to the government being unable to advance its legislative agenda in parliament.
The Coalition also appears to have struggled with internal divisions between more socially progressive members and those who would advance a socially conservative moral agenda.
Labor regroups after defeat
In contrast, the Victorian branch of the Labor Party has displayed a greater sense of stability. Despite federal Labor undergoing bitter leadership battles and a devastating election loss since 2010, the Victorian branch has distanced itself from those problems.
One apparent weakness has been Labor leader Daniel Andrews' low public profile, which the party has sought to address. In recent weeks, Andrews has featured in advertisements designed to enhance his public profile.
Labor's performance in opposition was also boosted by Shaw's resignation and the ensuing dispute with speaker Ken Smith. These events contributed to the government's inability to advance its legislative agenda while making the Coalition appear deeply divided and undisciplined.
Fighting to set the election agenda
The Coalition has sought to focus on budget management, an area it believes is its strong suit. The Coalition has predicted increasing budget surpluses in future years. The government has also been seeking to address law and order issues.
The Coalition's transport centrepiece is the East-West Link. While lauded by road user groups, the project has attracted fierce criticism from local groups. Also, opponents have mobilised as they question the business case for the road project.
Non-policy matters have recently overshadowed attempts by the Coalition to focus on its preferred issues. A series of social media gaffes by Liberal Party candidates and the leaking of a recording of Ted Baillieu apparently criticising some colleagues has distracted the government from advancing its policies.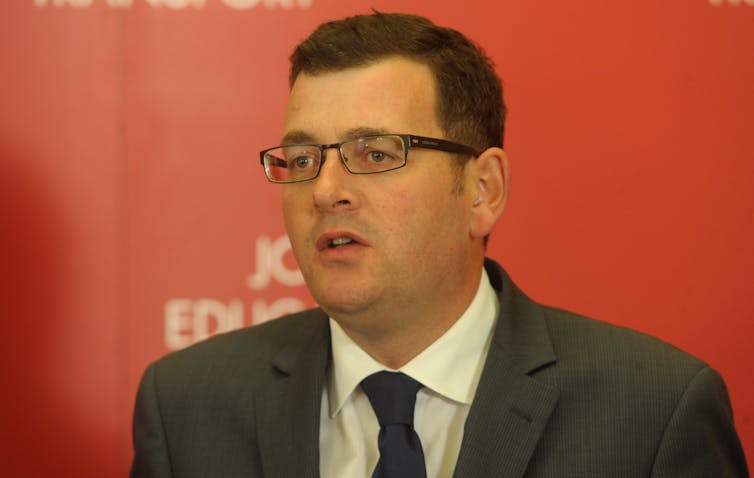 The leaked tape, however, had a negative impact on the Labor Party as well, especially as Andrews struggled to deflect questions about his knowledge of the tape. This was perhaps one event that has tested Andrews' mettle and he came out with mixed reviews of his handling of the episode.
In terms of its policy agenda, Labor has placed great emphasis on public transport and announced the goal of upgrading 50 of the most dangerous rail crossings. It has also proposed to legalise medical cannabis if elected.
Polling trend favours Labor
Public opinion polls show that Labor's general approach since 2010 has resonated with many voters. The trend shows Labor holding on to an election-winning position.
More concerning for the government is the fact that the polls have been consistently showing that it trails Labor.
Also, the latest Newspoll result of 55%-45% suggests a 7% swing against the government. If this were replicated on election day, the Coalition would lose 15 seats.
The scene is set for a Coalition to be in a defensive mindset. The government will need to hold all the seats it won in 2010 and will therefore be focused on protecting its most marginal areas.
Following a redistribution after the last election, the Coalition notionally holds the seats of Wendouree and Yan Yean with margins of just 0.1%. The bayside seats of Carrum and Frankston are also on notional margins of under 0.5%, while another southeast seat, Bentleigh, is held by 0.9%. Clearly these handful of seats will be the crucial electoral battlegrounds.
The Coalition has found itself on the back foot, often due to internal instability. Despite this, it can still hope to win the election. It controls the resources of government and has three months of vigorous campaigning to go.
The stubborn opinion polls, however, suggest that many voters have already made up their minds.