A stroll along a pier remains the most popular activity for visitors to the British seaside, with 70% of them enjoying a walk over the waves.
For many, the seaside pier is perhaps the most iconic symbol of the British seaside holiday and the epitome of excursions to the coast. Piers have always provided holidaymakers with entertainment, from the grand pavilions and theatres of the Victorian era, to the amusement arcades of the 1980s. For two centuries, piers have been the place to see and be seen at the seaside.
Victorian pleasure piers are unique to the UK, but they are under threat: in the early 20th century nearly 100 piers graced the UK coastline, but almost half of of these have now gone.
By their very nature, seaside piers are risky structures. When piers were constructed, British seaside resorts were at the height of their popularity. The Victorians wanted to demonstrate engineering prowess and their ability to master the force of the sea. Some lasted longer than others, with Aldeburgh pier in Suffolk lasting just less than a decade before it was swept away by a drifting vessel. At the other end of the spectrum is the Isle of Wight's Ryde pier, which at over 200 years is the oldest pleasure pier in the UK.
---
Read more: Eastbourne pier fire highlights British fascination with fun and danger at the seaside
---
Yet the longevity of such piers presents them with new risks: fire, maintenance issues, rising costs, and climate change. Piers face an uncertain future. The National Piers Society estimates that 20% of today's piers are at risk of being lost.
Piers at risk
Over the last 40 years, many notable piers have succumbed to time and tide. Perhaps the most iconic of these losses is Brighton West Pier, which has suffered multiple storms and fires since closure in 1975, leaving an isolated skeleton as a haunting reminder. Now there is growing recognition that seaside piers are vital to coastal communities in terms of resort identity, heritage, employment, community pride, and tourism. In fact, the UK government now offers funding to enable the revival of piers and other seaside heritage.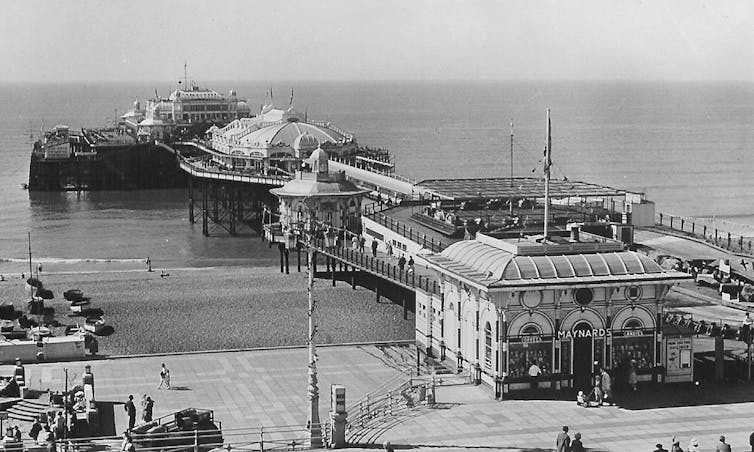 Despite the sea change in the perceived importance of seaside piers, many remain derelict and in a state of decay. One such pier is Weston-Super-Mare's Birnbeck Pier, on the west coast, which has been closed for over three decades. Birnbeck Pier is unusual in that it is the only pier which links to an island, but as time has passed, parts of the structure have crumbled into the sea. Despite the endeavours of the local community and groups such as The Birnbeck Regeneration Trust, the owner of the pier refuses to sell or regenerate the pier.
This is in stark contrast to nearby Clevedon Pier, which was deemed "the most beautiful pier in England" by the poet Sir John Betjeman. After partial collapse and subsequent closure of the pier in 1970 there were calls for its demolition. Clevedon Pier was saved and reopened in 1998, and is now the UK's only Grade I listed seaside pier. Today it stands as a testament to The Clevedon Pier Heritage Trust who continue to develop the pier with a new visitor centre, wedding venue, and conferencing space. Recently, the pier gained a new group of fans as it featured as a backdrop to a One Direction music video.
Thriving piers
Despite their advancing years, since the turn of the 21st century many piers have found a new lease of life. The high-profile regeneration of Hastings Pier, led by a local community trust and backed by Heritage Lottery Funding, has spearheaded the revitalisation of many seaside piers (although the pier, controversially, was recently sold to a commercial investor). Nevertheless, a number of coastal communities have successfully regenerated their piers through the formation of pier trusts, including those at Swanage and Herne Bay. Other seaside towns are being even more ambitious and hoping to rebuild their piers or to build brand new piers.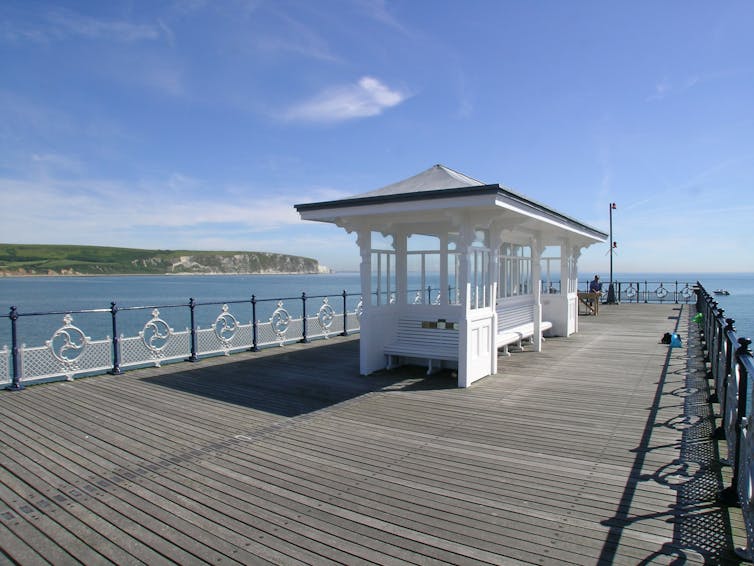 Local authorities within seaside resorts are also promoting their piers as flagship tourist attractions and investing in their refurbishment and new facilities. Southport Pier, which narrowly escaped demolition during the 1990s, is now at the heart of the resort's development strategy and is currently undergoing a £2.9m refurbishment which includes the addition of new catering and retail facilities.
The piers that are thriving in the 21st century are those that provide a unique selling point. Bournemouth Pier now features the only pier-to-beach zip line, and its former theatre now houses adrenaline-packed activities such as climbing walls, an aerial assault course, and a vertical drop slide. In Folkestone, the Harbour Arm, which was redeveloped as a pleasure pier in 2016, provides a range of pop-up bars and restaurants and its very own champagne bar. Weston's Grand Pier offers family fun with a modern twist and even boasts an indoor suspended go-kart track. Southwold Pier boasts a novelty automaton arcade.
By staying tuned to modern desires as well as a sense of nostalgia, piers will continue to adapt to changing tastes and provide entertainment and pleasure for seaside visitors.
But perhaps the biggest threat they face today is climate change, and the attendant rising sea levels and increasingly frequent storm surges. Cromer, Saltburn, and Blackpool North Pier have all recently been significantly damaged by storms. The World Monuments Fund has recognised the threat of extreme weather events to seaside piers by adding Blackpool's three piers to their 2018 Watch List. With seaside piers regaining their popularity, their next big challenge will literally be finding a way to weather the storm.