The murder of Qandeel Baloch, a Pakistani social media celebrity, in July 2016 has given high-profile political attention to the issue of so-called "honour" killings. Her brother and three others were indicted in early December for her murder and await trial.
A tendency to label "honour" related violence – committed under the pretext of defending the supposed honour of a family or community – as a cultural issue rather than a crime can do more harm than good. In the UK, for example, there are reports that the Crown Prosecution Service may have avoided tackling such crimes for fear of offending certain communities and cultures.
Instead, the scale of this kind of violence means it should be seen and treated as a public health problem. A 2009 study showed that one in five homicides in Pakistan may be killings of this nature. In 2000, the UN Population Fund estimated that at least 5,000 women and girls worldwide are murdered each year in the name of so-called "honour" – although these figures are contested and some researchers believe that the rates are at least four times higher. In the UK, the police recorded more than 11,000 incidents of this kind of violence between 2010 and 2014.
In a recent study, my colleagues and I argued that the portrayal of this kind of violence in cultural and religious terms stigmatises certain communities. In turn, by presenting this kind of killings in this way, media coverage often distracts from the problem of violence and the larger political processes that shape it from being properly addressed.
In Pakistan, these kind of killings have been traditionally viewed as the problem of particular ethnic groups such as Sindhis and Balochs. For instance, the term karo-kari is a Sindhi-language expression which means black male-black female. This implies that the victim has blackened themselves by bringing dishonour to the family by engaging in illicit pre-marital or extra-marital relations. In Pakistan, the term is still predominantly used by print and electronic media to label such crimes, whether the incident occurred in Sindh province or elsewhere in Pakistan. Yet, killings of this sort occur across Pakistan. In 2014, there were an estimated 19 killings a week and are known by regional names such as Kala-Kali (Punjab), Tor-Tora (Khyber Pakhtunkhwa) and Siyakari (Balochistan).
Since 2002, with the emergence of private television and radio channels, the reporting of incidents has increased across Pakistan and it has also begun to be documented as a Pakistani problem, not restricted to one particular ethnic group. This media coverage has raised awareness and debate about the issue.
There has also been a move in Pakistan to make sure this kind of violence is dealt with more stringently by the law. In October 2016, lawmakers in Pakistan approved new legislation to tighten the punishments available. Prior to the bill, perpetrators often walked free because they could seek pardon for the crime from another family member. Under the new law, relatives of the victim can only pardon the killer from the death penalty, but they would still face a compulsory life sentence of 12-and-a-half years.
More than culture
Honour has been a central concept across societies throughout history. It has been attributed as an underlying reason of horrible types of violence, for example, duelling in England, foot binding in China and wife burning (sati) in India. But these horrific forms of violence were not seen through a cultural lens when they were outlawed. Instead, they were tackled through political, social and legal measures driven by "moral revolution", as the philosopher Kwame Appiah has explained.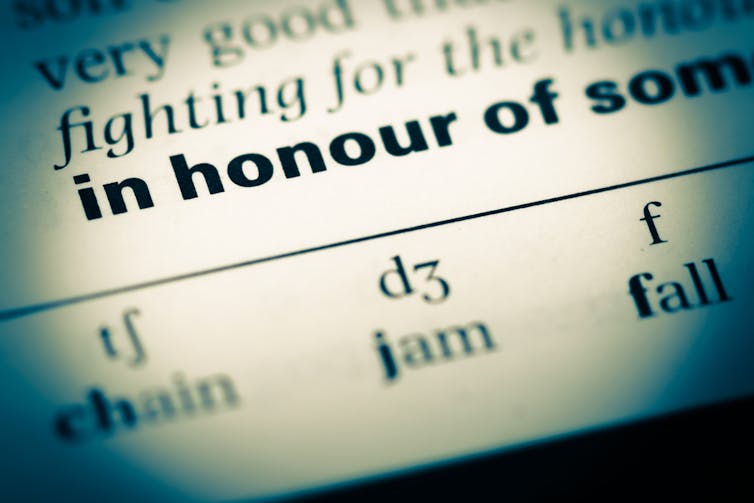 Violence against women and girls is a widespread problem in all societies around the world – but its manifestations differ widely according to place, time and context. For instance, recent census figures show 900 women were killed by men in six years in England and Wales. These killings are not tagged with any particular culture or community.
In the UK, the police watchdog defines violence committed under the pretext of "honour" in cultural and religious terms – but this creates hurdles to tackling this problem and makes it into a highly sensitive issue. An emphasis in definitions on "religious and cultural beliefs" makes the issue peculiar to certain groups and communities, particularly Muslims and black communities.
Finding a solution
If we assign an incorrect definition to a problem, ultimately the solution will be inexact, so framing a problem in the right way is an essential step towards tackling it. Violence against women committed by men using any excuse – "honour" or otherwise – is related to the socio-economic and political structures of society. As Nafisa Shah, a Pakistani lawmaker, argued in a recent book: "Violence is not cause, function or effect of 'honour' but merely draws its legitimacy from it."
Presenting violence of any sort as a cultural issue does not help prevent it. Other, more practical ways are required to analyse its nature, roots and spread. A public health approach to the issue could include creating a definition of the problem that is unprejudiced and inclusive. This is because if it is seen as problem that can affect anybody, rather than just one part of a community it will be treated more seriously by the police, judiciary, social and healthcare professionals.