Every few days, there are news reports of some kind of violence encountered by athletes or journalists at the Rio Olympics. To understand why, we need to understand how prevalent violence is in Brazil.
Within days of the Olympics starting, two Australian rowing coaches were robbed at knifepoint; on August 10, a media bus on the way to the Olympic Park was shot at; and on the weekend, four US swimmers were robbed by men dressed as police officers*.
As bad as this may seem, it's nothing on what Brazilians go through in daily life. On July 2, two men died at the beach in Rio; they were on a bike path when a huge wave took it down. A video showing a group of men and adolescents playing football around their bodies circulated around the world.
Shocking as this may seem to outsiders, it's just another example of how natural violence is in Brazil. It's seen as commonplace, or even as part of the daily routine of certain communities. Indeed, violence and catastrophe are increasingly viewed more like a film than reality.
Research shows young people deal with the dead around their homes every day. Asked by a researcher about what he felt when he saw a body in front of his house, one adolescent boy said: "Every day I see the same: I jump the 'ham' (dead) and go ahead. I feel normal. Every day is the same!"
The role of armed forces
It's not just criminal gangs and natural disasters that normalise violence in Brazil. In the run-up to the Olympic Games, the nation's security forces were responsible for repression and violence against criminals and poor people who live in Rio's "favelas" and poor neighbourhoods. And then there's the criminalisation of social protests by citizens since the 2015 presidential elections.
Research data show that in the capitals of some Brazilian states (Rio de Janeiro, Belo Horizonte, São Paulo, Recife and Fortaleza*), young men are in the process of being exterminated by the police and organised crime. The data illustrate how human rights are not respected by the Brazilian state, and the Olympics seem to have made everything worse.
According to Brazilian journalist Juca Kfouri, when Brazil was promoting the Football World Cup in 2014, murders committed by police increased about 40% in Rio de Janeiro State compared to the previous year.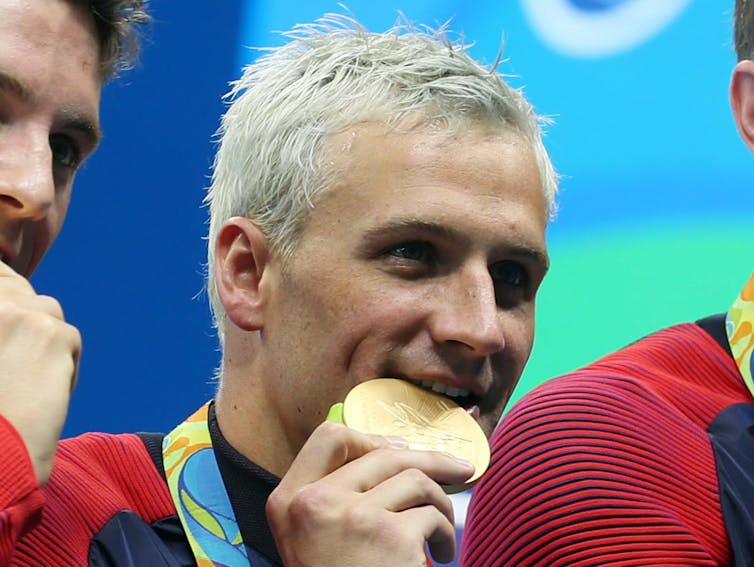 In May 2016, 84 Brazilians died with police participation; the figure was 90% higher than in May 2015. The numbers are even more alarming in Rio where there was an increase of 135% in the number of murders by police, with 40 cases in May 2016 against 17 cases in May 2015.
Security and the Olympics
There are 85,000 public security agents working during the Rio Olympics; among them are 41,000 military personnel.
This suggests a militarisation of Rio's streets for the duration of the Games and an increase in police repression and intimidation of young men – especially those who look poor or are from minority groups. Most likely, black and brown people are being targeted.
It's important to note that this is a typical procedure during the Olympics; I witnessed a similar situation during my research into security at the London Olympics.
But along with 41,000 soldiers (most of the army), the streets of Rio are being patrolled by 29,000 military police, national police and civil police. Although policemen or soldiers cannot ensure security, a large number of armed forces in the streets may inhibit violence.
In comparison, the London 2012 Games had the services of 3,000 soldiers, 12,000 police and around 7,000 private security people.
Growing distrust
Brazil is going through its worst period in recent history. Dilma Rousseff, the Brazilian president elected in November 2014, has been suspended. The vice president has assumed control of government, changing ministers and other chiefs.
These proceedings have done little for people worried about the direction of their nation. There's a lot of distrust, for instance, about the arrests of 12 men in the run-up to the Games on charges of planning a terrorist attack. The preventative measure to put them in a top-security jail before a thorough investigation seemed overblown, as jokes about bombs are common in Brazil!
It could have just been a bad way to protest about the Olympics or a bad joke made by the young men. Distrust strengthened when it was revealed that the weapon one of them was carrying was a gun for paintball. There's no solution in sight for national peace.
* It was revealed after the publication of this article that the US swimmers had fabricated the story of being robbed.
* CORRECTION: Ceará and Minas Gerais were wrongly identified in the text as a state capitals in Brazil when they are states. The text has now been changed to correctly identify the capitals, which are Fortaleza and Belo Horizonte.