Vivid Sydney – which starts today – is an annual event of "Light, Music & Ideas" – but is it more bright lights than bright ideas? Is it a serious festival of contemporary art, or a superficial mass cultural spectacle? Does it have any real artistic value?
Festival city
Since Sydney's Bicentenary celebrations in 1988, the notion of the city as a venue for mass festivals has gained traction.
In 1994, the year after winning the bid to host the Olympic Games, Sydney City Council had a vision for how the Games might change Sydney. Its Living City: A Blueprint for Sydney aimed to create a "vibrant city that is active 24 hours a day".
And in the City's later 2008 vision for the year 2030, Sydney City Council's goal was "a lively, engaging City Centre".
The first Vivid Sydney was held the following year, in 2009, and seemed to realise that vision. Vivid was first conceived as an artistic exploration of smart and sustainable energy, and since its first incarnation it combined light, music and ideas.
The music component had a rather arty edge. Brian Eno, who has collaborated with David Bowie, U2 and Coldplay, curated the Luminous music event at the Sydney Opera House. Eno is famously one of the pioneers of ambient music and there seemed a shared aesthetic sensibility between his sonic vision and the ethereal light painting that lit up the sails of the Opera House from that first year.
Vivid expands
Six years on and the popular appeal of Vivid Sydney has become enormous.
The music component now includes not just in the Sydney Opera House, but clubs, theatres and music venues across the city, with performers such as Daniel Johns and Grace Jones. Vivid Sydney is as much a festival of music and popular culture, as it is about light installations and exploring ideas.
Last year, in Vivid Sydney's 18 days it received 1.43 million visitors, "exceeding the population of Adelaide and surpassing the total number of international tourists to Fiji last year," as Andrew Stoner, NSW Minister for Tourism, boasted.
Wandering the temporarily pedestrianised streets around The Rocks and Circular Quay at last year's Vivid, it certainly felt like it. The crowds thronged the streets as if it were New Year's Eve.
Lloyd Bradford Syke was critical of the event in Crikey. He wrote:
it seems to me, this, touted as "the biggest cultural event in Sydney right now", is a patronising, bread-and-circuses version of culture: an opiate for the masses, if ever there was one.
Aside from "its superficial, photo-opportunistic fun elements", Syke argued that Vivid, "creates a world of chaos and pollution by bringing hordes to but a couple of city precincts, well over-and-above what they can comfortably accommodate or sustain."
He asks, "Are we really illuminated by all this? Entertained, sure. But more than optically stimulated?"
Bright lights all over the world
This tension between Vivid's enormous popularity and questions of its value as a serious artistic event echo similar debates overseas surrounding the popular Nuit Blanche festivals, which have become an annual phenomenon across Europe, in cities like Paris, Madrid and Rome, spreading to Canadian cities such as Toronto, Montreal and Ottawa, and – of course – in Melbourne.
Nuit Blanche festivals began in France in the 1980s – the phrase is French for "white night". The idea was originally to invigorate the city for one night a year by opening cultural institutions, such as museums and galleries, until dawn.
In more recent years, a central feature of Nuit Blanche festivals is the light-based art installations throughout the hosting city, as well as a program of talks and symposiums. Usually Nuit Blanche events are all night, for one night, and totally free.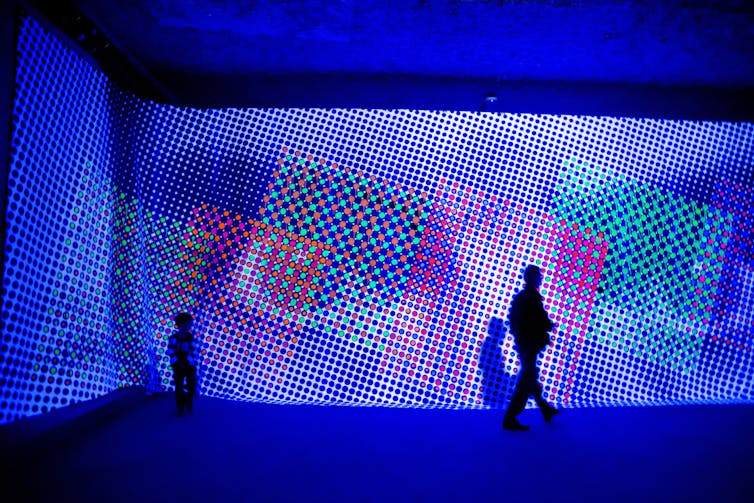 In the journal Art & the Public Sphere in 2012, Gwen MacGregor considered the popularity of her city's Nuit Blanche. Toronto's festival attracts almost as many people as Vivid, but in one night only. It's estimated that in 2013's Nuit Blanche, which featured artists such as Ai Wei Wei and Tadashi Kawamata, the festival brought CA$39.5 million into Toronto's local economy.
I went to Toronto's 2012 Nuit Blanche, which included a symposium – Until The End of the World – featuring Slavoj Žižek and had the theme of the Apocalypse. I enjoyed the vibrancy of the city brought to life at night, yet shuffling with the crowds along Toronto's packed King Street later in the evening it actually began to feel a little like the end of the world.
Carly Maga, writing about Nuit Blanche in The Torontoist, has complained in recent years about the "overly obnoxious revelers" and drunken pashing teenagers – "Oh, the teenagers". In 2012, Maga wrote that the festival, "has now transformed into an 'allnight contemporary-art drunken King Street nightclub'".
Like Syke, MacGregor questions whether there's any real artistic value gained from these kinds of festivals, regardless of their popularity. She argues that the artworks have become "increasingly spectacular", while its audience has become "increasingly drunk and less and less interested in the art".
Because of the popularity of the event, MacGregor argues, the artistic value of the art works shown is likely to diminish among "other artists and a more informed public".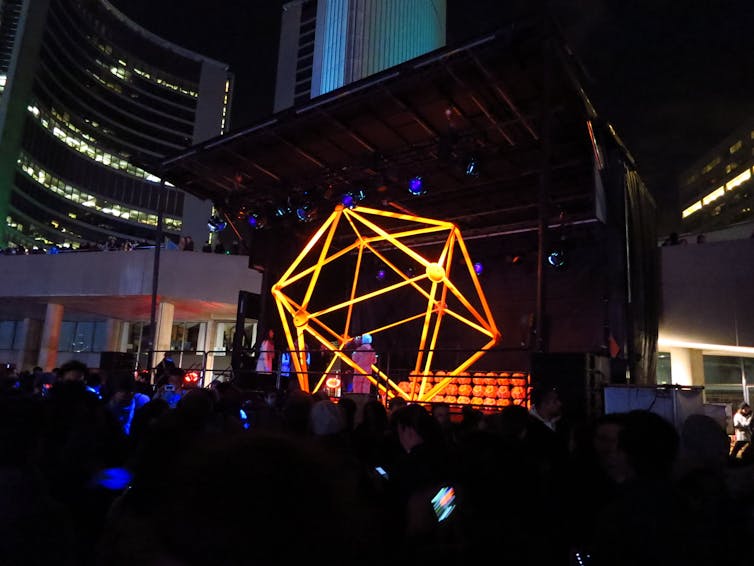 Art and the popular
Perhaps, however, the issue is less about the diminishing of artistic value and more about an ingrained disdain among more serious art aficionados for the popular. More than twice as many people attend Vivid Sydney than do the Biennale of Sydney, which runs about five times as long.
And perhaps there is an element of intellectual conceit at play when those from my world, the "serious" art world, see masses crowding the streets mesmerised by big bright things – more concerned with the light and music, and less with the ideas.
But maybe there is something artistically valuable in the very fact that an event like Vivid Sydney is massively popular?
In 1961, the pop artist Claes Oldenburg, best known for his oversized soft sculptures of burgers and large clothing pegs, wrote about the kind of art he wanted to see in the world – the kind that reconnects with the masses:
I am for the art that grows in a pot, that comes down out of the skies at night, like lightning, that hides in the clouds and growls. I am for art that is flipped on and off with a switch.
Perhaps Vivid Sydney is exactly that art, Grace Jones and all.

Vivid Sydney is on display from May 22 until June 8. Details here.