At the now infamous Helsinki press conference held after the summit meeting between Presidents Trump and Putin, Trump indicated he was impressed with Putin's denial of Russian interference in the 2016 U.S. election.
"I have great confidence in my intelligence people," Trump said, "but I will tell you that President Putin was extremely strong and powerful in his denial."
That answer must have pleased Vladimir Putin.
Strength and power have been key to Putin's political brand ever since August 1999, when he was appointed as Russia's prime minister by President Boris Yeltsin.
Putin led the country to victory in the second Chechen War, and as the virtual incumbent following Yeltsin's resignation, he rode that wave of patriotism to victory in the presidential election of March 2000, with 53 percent of the national vote.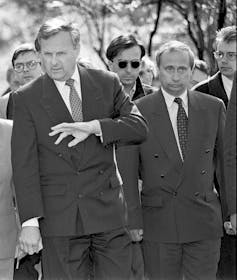 Eighteen years later, following a brief hiatus from 2008 to 2012 during which he served as prime minister, Putin remains president, winning 77 percent of the vote in May 2018.
Putin makes strongman politics look effortless, and President Trump could not be clearer in his expressions of admiration and trust for his more experienced counterpart. From over two decades studying communist and post-communist politics, I believe there is value in looking past Putin's confident self-projection and examining the machinery behind it.
As a former KGB officer and head of FSB, Russia's national security agency, President Putin has professional roots in deception, disinformation and violence beyond the imagination and experience of most Americans outside the intelligence community. His 18-year record in public life provides high-profile cases where he has been equally "strong and powerful" in undermining truth – and targeting those who expose him.
Truth, lies and consequences
Here is a short catalog of Putin's most glaring lies, as well as his actions against those who challenged him.
1. In 1999, bombs exploded in a number of apartment buildings in Russia, killing 293 civilians.
The bombings were attributed to Chechen terrorism, driving up patriotic support for Russia's military in invading Chechnya. When one bomb was detected and defused in the city of Ryazan before it went off, new Prime Minister Putin praised the people of Ryazan for their vigilance.
His subsequent strong leadership during the Chechen War was key to his election as president in March 2000.
Yet forensics, eyewitness accounts and whistleblower revelations all indicated that Russia's security service, the FSB, planted the Ryazan bomb.
The commission established to investigate the FSB's role in all the bombings discontinued its work in 2003 when two key members died violent deaths. Deputy Sergei Yushenkov was gunned down, and investigative journalist Yuri Shchekochikhin died in a hospital from an "unknown allergen" that shut down all his vital organs. FSB whistleblower Alexander Litvinenko, who directly accused Vladimir Putin of involvement in the apartment bombings, was poisoned in London in 2006.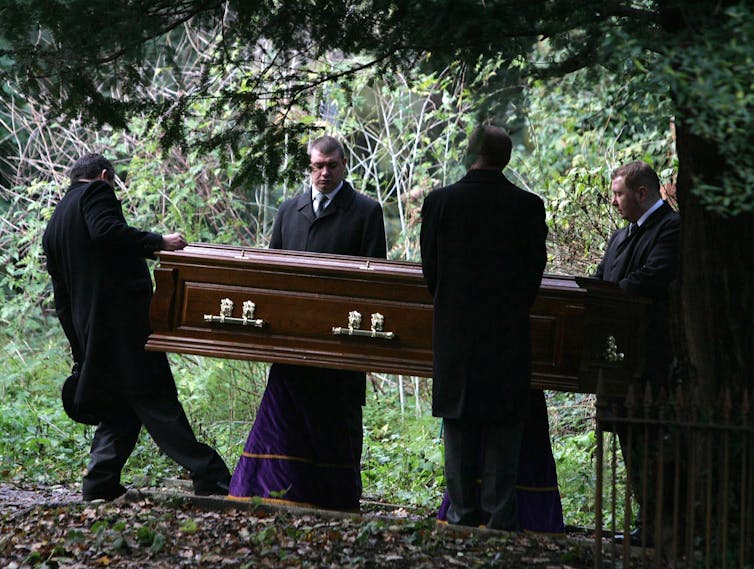 2. In 2004, Chechen terrorists took hostage hundreds of schoolchildren and their teachers in a school in Beslan in North Ossetia.
Russian authorities refused to negotiate and instead deployed military forces to storm the school. More than 330 people died and another 550 were wounded. Among the dead were 184 children.
Putin was adamant that the use of force was justified and necessary in the face of terrorism, and used Beslan to increase centralized Kremlin power. He rejected a European Court of Human Rights judgment that Russian authorities used excessive force against their own citizens.
Journalist, human rights activist and Putin critic Ana Politkovskaya was poisoned when traveling to Beslan to cover the siege. She survived, and continued to research and publish on Putin's assault on democracy until she was shot and killed outside her Moscow apartment in 2006.
3. In 2005, the American-born British CEO of Moscow-based investment fund Hermitage Capital, Bill Browder, was denied re-entry to Russia, and declared a threat to national security.
Browder's tax attorney Sergei Magnitsky then uncovered a US$230 million tax fraud scheme against Hermitage Capital. Magnitsky's work revealed high-level government collusion in the criminal looting of public assets.
After taking the allegations public, Magnitsky was arrested in Moscow on fabricated charges and detained for 11 months prior to trial. He was repeatedly abused in jail, including denial of treatment for chronic health conditions. Eventually he was beaten to death.
The Russian state's punishment did not stop then. Magnitsky was posthumously tried and convicted for tax evasion.
Browder has subsequently pursued justice for Magnitsky, advocating for the worldwide adoption of the Magnitsky Act. The act was passed by the U.S. Congress in 2012 to sanction individual Russians involved in human rights abuses.
Putin held a December 2012 press conference following the Magnitsky act's passage and the Russian Duma's subsequent retaliatory ban on American adoptions of Russian orphans. Putin said, "Magnitksy … was not tortured — he died of a heart attack."
4. On July 17, 2014, Malaysia Airlines Flight MH17 was shot down over Ukraine, killing all 298 people aboard.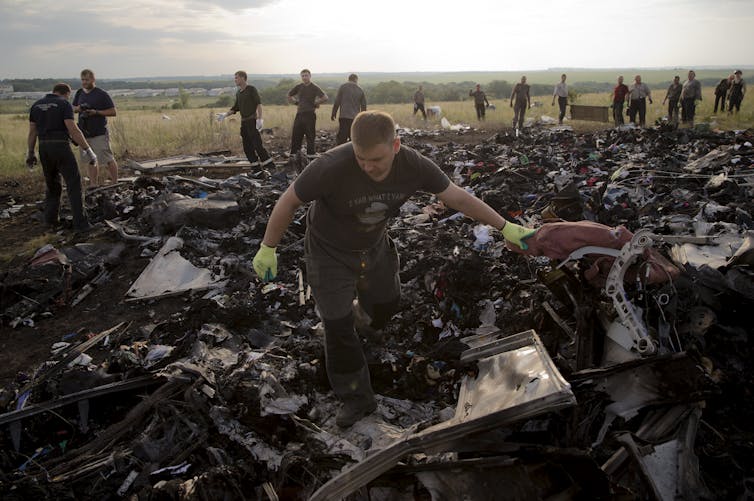 In May 2018, a U.N.-backed Joint Investigation Team concluded that the Russian 53rd Anti-Aircraft Missile Brigade, based in Kursk, had fired a missile and brought down the plane.
In direct contradiction of the forensic evidence, Putin flatly denied any Russian involvement in shooting down MH17.
That denial comports with Putin's long-time denial that Russian forces invaded Ukraine in 2014 – one of 10 false Russian claims about Ukraine identified and debunked by the U.S. State Department. That report is no longer available on the U.S. government website.
5. In February 2015, Russian opposition leader Boris Nemtsov was assassinated in Moscow. Just before his death, Nemtsov had taped a television interview in which he discussed his investigations into Russian war crimes in Ukraine, and called President Putin "our expert in lying. He is a pathological liar."
After Nemtsov's death, President Putin assured Nemtsov's mother, "We will do everything to ensure that the perpetrators of this vile and cynical crime and those who stand behind them are properly punished."
Nemtsov's relatives and allies insist on Putin's complicity and have called the investigation and prosecution of five killers a cover-up. Video evidence and the journalistic investigation into the details of Nemtsov's murder, likewise, see the highly organized hit involving multiple gunmen and vehicles as the work of a professional intelligence organization like the FSB.
Connecting the dots
The risks for individual Russians challenging Putin's lies are clear. One journalist has listed 34 suspicious deaths since 2014.
Those killed have nonetheless left an evidentiary trail for a host of contemporary writers like Masha Gessen, David Satter and Peter Pomerantsev. Those writers, and others, detail how Putin has built enormous wealth and power by deploying violence and deception to control the political narrative and disable or eliminate meaningful opposition.
President Trump respects that strength and at times, seems even to envy it. How, then, does he interpret this array of evidence of serial lying and complicity in multiple critics' violent deaths?
He might conclude that all of these independently produced, empirically-grounded investigations are somehow part of a grand deep-state conspiracy to defame or discredit a man of integrity who can and should be taken at his word.
That conclusion, though, would dishonor the ordinary and extraordinary Russians who have stood up to the deception and violence of President Putin's regime, risking or losing their lives as a result. It's the responsibility of the American president to acknowledge this. By virtue of the office he holds, President Trump has the ability to stop being played by Putin, and speak truth to power.