A national Resolve poll for Nine newspapers, conducted July 12–15 from a sample of 1,610, had "no" to the Indigenous Voice to parliament leading in a forced choice by 52–48 (51–49 in June). Initial preferences were 42% "no" (up two), 36% "yes" (down six) and 22% undecided (up five). I covered voting intentions and other results from this poll last Friday.
Here is an updated graph of the 2023 Voice polls by pollster that I first published two weeks ago.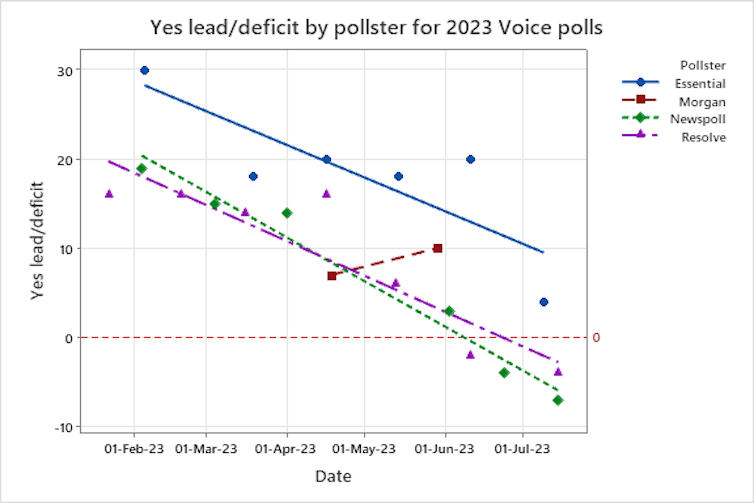 To be successful, a referendum requires at least four of the six states as well as a national majority in favour. Based on June and July Resolve polls from a combined sample of 3,216, "no" is now ahead in four states. The average of the June and July polls should be a three-point national lead for "no", but rounding could affect this calculation.
"No" led by 58–42 in Queensland and by 51–49 in Western Australia, South Australia and New South Wales. "Yes" led by 52–48 in Victoria and 54–46 in Tasmania (but Tasmania's figure is unreliable owing to a small sample size).
There are two glimmers of hope for "yes" in this poll. The first is that the rate of national fall has slowed, with "no" only up a point since June after gaining four points from May to June and five from April to May.
The second glimmer of hope is that only Queensland (58–42 "no") is way below the national figure for "yes". If "yes" wins a national majority, it's plausible they would carry all states except Queensland, and win the referendum. But it's unlikely "yes" wins a national majority.
I previously wrote that just one of 25 Labor-initiated referendums have succeeded, as the Coalition is nearly always opposed. While not succeeding, Labor-initiated referendums have performed much better when held with a general election than as a standalone referendum.
---
Read more: While the Voice has a large poll lead now, history of past referendums indicates it may struggle
---
By 47–31, respondents expected "no" to win (38–30 expected "yes" to win in June). By 44–29, respondents thought it inappropriate for big business to take a side in the Voice campaign, after being told several large companies will either campaign for or donate to the "yes" campaign.
On the Ukraine war, respondents were given a summary of recent developments and Australia's military support for Ukraine. On Australia's level of support, 45% thought it should be maintained, 31% increased and 9% decreased or withdrawn.
National Essential poll: Albanese's ratings slump
In a federal Essential poll, conducted July 19–23 from a sample of 1,150, Labor led by 50–45 on Essential's two party measure that includes undecided (51–44 last fortnight). This is Labor's equal lowest lead in Essential this term, tying with a 49–44 lead in March.
Primary votes were 32% Coalition (steady), 31% Labor (down one), 14% Greens (steady), 7% One Nation (down one), 1% UAP (steady), 9% for all Others (up one) and 6% undecided (up one).
Anthony Albanese's ratings were 48% approve (down six since May) and 41% disapprove (up six), for a net approval of +7, down 12 points. This is his worst net approval in Essential since the 2022 election. Peter Dutton's net approval improved three points since May to -6.
Politicians ranked last on trust in six professions tested, behind doctors, accountants, lawyers, bankers and journalists.
Of 2023 international sport tournaments, the men's Ashes had the highest level of "very interested" respondents, but more had some interest in the women's soccer world cup. This was followed by the women's Ashes, men's rugby world cup and women's netball world cup in interest levels.
By 59–26, respondents thought equal prize money should be awarded for the men's and women's soccer world cups. By 41–36, they approved nationally of the Victorian government's cancellation of the 2026 Commonwealth Games, but this question doesn't ascertain whether respondents thought Victoria was right to offer to hold the games in the first place.
WA poll: massive swing to Liberals since May puts them ahead
The Poll Bludger reported Sunday on a WA state poll by Utting Research for The West Australian. The Liberals led by 54–46, a huge 15-point swing to the Liberals since the May Utting poll that was taken soon after Mark McGowan announced his retirement as WA premier and member for Rockingham.
Primary votes in this poll were 37% Liberals (up nine), 6% Nationals (up one), 32% Labor (down 20), 10% Greens (up two) and 15% for all Others (up eight). This poll was taken by robopolling from July 18–20 from a sample of 1,000.
Current Labor Premier Roger Cook's ratings were 37% disapprove (up 11 since May) and 27% approve (down 15), for a net approval of -10, down 26 points. Liberal leader Libby Mettam's ratings were 31% approve (steady) and 24% disapprove (down nine), for a net approval of +7, up nine points.
There will be a WA state byelection on Saturday in McGowan's former seat of Rockingham. At the March 2021 WA election, McGowan won Rockingham by an 87.7–12.3 margin, from a primary vote of 82.8%. If this WA state poll is accurate, we would expect a huge swing to the Liberals at the byelection.
In a Voice question from this WA-only poll, "no" led by 58–29. Other polls, such as Resolve, have only had "no" just ahead in WA, so this is evidence of a sample heavily biased to the right in this poll.
If the poll is accurate, I believe the most important reason for Labor's crash is the retirement of the very popular McGowan. Labor has now governed for six years in a state that normally votes for the Coalition at federal elections (though 2022 was an exception). Concerns about high inflation and interest rates are probably hurting Labor.
Tories lose 2 of 3 UK byelections; right fails to win majority in Spain
Byelections occurred last Thursday in three United Kingdom Conservative-held seats. The Conservatives lost two with very large swings, to Labour and the Liberal Democrats, but held former PM Boris Johnson's former seat of Uxbridge. I covered these byelections for The Poll Bludger.
At Sunday's Spanish election, the conservative People's Party and far-right Vox combined won 169 of the 350 seats in the lower house, short of the 176 needed for a majority. The governing centre-left Socialists and left-wing Sumar won 153 seats, with regionalists, who are mostly left-wing, holding the remainder. The right had been expected to win an outright majority.