The destabilisation of Mark McGowan's leadership of the Western Australian Labor Party by former federal defence minister Stephen Smith – and his unnamed supporters within state parliament – was a folly of the worst sort.
Smith ended his leadership tilt following caucus' unanimous endorsement of McGowan on Tuesday.
Smith's surprising tilt at the leadership occurred following a month of rumours of an attempt to replace McGowan – first with former state transport minister and retiring federal MP Alannah MacTiernan, and then with Smith.
Smith's challenge fizzled out by Monday night after a weekend of speculation. Shadow cabinet released a statement unanimously supporting McGowan. The state executive rushed through the preselection of Reece Whitby for the new seat of Baldivis. This cut off Smith from the most obvious entry point into parliament.
State of play
A year out from the next state election, the latest Newspoll, released in January, had the Barnett government in trouble. Labor held a 53-47 two-party-preferred lead over the Coalition.
A Roy Morgan poll from early February had the government in an election-winning two-party-preferred position at 54.5%. However, McGowan had a strong rating of 56.5% over Colin Barnett as preferred premier.
Following the Newspoll result, it was reported that internal polling shows the swing to Labor is not uniform, and that the party faces additional challenges as a result of the recent redistribution.
McGowan is in his fourth year as leader. During the 2103 state election, while campaigning against a somewhat struggling government, Labor made inroads in the electorate with its Metronet public transport ambitions, but McGowan was unable to stop a strong swing toward the government.
Labor was never going to win that election. It looked as though Labor was set for another two terms in opposition following 2013; winning government requires a 10% swing.
The Barnett government's second election honeymoon period was fleeting. The scandal surrounding then-treasurer Troy Buswell, who resigned in disgrace, wreaked havoc with the government's policy agenda.
Over the past four years, McGowan has been a solid opposition leader, with a competent team of frontbenchers, plugging away at a government unable to come to terms with a booming economy that didn't slow down as much as come to a screaming halt. There is still a level of disbelief within WA that not only has the state's credit rating been downgraded, but that the debt will reach A$39 billion by 2019.
While performing consistently, the opposition has been low key, at times struggling to break through. In part this is because the almost unbelievable events in Canberra since 2010 have overshadowed state politics across Australia. As such it is difficult for the opposition to gain the oxygen required in a one-daily-newspaper town.
It hasn't all been smooth sailing for McGowan. Labor state secretary Simon Mead's costly departure brought unwanted attention to the party's internal workings. The "debt monster" stunt designed to draw attention to WA's spiralling debt was not universally well received.
What now?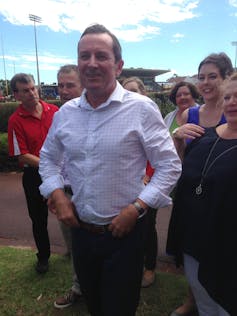 Former WA Labor state secretary John Halden's claim that McGowan isn't flamboyant enough to be premier would have been a legitimate argument if MacTiernan were making a run for the leadership. But to suggest Smith, one of the driest performers Labor has produced, would prove any more animated than McGowan certainly raised eyebrows.
A highly competent minister, Smith now appears to be suffering from relevance deprivation syndrome. With his attempt to seize the leadership, he has engaged in a level of destabilisation more suited to Canberra than Perth.
Labor forces, including a significant number of local MPs, quickly gathered around McGowan to shore up his position. Despite McGowan surviving, and performing strongly since Friday in dismissing Smith's claims about his leadership, he has sustained completely unnecessary damage.
The worst-case scenario for McGowan is that, having seen Smith was serious, caucus members get worried if Labor's numbers drop in the local polls, and Smith sits on the sidelines stalking McGowan.
At some point Labor needs to consider the message such actions send to current and future MPs. Why would anyone put up their hand to undertake the hard yards of opposition only to have the leadership taken off them late in the day in the hope that another candidate will be more popular on polling day?