Tolstoy's celebrated novel War and Peace has recently been enjoying some fresh attention thanks to a number of adaptations. BBC Radio 4 broadcast a ten-part adaptation of the novel. Later this year, the BBC will also screen a TV version penned by Andrew Davies, well known for his adaptations of classic literature.
In contrast with these dramatisations, Russia brought War and Peace to the attention of the world thanks to a ballet sequence representing one of its key episodes at the Opening Ceremony of the 2014 Winter Olympics in Sochi.
All this suggests that Tolstoy's novel about early 19th century Russia is seen as having a contemporary relevance. But how relevant it is differs considerably in each situation.
War and Peace
War and Peace, regarded by some as the greatest novel ever written, tells the story of a group of aristocratic Russian families during the Napoleonic Wars. It charts their lives, loves, and experiences of conflict.
But central to the novel is also Tolstoy's criticism of the historians of his time for presenting a distorted view of life by focusing on those in power – the monarchs, politicians and generals. He argued that their actions and decisions were not the prime cause of historical events and developments.
Instead, he saw human history as progressing thanks to an infinite chain of small, insignificant moments in which all individuals, mighty or humble, were involved. The novel shows this view through the characters and their interactions, but also through essays inserted at various points in the text.
From its first publication in Russia in 1868, this aspect of the novel has proved controversial. This was not so much because of the subject matter (though this provoked plenty of debate) but more because readers struggled with a style of writing that they felt did not belong in a novel. The difficulty over how to approach the historical essays has beset new editions, translations and adaptations both in Russia and abroad to this day.
The Patriotic War
The period covered in War and Peace plays an important part in Russia's view of itself, particularly the novel's climax, the 1812 Battle of Borodino, which proved to be the turning point for Napoleon's eventual defeat. Russians call the 1812 invasion the "Patriotic War", and there are numerous works of art, literature and music celebrating the costly defence of the Motherland, which involved terrible loss of life and the temporary sacrifice of Moscow.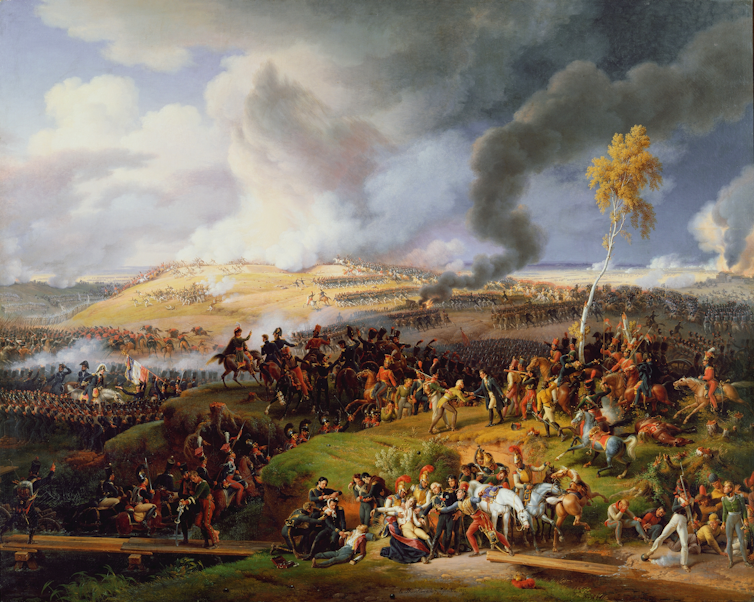 But War and Peace is far from a triumphalist tub-thumper. Tolstoy focuses on the horrors as well as the excitement of battle. He shows the physical and mental traumas suffered by both military and civilians. The historical essays show the ultimate futility of so-called "great men" trying to change the course of history by force of will. Tolstoy went on to be an outspoken advocate of pacifism and a critic of power hierarchies and national patriotism, inspiring figures such as Gandhi and Martin Luther King.
So it's unsurprising that analysts sometimes call on War and Peace as a universally relevant comment on contemporary conflicts. This happened during the war in Iraq, and around the same time a number of new competing translations were published. And in the light of the current conflict in Ukraine, and Putin's aggressive stance towards NATO, Western critics are again using Tolstoy and War and Peace as cautionary examples from Russia's own culture.
The Sochi story
But the inclusion of a War and Peace segment in the Sochi Olympics Opening Ceremony tells a very different story. Here, the novel was used to present and package the image of itself that Russia wanted the world to see. This is an image that would accord Russia the status of world power, celebrate its history, culture and technological achievements, whilst staying in keeping with the Olympic values of peace, international friendship and inclusivity.
On the surface, it would seem that the scene chosen was appropriate: the War and Peace segment, standing for the grandeur of 19th Century imperial Russia, featured a ball at which the novel's lively young heroine, Natasha, falls in love with Prince Andrei, observed by rival suitors the good-hearted Pierre and the scheming Anatole.
But why War and Peace specifically, rather than, say, Anna Karenina, another internationally well known Tolstoy novel, featuring an equally important ballroom scene? Was it to acknowledge Tolstoy as a messenger of peace and universal human values?
Russian viewers would associate the novel with the idea of nationalistic patriotism to which 1812 contributes. The older Russian generation also might well remember Stalin's popularisation of War and Peace during Hitler's invasion to stir up patriotism and national morale.
These messages are evidently at cross-purposes. The annexation of Crimea and the subsequent bitter conflict in Ukraine following so swiftly after the Sochi Olympics would suggest that Putin has learned no lessons from Tolstoy about the mistaken belief in the will of "great men".
Whatever the reasons for the choice of War and Peace at Sochi, it is clear that Tolstoy's novel can be interpreted in different ways for different purposes. That said, its message is especially relevant in the context of Russia's involvement in global politics today. The example of War and Peace shows that Putin's administration is skilled in manipulating Russian culture to serve its own agenda, both at home and abroad.