As Christmas and summer holidays approach, many of us are packing our bags, ready to drive off on holidays to see families and friends.
Those long car trips are often to coastal towns, national parks and other stunning landscapes.
But before we all set off, it's worth giving a thought to what else may be coming along for the ride.
There are more than 625 species of plants worldwide that have seeds that can attach and be dispersed by cars, according to our recent systematic review, published in PLoS ONE.
Nearly all of these plants (96%) are considered a weed somewhere in the world, and 370 of them have been introduced to Australia and have now spread to a wide range of habitats.
Why does carrying weed seed matter? In Australia, weeds threaten many natural ecosystems as well as invade our gardens, and are a major threat to biodiversity globally.
They are also very expensive to manage, with the estimated cost of weeds to Australian agriculture a massive $4 billion a year.
Worst weeds to watch for
Nine of the worst weeds in Australia have seed than can be carried on cars.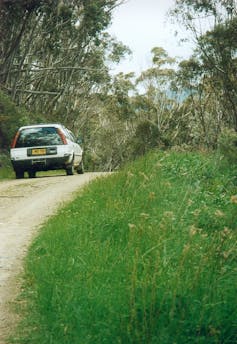 These include boneseed, Chilean needle grass, serrated tussock, gorse, two species of willows, parthenium weed, blackberrys and mediterranean broom, which are all considered to be "weeds of national significance".
Gorse alone is thought to cost well over $1 million a year in lost productivity, mainly in Victoria and Tasmania.
With its masses of bright yellow flowers, this tough prickly shrub can produce up to 6 million seeds per hectare each year, which can then last up to 30 years.
As well as dominating old pastures, riverbanks and roadsides, gorse is a flammable species that is becoming an increasing problem in national parks, including the Blue Mountains, Barrington Tops National Park and the Australian Alps.
One car, thousands of seeds
Although individually our cars may only carry a few seed, collectively it all adds up.
With more than 12.7 million passenger cars on the road in Australia, we estimate that there are between 25 million and 51 million seeds carried on cars on any given day in Australia.
In one of study by Nigel Wace that we reviewed, the sludge from just one car wash in Canberra was found to contain an astonishing 18,566 viable seeds.
Cars can carry seeds long distances, much further than by many natural means such as wind and water.
Although most seed is likely to be dispersed at shorter distances (up to 40 kilometres), some seed is transported more than 250 kilometres on cars.
Weed seed hiding places
So where on your car might all these seeds be?
Seeds can be found in lots of places, including wheels, wheel rims, under the chassis, front and back mudguards, and in the interior, particularly the floor mats on the driver's side of the car. They can also travel on arches and bumper bars.
Where and when you drive matters too.
Driving on a paved road collects less seed than driving on an unpaved road.
When it's dry, fewer seeds may attach to your car, but they may then be carried further than driving on a wet day. If you get lots of mud on your car, it's likely it will contain a lot of weed seed, particularly if you drive across paddocks, road verges or go four wheel driving.
Carrying weed seed may not be such an issue when you're driving in cities, but when you're heading into remote natural areas, you may be bringing weeds with you.
So what can you do about this problem?
It's easy: just give the car a quick wash before you head out on that holiday. Then pack your bags, drive safely, and have a great summer break.