Whales have become a synecdoche for nature in contemporary society's debate over how to use the resources of the planet. This has only escalated in recent years with the hotting up of debate between Australia and Japan over "scientific whaling".
I believe we need to look more closely at how whales are viewed in this debate. I have been exploring whaling and whale watching to determine the viability of their divergent practices, and to explain why they coexist in some cases.
At no time in the history of marine resources have whales been more accessible to people. Whale watching is often viewed as an ecotourism product. Promoters present it as an activity that is fast growing, holds potential for local regeneration and promotes conservation. It is both ecological and profitable.
Whaling, on the other hand, is currently under considerable scrutiny. It relies on economic and increasingly cultural rhetoric to support its viability. Whaling has a long history in many cultures, but groups now making a living from it seem to have only a tenuous cultural connection to the practice.
I have been looking at Japan and Iceland, examining the sustainability frameworks (such as the environmental management standard, ISO 14000) and political rhetoric surrounding both whaling and whale watching. I wanted to know whether whale watching might offer an alternative economy for the whaling and fishing communities in an era of conflict over sustainable resource use.
I found that participation in whale watching grew from 9 million tourists in 2001 to 13 million in 2008, with revenues rising from $1 billion to $2.1 billion per annum over that period. Whaling, on the other hand, relies heavily on state and private subsidies.
There is evidence to support a transition from hunting to viewing that would be "a way out for everybody" – both in terms of economics and national pride.
The state-supported whaling industry in Japan has made consistent losses over the past 20 years – an estimated US$223 million since 1988 – and amassed a stockpile of whale meat estimated at 4000 tonnes in 2010.
In Iceland, where the whale hunt has been supported from other fishing industry profits, whale watching is growing faster than it is in the rest of Europe, averaging 17% per annum. In 2010, whale watching's total economic contribution was estimated at US$16.4 million.
In both countries, successful whale watching businesses have been launched out of former whaling and fishing ports, offering an alternative economy for those communities.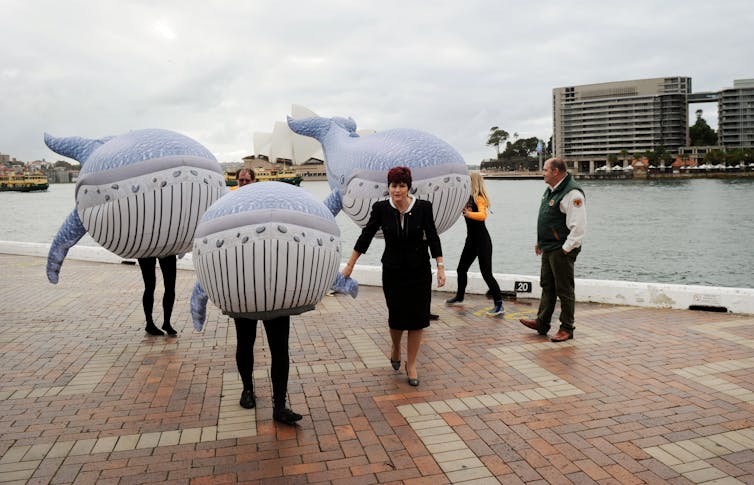 With more and more interest in whales it is possibly time we looked at their future in a much more sustainable manner. We do not want a repeat of the Free Willy story, where a whale was used to promote a series of movies about animal rights while it was kept in captivity in a very poor living environment. We need to finally acknowledge the full value of whales as animals and a part of the biosphere, not just as meat or entertainment.
The debate about the global use of whales will continue. But we can learn from Africa, where the "big five" - lion, African elephant, cape buffalo, leopard, and rhinoceros - were hunted until they became more valuable as a lure for tourists.
Subsidised whaling is likely to come to a halt eventually. It appears to only exist now based on national pride in a few countries (in support of the rights of a nation to undertake its cultural activities without international intervention) and due to a few communities still able to make a living from it (this is being reduced as demand declines).
Now policy makers need to fund more research so we can have definitive information on the economic benefits of whaling to the communities that engage in it, the potential value of whale watching in these communities and the potential impact on whales of a transition from whaling to whale watching. Without this information, all we will have is uninformed rhetoric.