Australian governments regularly spend billions of dollars cancelling infrastructure projects, or dealing with delays and legal challenges. The NSW Berejiklian government, for instance, is mired in legal battles around Sydney's light rail project – with the Spanish company building the rail line suing the government for A$1.2 billion for costs and damages.
Other examples include the cancellations of the A$1.1 billion East-West link in Melbourne and Perth's A$450 million Roe 8 project.
Research shows transport infrastructure is costly because of its size, complexity, and the misrepresentation of project benefits, resulting in cost overruns. But transport projects are also costly because they are controversial. Governments and project proponents can spend significant amounts of money to manage the risk of project cancellation, delays and legal challenges.
Why the constant controversy?
Transport will be a key policy battleground area in the upcoming Victorian election. Just this week, the Andrews' government announced a A$50 billion underground suburban rail loop, which will link every major rail line in Melbourne and the new airport rail.
The announcement is politically motivated rather than being grounded in a publicly engaged strategic planning process attached to a clear evidence-base.
---
Read more: East-West Link shows miserable failure of planning process
---
Victoria is not alone in such political infrastructure planning. The NSW government is currently embarking on the largest transport infrastructure project in the country's history, with the 33km WestConnex. The project continues to attract opposition from some parts of the community and from the City of Sydney.
WestConnex is also currently subject to a parliamentary inquiry into its impacts, including the adequacy of the business case for the project and the compulsory acquisition of property. The inquiry comes following pressure from community groups and some members of the state's Greens.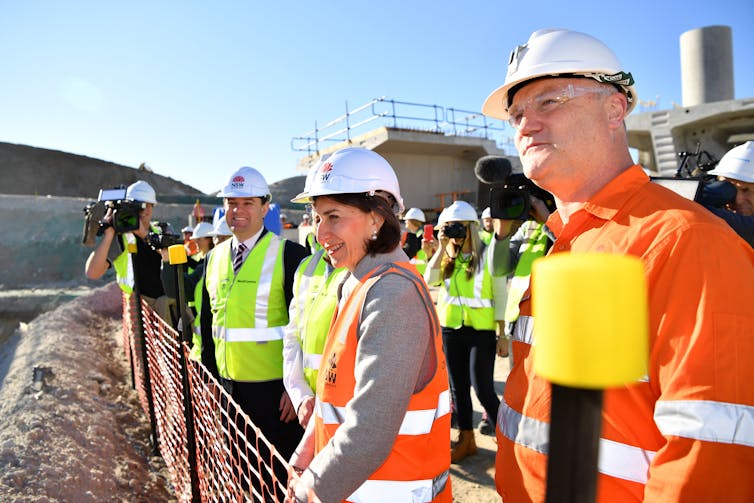 Large-scale transport infrastructure will always attract attention because it involves the distribution of a finite resource in complex regions pressed with significant infrastructure needs. But we need to consider why transport infrastructure is almost always so controversial, and how politicians can ensure they have the public's trust when making announcements for all transport projects.
---
Read more: Why fewer drivers are likely to use WestConnex than predicted
---
1. History
Australia has a history of anti-road activism that centred on the notion cities are for people not cars, as large motorways divide communities and promote car dependency. In the 1960s and 70s, large urban motorways were set to pave over suburbs as part of a wider urban regeneration agenda, which set the anti-road agenda in motion.
When the East-West Link was proposed again in 2012, many of the same activists from the 1970s returned to the scene. One such activist, Tony Murphy, would lead a high-profile legal challenge to the project in 2014.
Inner-city motorways - such as the East West Link and Stage 3 of the WestConnex project – are underpinned by this historic opposition. And it's strengthened by the privatisation of roads and the introduction of toll roads. Under these conditions concerns will continue to be put forward about who actually gains to benefit from such projects – private companies, the government or the people?
2. Infrastructural symbolism
Inner-city motorways crystallise competing visions for the Australian city. Should we be investing in roads or rail, or both? How do we prioritise delivery? Where should we be investing? How will we pay for these investments? And do the benefits - and we need to be clear about how we define these - outweigh the costs of construction, the loss of natural assets and urban displacement?
The act of investing in one form of infrastructure over another becomes a symbol of what we value. Road based infrastructure planning is controversial because it's often seen to value cars over non-road based alternatives.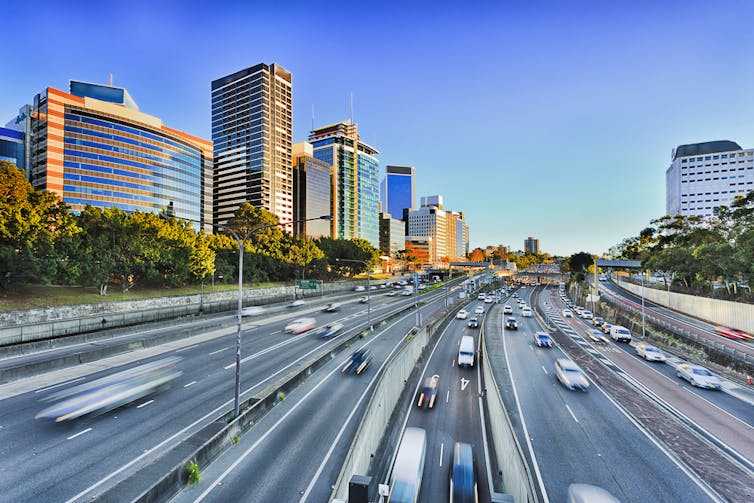 The East-West Link, West Gate Tunnel, North East Link and WestConnex projects are symbols of past poor investment in integrated land use and transport planning. They are also a symbol of little clarity and coherency about what it is we are aspiring to, and how these expensive projects will help us get there.
3. Trust in evidence
There are concerns projects are being announced before they are properly costed. And this has been further complicated by the introduction of public and private partnerships and more recently the use of market-led proposal schemes (where a private firm makes an infrastructure proposal to goverment), which calls into question the role evidence and the business case plays in decisions about transport infrastructure.
These concerns are only exacerbated when public access to this data is difficult to obtain. And they will only intensify unless bodies such as the ACCC demand data accessibility, including from tolling operators and sharing platforms.
In Toronto, project business cases are written before investment announcements are made. The business cases are then used in wider discussions about what kinds of infrastructures the region should invest in. While every city and region has its challenges, the controversy in Australian cities has become as much about the role of evidence, including its accessibility and transparency, as it is about the contents of those documents.
---
Read more: A closer look at business cases raises questions about 'priority' national infrastructure projects
---
What politicians should do
As Australian cities continue to embark on ambitious infrastructure programs - both roads and public transport - governments must pause to ask themselves who these projects are really being built for. To abate future controversy, governments must:
develop plans for public debate and engagement, which will help provide a strategic case for projects when they are announced
deliver business cases before projects are announced, not after. This must include a clear evidence-base for land use, affordable housing, employment and integrated transport
plan transport with a regional outlook, but also be mindful of stories and histories of the places and neighbourhoods that might be affected.
Ultimately, residents must be engaged in discussions about urban scenarios and project alternatives. Infrastructure Australia recently released a set of guidelines for big projects. These guidelines are important.
We can also look to Infrastructure Victoria. They included a citizen jury method in the development of their 30-year strategy, which perhaps can be expanded into a larger planning exercise that ties the visions with short-term solutions – such as better quality bus integration. These can then be linked with the more ambitions ideas such as a suburban rail loop as announced this week.
---
Read more: City calls on jury of its citizens to deliberate on Melbourne's future
---