Used properly and consistently, condoms are the most effective, affordable and low-tech way to prevent HIV. Unfortunately, condoms are not an easy option for everyone – particularly women.
Many women find it difficult to negotiate condom use. This may be for cultural or personal reasons. Married women, for example, may be seen to mistrust their husband if they insist on condom use, despite many married women being at risk of contracting HIV.
Gender inequality is a major driver of HIV infection across the world, particularly in lower-income countries. Young women are at measurably higher risk. Given this, an HIV-prevention mechanism that women can control is likely to be vital to reducing the global spread of HIV.
But what are the alternatives to condoms?
An emerging generation of HIV-prevention technologies has the potential to be women-centred. However, there are still social and cultural barriers to their introduction.
Microbicide gels
Microbicides are products that contain antiretroviral medications. These can be inserted into the vagina in the form of a gel or cream. When used properly, microbicide gels significantly reduce the likelihood of HIV transmission.
However, research has yet to demonstrate efficacy of these products among women due to low adherence in clinical trials. For instance, a recent trial involving more than 2,000 South African women found no difference in new HIV infections between the intervention and control groups. This is likely because too few women used the product consistently.
These findings parallel previous studies in which post-trial focus groups with participants indicated women did not use the gel because they feared it would affect their fertility, they found it logistically complicated or they, or their partner, did not like the feel of it.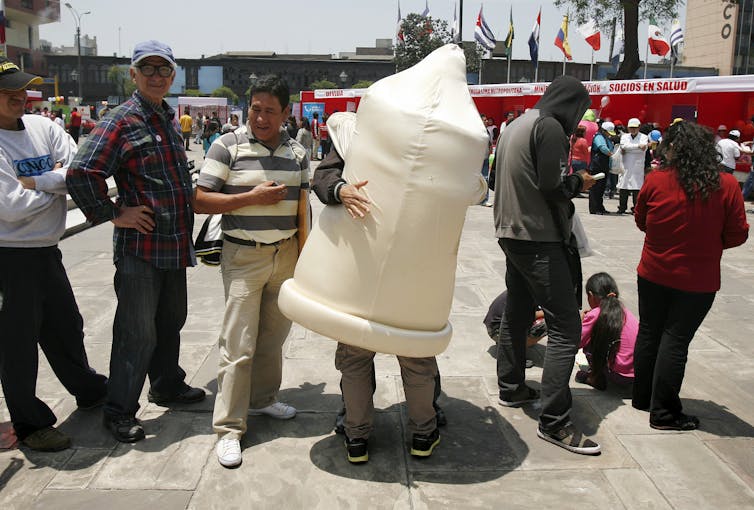 Vaginal films
A possible alternative to gels involves microbicide vaginal thin-films. These are thin, dissolvable squares that can be inserted into the vagina as a mechanism to deliver antiretroviral medication.
The advantage of films is that they are discreet and less messy than creams or gels. They are also likely to be cheap and easy to produce commercially. However, they still require regular application, so larger trials may yet reveal barriers to adherence.
Pre-exposure prophylaxis pills (PrEP)
Oral PrEP is a once-daily pill containing a combination of antiretroviral medications that prevent HIV from taking hold in the body. Clinical trials in Western countries have shown that, when used properly, PrEP reduces the risk of HIV transmission by more than 90%.
PrEP has potential to make an enormous difference to HIV prevention globally. But a once-a-day pill regimen may be more complicated than it initially seems. As with microbicide trials, PrEP trials among young women in low-income countries found very low adherence to the pill regimen.
Researchers are still unpacking the reasons for this. One striking finding was a large discrepancy between the doses women reported taking and the doses they actually took, as shown through blood testing.
This revealed a mistrust among women of both the drugs and the trial. Women were concerned researchers had deceived them about possible side effects, but they wanted to remain on the trial to receive financial compensation and health care.
Stigma also played a part in low usage. Many women were concerned they would be falsely labelled as HIV-positive if seen taking the drugs.
Vaginal rings
Vaginal rings are a microbicide product that comes in the form of a ring, inserted into the vagina, which slowly releases antiretroviral medication. The major benefit of this product is that it is inserted just once a month.
Early trials of vaginal rings show promise with respect to both efficacy and higher adherence than products requiring daily dosage. The ring is also subtle, so women can have sex without their partner knowing it is there.
Future technology may also be able to combine antiretroviral medication with contraception in one ring.
Long-acting injectable (LAI) PrEP
Long-acting injectable antiretroviral medication has been described as a game-changer in HIV treatment and prevention.
These products, which are in the very early trial phase, could operate in a similar fashion to long-acting reversible contraception, whereby antiretroviral medication would be administered by injection once a month or less.
The benefits of this approach, apart from improved adherence, are reduced side effects associated with oral products, such as gastro-intestinal problems. Uptake of this product in low-income countries could also be facilitated by cultural and technical knowledge gained through delivery of long-acting reversible contraception in these areas in recent years.
The future is social
While research for an HIV vaccine and cure continues, advances in microbicide and antiretroviral technology are the foundation of global prevention efforts.
However, the technology itself is clearly only one part of the story. The effectiveness of these technologies for women will ultimately be determined by social and cultural process.