For many Australians summer is synonymous with cricket and tennis. But as Australian summers become more prone to extreme heat conditions, sustainable and climate-adaptable stadium design has become a leading consideration for both sporting codes and governments.
The final Ashes test played at the Sydney Cricket Ground recently showed that the cricketing community must adapt to heatwaves made worse by climate change.
---
Read more: Just not cricket – how climate change will make sport more risky
---
And in recent years the Australian Open has produced many stories of both tennis players and spectators suffering in extreme heat. And more are expected over the two weeks of the current tournament.
As the New South Wales government embarks on a hugely expensive rebuild of major stadiums across Sydney, now is a good time to ask whether major Australian sports venues are adequately "climate-proofed" for a warming future.
Climate change is literally a 'game changer'
The Climate Council released a report in 2016 detailing the risks of extreme heat to human health, exacerbated by climate change. It recommends that extreme heat adaptation is incorporated into urban planning and building design policies.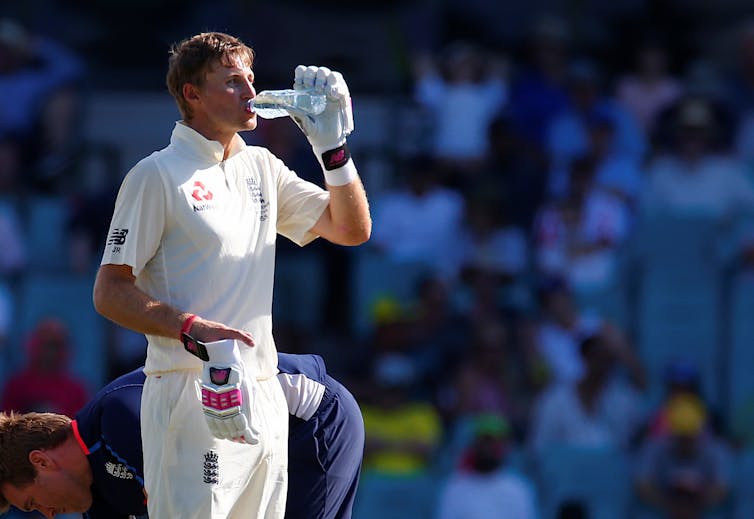 Following the final Ashes Test, the International Cricket Council (ICC) was criticised for failing to provide a clear policy protecting players in conditions of extreme heat.
Other sporting codes have considered how a game should be managed in conditions of extreme heat but have mostly focused exclusively on the welfare of players and field officials.
Spectators are also vulnerable to extreme heat
As the 2018 Australian Open is now under way, it's worth a look back at the 2014 event, when the tennis players and spectators suffered as temperatures soared over 41ºC.
Accounts emerged of spectators collapsing and attendances declined as Melbourne endured a catastrophic heatwave. Subsequent renovations to Melbourne Park featured important heat management aspects.
In 2015, Margaret Court Arena received LEED (Leadership in Energy and Environmental Design) Gold Certification. LEED is the world-leading rating system for green buildings.
LEED certification provides a framework to measure sustainability through the design, construction and operation of a building through its life cycle. This is achieved by incentivising reductions in energy, water and building materials consumption, while at the same time enhancing the health of occupants.
In order to manage heatwaves the stadium redesign included a retractable roof, allowing air conditioning and lighting to be reduced, and reflective roof coating to reflect over 70% of the sun's heat.
A larger open space that provides more shade and indoor areas was included in Rod Laver Arena for the benefit of both tennis fans and concertgoers.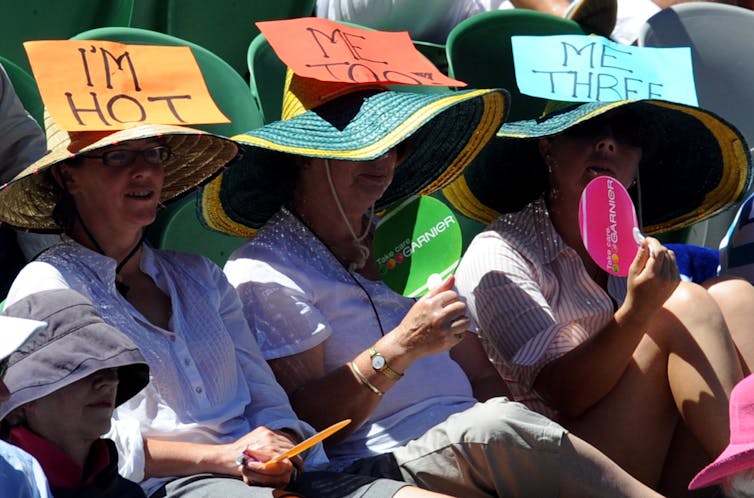 Taking the LEED in Sydney
The new Western Sydney Stadium is the first NSW stadium to undergo such a reconstruction to bring it up to LEED standards.
The stadium rebuild is legally a "major project" and classified as State Significant Development under the Environmental Planning and Assessment Act 1979 (NSW) (EP&A Act). This means the NSW planning minister was responsible for assessing and approving the rebuilding of the stadium.
The NSW government pointed out that the new stadium will feature a Gold LEED energy and environment rating.
The stadium and the surrounds are designed to reduce the occurrence of "heat islands". Measures to cool heat islands include planting over 200 trees in the surrounding precinct and using softer and cooler pavement materials.
The minister noted in the assessment report that the LEED certification targets reduced energy and water consumption through efficient air conditioning and a design that maximises natural ventilation and insisted that the stadium increase its own supply of renewable energy to power air conditioning and refrigerants.
The gold standard in environmental design
While some headway is being made in Australia, LEED has already been widely applied to stadium design and construction in North America. At least 30 certified stadiums have been constructed.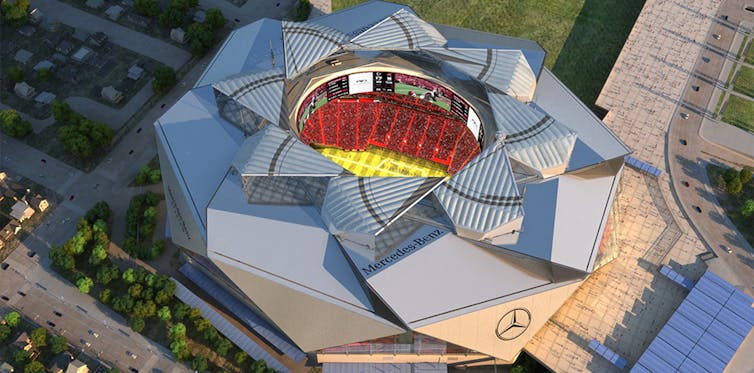 The new HOK-designed stadium in Atlanta is the first LEED Platinum-certified sports stadium. Aside from its retractable roof for extreme heat protection, the 185,000-square-metre venue is designed to conserve water and energy. It uses 47% less water than baseline standards and includes a five-hectare adjacent green space, 4,000 solar panels, bike valets and charging stations for electric cars.
Stadium design needs to plan for climate change
The recent Ashes Test matches and current Australian Open are stark reminders that approvals for stadium design need to consider the relationship between climate change adaptation and extreme heat. If the LEED certification fails to provide for human health it is incumbent upon government to insist that more is done for the welfare of spectators.
---
Read more: Extreme heat in sport: why using a fixed temperature cut-off isn't as simple as it seems
---
Climate change will continue to increase the risks from extreme heat to levels not previously experienced. The design of our sporting stadiums must manage heatwaves with the welfare of both players and spectators in mind as temperatures continue to rise in the future.
The impacts of extreme heat during the 2018 Ashes series presented a serious challenge – and the Australian sporting summer is far from over.