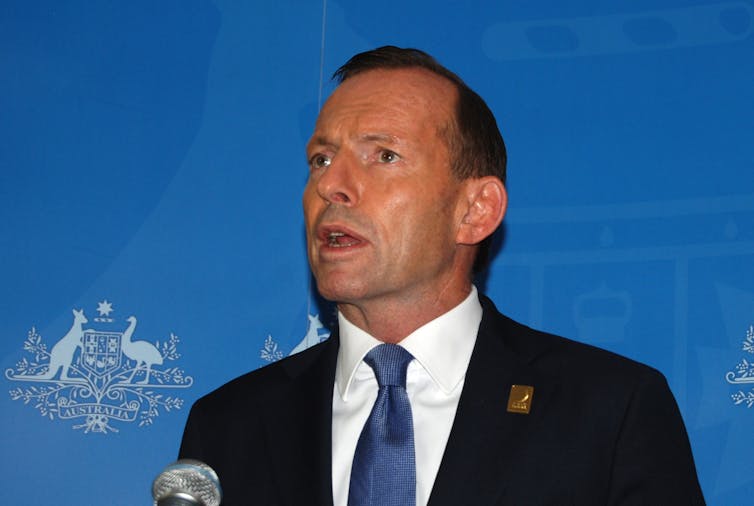 It was a freezing winter day in Wangaratta. Some guests stayed in their overcoats throughout the church service. Sophie Panopoulos, who was becoming Mrs Mirabella, was resplendent in gold satin. Greg Mirabella, who served in the army reserve, had obtained whatever special permission one needs to wear military dress for the occasion.
After the ceremony, the bride went back to her electorate office to have a drink with the Canberra-based journalists she'd invited (as guests) from the Melbourne papers. Slightly unorthodox but then Soph is not your usual kind of girl. We reporters filed items for our Sunday papers and then went on to the reception, where a good time was had by all.
Tony Abbott was one of several MPs at the Mirabellas' nuptials in 2006. He claimed more than $1000 of public money for travel expenses which, as controversy swirls about Coalition politicians billing the taxpayers for attending weddings, he has just paid back.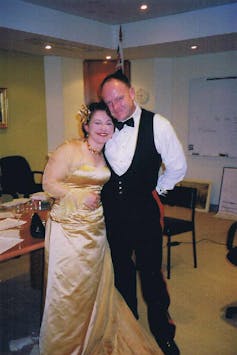 There is no reasonable case a politician could make that the Mirabella wedding was some sort of official work. The only guests who had (light) duties were the journalists (and no, I didn't claim any expenses from my company). The fact that it was simply a social occasion was implicitly recognised by those politicians who didn't make claims. George Brandis, also on the guestlist, who has been caught up in another wedding controversy, travelled with fellow senator Brett Mason and neither claimed.
Abbott, questioned in Bali today, said he was Leader of the House at the time and the "Leader of the House of Representatives has certain representational roles". He ended his media conference while journalists were still trying to quiz him.
He has also paid back money (about $600) for expenses occurred in attending Peter Slipper's 2006 wedding. Oops, that's a really bad look. Former speaker Slipper is before a court for allegedly rorting entitlements.
Quite a few Coalition faces are reddening – or should be – as disclosures come out about their old claims. Weddings have been a honey pot.
Brandis and Agriculture Minister Barnaby Joyce have reluctantly coughed up money to repay claims for going to the 2011 marriage of shock jock Michael Smith. Brandis explained after the revelation that it was about fostering "collaboration". Smith was working on Labor scandals. So this was "primarily a professional rather than a social engagement". (From all reports, he turned work into play.)
Joyce, Teresa Gambaro and Julie Bishop were given a freebie trip by Gina Rinehart to attend a 2011 wedding in India (the purists might raise eyebrows about that) and then claimed collectively more than $12,000 of taxpayers' money to get home again, saying that various meetings and other activities they added on made study tours (to which they were entitled). (Malcolm Turnbull, questioned at the weekend, strongly defended Bishop's round of engagements.)
Of course dubious claims are not just on one side. Julia Gillard paid back money when she was deputy opposition leader for partner Tim's use of her car for a purpose which fell outside the guidelines. When Gillard (as PM) used a VIP plane to attend the Byron Bay wedding of one of her press secretaries, the media raised a question about entitlement – her office said she had other engagements in the area.
Abbott said the Finance department, which administers these things, had said it was not clear whether the wedding claims he made were proper under the rules.
Former Liberal minister Peter Reith made a big stretch when he told the ABC: "you are 24/7 as ministers. This is all part of being a politician. If you get an invitation to go to a private occasion, then the judgment you make as a minister is, is this worth it from a political point of view? And that's why it is political, getting to know someone on a personal, intimate basis can be a very important part of what you do as a politician."
Did Abbott, health minister at the time, judge it worth going to Soph's wedding "from a political point of view"? Didn't he have plenty of other opportunities to get to know her on a personal basis?
Reith is out of parliament but Coalition politicians who try to defend the wedding claims undermine their own criticisms of misuse and waste of public money.
Even more serious, they reinforce the deep public cynicism over how politicians behave and the gap between their words and actions.
There are calls (from the Greens, independent Nick Xenophon) for tightening the rules about claims. One suspects that actually the problem is not so much with the rules as with the people who are supposed to live within them. Despite the odd legitimate definitional issue (and that's why MPs can pay back money when mistakes are made) they should be clear enough to anyone who takes a proper and commonsense view of what's work-related and what's "personal". People in other jobs make that distinction all the time. But if it's beyond the MPs to know the difference, let's have the tightening so the public can feel some confidence that their politicians are doing the right thing with taxpayers' money.