Gardasil is a vaccine that protects against cervical and other cancers. It works by boosting the immune response against the types of human papillomavirus (HPV) known to be behind most of these cancers.
Girls aged 12-13 have been receiving Gardasil as part of Australia's school-based immunisation program since 2007. And from 2013, boys of the same age were also included in the program.
---
Read more: Boys should also get the HPV vaccine to protect themselves from oral and genital cancers
---
The vaccine has been in the news recently because the committee that advises the federal government on which medicines should be publicly funded has recommended a new version of Gardasil (Gardasil 9) be subsidised. It is likely to replace the original Gardasil in the school vaccination program from 2018.
Gardasil 9, as its name suggests, protects against nine types of HPV (five more than the existing Gardasil). Recent studies have also shown that if you vaccinate people under 15 only two doses, not three doses, are needed to achieve good immunity. This obviously has implications both for cost and convenience, and only two doses of Gardasil 9, 12 months apart, will be given in the new school program. Those older than 14 will still need three doses of the new vaccine.
While Gardasil 9 is licensed for use in Australia, it is not yet available, nor is it clear when it will be introduced in all states. However, it is already used in the US, New Zealand and Europe.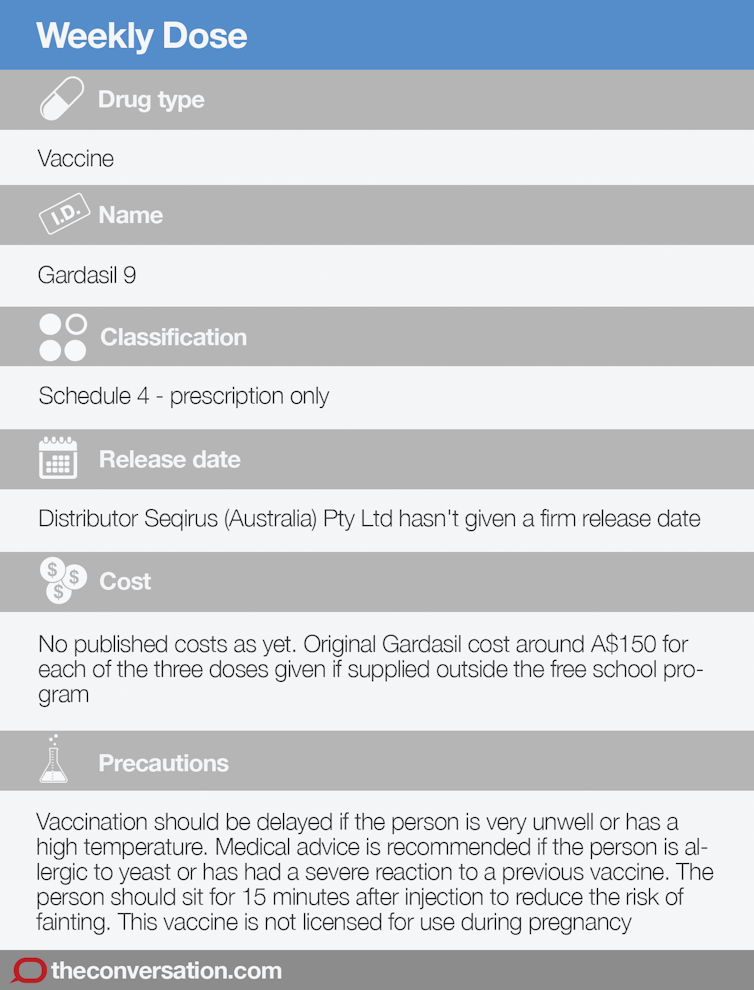 HPV: common, infectious and potentially deadly
Over 120 different types of HPV infect humans and 15 of them, almost always sexually transmitted, are linked to cancers of the genital area and throat.
HPV is highly infectious and by age 50, some 80% of sexually active people will have picked up at least one type of genital HPV.
Most HPV infections settle within two years, but in a small number of people the virus secretes itself within the cell nucleus, evading the immune system and increasing the risk of future cancer. HPV contributes to almost all cancers of the cervix, vulva and vagina, and is also the trigger for many cancers of the anus and throat.
Cervical cancer is the fourth most common female cancer worldwide and the cause of about 270,000 deaths each year. About 250 of those who die each year are Australian women.
Gardasil
The 1990s saw the development of the first HPV vaccine, Gardasil. The vaccine contains no infectious material. Instead, it contains four different virus-like particles, identical to those in the protective capsule around HPV types 6, 11, 16 and 18. These are produced inside yeast cells.
Types 6 and 11 cause 90% of genital warts, while types 16 and 18 are associated with around 70% of cervical cancers.
Once injected, the virus-like particles generate a strong immune "memory", providing protection from those particular HPV types in the future. Three injections were required over six months to ensure the best immune response.
It was recommended that age 12-13 was the best time for Gardasil vaccination for a number of reasons. Mainly because vaccination at this age is likely to be before their first sexual encounter (and HPV exposure). Also, the immune response tends to be stronger and more long-lasting when the vaccine is given to pre-adolescents.
By 2011, only four years after the school-based vaccination program in Australia began, sexual health clinics were reporting a 73% reduction in genital warts in young heterosexual women and their male partners. And 2014 saw a significant drop in the numbers of high-grade cervical pre-cancers in those under 30, while the figures for their older sisters remained stable. These high-grade changes are associated with a greater risk of cervical cancer later on.
What does Gardasil 9 add?
Gardasil 9 contains five more virus-like particles than the original vaccine and offers protection against HPV types 6, 11, 16, 18, 31, 33, 45, 52 and 58.
The extra viral types are responsible for another 20% of female genital cancers and the new vaccine could potentially increase the protection rate for cervical cancer to around 90%.
Women still need regular cervical screening but even fewer should find themselves facing further testing and treatment over time.
Side-effects and controversies
Neither Gardasil or Gardasil 9 is licensed for use during pregnancy. Vaccination should be delayed if the person is very unwell or has a high temperature; medical advice is recommended if the person is allergic to yeast or has had a severe reaction to a previous vaccine; and anyone who has the vaccine is recommended to sit for 15 minutes to reduce the risk of fainting.
Vaccines, and HPV vaccines in particular, have attracted a significant amount of online concern about their safety.
---
Read more: The best shot at overcoming vaccination standoffs? Having doctors listen to – not shun – reluctant parents
---
Gardasil 9 has been studied in more than 13,000 females and males before release overseas. Five people in those trials had significant side-effects such as tonsillitis, fever, allergy and asthma. The commonest side-effect (in more than 80% of people) was pain, redness and swelling at the injection site.
More than 200 million doses of the original Gardasil vaccine have been administered in over 100 countries worldwide with over 10 million doses of Gardasil 9 given in the US alone in the past year.
Given those numbers, the problems reported have been few. Though ongoing safety monitoring is important, it would appear that for most young people the benefits of this new vaccine far outweigh the risks.