Keytruda (generic name pembrolizumab) is an immunotherapy drug manufactured by the company Merck & Co. It is most commonly used to treat melanoma, and was listed for this use by Australia's Therapeutic Goods Administration in April 2015.
In March 2017, the TGA extended approval for Keytruda to treat a specific type of lung cancer called non small-cell lung carcinoma. In the same month it was approved by the US Food and Drug Administration (FDA) for classical Hodgkin lymphoma, and the TGA later also approved it for this condition.
---
Read more: The fourth pillar: how we're arming the immune system to help fight cancer
---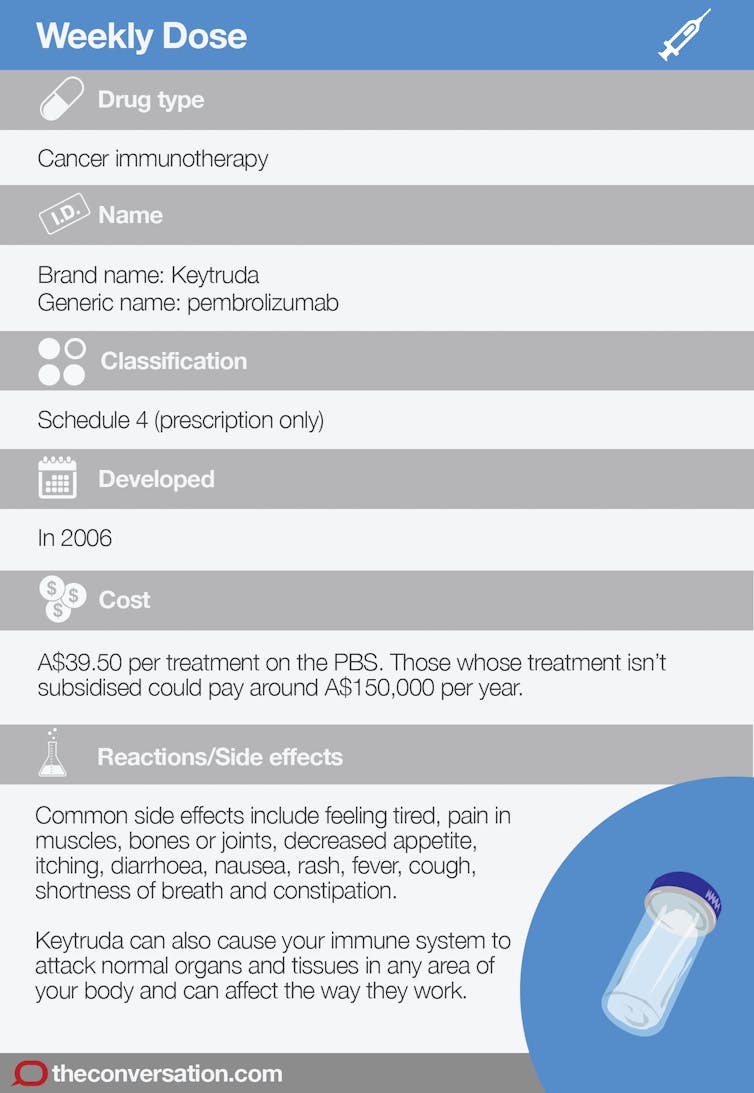 How it works
Immunotherapy drugs work by increasing the patient's own immune response. The most successful examples of immunotherapies are drugs that act as antibodies, which are natural molecules made by the immune system to fight harmful intruders.
The immune system launches an attack on intruders by releasing killer cells called T-lymphocytes, or T-cells. When these T-cells attack cancer cells, a certain protein, called PD-1 accumulates on the T-cells. The cancer cells then have their own protein that binds to PD-1, and this interaction cleverly switches off the T-cells, stopping them from attacking the cancer.
Keytruda works by binding to PD-1 and therefore blocking the cancer cells from using their own protein to slot into the same spot and switch off the immune cells. So with Keytruda, the T-cells do their job and effectively attack the cancer. Keytruda is also known as an anti PD-1 immunotherapy.
---
Read more: Explainer: how do drugs work?
---
History
Tasuku Honjo and his group at Japan's Kyoto University identified the PD-1 protein in the early 1990s and established that it inhibits T-cells. This early research led to the development of the antibody in 2006 by scientists in the Netherlands.
Keytruda was approved by the FDA for advanced, inoperable or drug-resistant melanoma in 2014. It has seen additional indications added annually, including for particular head and neck cancers, non-small cell lung cancers, and metastatic urothelial carcinoma (a type of bladder cancer).
The FDA approval for Hodgkin's lymphoma in adults and children came after a clinical trial found that 22% of patients who were treated with Keytruda underwent complete remission. This is the first indication that some blood cancers can also benefit from Keytruda.
---
Read more: Cancer immunotherapy drugs like Keytruda and Opdivo hold hope for some, but there's still a way to go
---
While most of conditions for which it has been approved require the cancer to have resisted previous therapies, Keytruda was approved as the first line therapy for a subset of metastatic non-small cell lung cancers. This means patients have access to Keytruda before even receiving chemotherapy.
Trials in first-line treatment for these patients show Keytruda resulted in a 50% reduction in risk of disease progression and 40% reduction in risk of death compared to chemotherapy.
Keytruda is currently being evaluated in close to 400 clinical trials covering numerous solid and blood tumour types. It is likely that more indications for Keytruda treatment will be approved in the near future.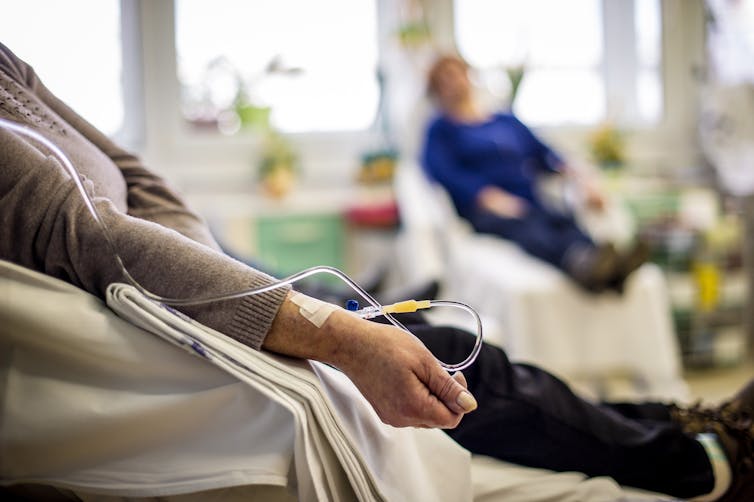 How is it used?
Keytruda is administered as an intravenous infusion every three weeks. The way the cancer, and the patient, responds to treatment, will dictate its duration. But typically, treatments last up to 24 months in patients without disease progression.
How much does it cost?
Cost of treatment is a key issue around immunotherapies like Keytruda. Merck & Co do offer some subsidies and financial assistance. The Pharmaceutical Benefits Scheme (PBS) also subsidises Keytruda for a subset of melanomas and non-small cell lung cancers, costing patients A$39.50 per treatment.
As more clinical data becomes available on the benefit of Keytruda, there is likely to be more lobbying for the government to include additional indications on the PBS.
---
Read more: We don't need to change how we subsidise 'breakthrough' cancer treatments
---
Australian patients who don't have any of the indications listed on the PBS, could pay A$150,000 per year.
What are the side effects?
The most common side effects of Keytruda include feeling tired, pain in muscles, bones or joints, decreased appetite, itching, diarrhoea, nausea, rash, fever, cough, shortness of breath, and constipation.
Because Keytruda boosts your immune system, it can also cause your immune system to attack normal organs and tissues in any area of your body and can affect the way they work. These problems can sometimes become serious or life-threatening and can lead to death.
Other points of interest
The impact of the role of PD-1 in immunotherapy is profound and those responsible for its discovery are potential winners of the Nobel Prize in Physiology and Medicine in the near future.
The efficacy of Keytruda in metastatic melanoma has helped transform the landscape of the pharmaceutical industry and now most large pharmaceutical companies have similar, anti PD-1 products, and are investing in developing new and improved drugs to gain the competitive edge. The immunotherapy market is tipped to be worth more than US$100 billion by 2020.