Last week the Climate Commission released its latest report entitled The Angry Summer. It seeks to "provide a summary of the extreme weather of the 2012/13 summer and the influence of climate change on such events".
The report refers to, amongst other things, how the significant impacts of extreme weather on property highlights the serious consequences of failing to adequately address climate change.
So has property damage during 2012-2013 been higher than normal?
The answer, in terms of insured losses from weather-related disasters, is no.
To place the 2012-13 insured loss from weather-related disasters in a historical context we turn to the Insurance Council of Australia (ICA) Natural Disaster Event List. The Disaster List contains industry-wide losses for natural disasters in Australia that have caused significant insured losses since 1967. It is one of the most comprehensive databases of its kind in the world.
Figure 1 shows the normalised insured losses from Australian weather-related disasters for years beginning 1 July. Each year then spans a single summer. Loss normalisation allows an apples-to-apples comparison of losses to be made over time by adjusting for changes in dwelling numbers and values and applying a building code adjustment to tropical cyclone losses.
This updated dataset in 2011-12 values is an extension of the data and normalisation analyses described in our 2008 study and and this report for the Insurance Council of Australia in 2011 to 30 June 2012. The loss normalisation analyses were funded by the ICA. The current loss for the ongoing 2012-13 financial year is also included.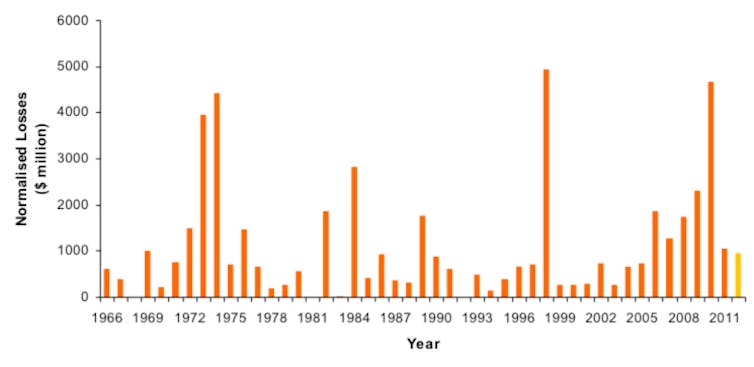 The long-term average annual normalised insured loss from weather-related disasters is around $1.1 billion. To date, insured losses during the 2012-13 financial year from bushfires in Tasmania and Coonabarabran and flooding in Queensland and New South Wales currently total almost $1 billion. This loss is certainly not "angry".
Of the top ten normalised insured losses, the 2010-11 Queensland floods register only fifth on the list with the highest-ranked loss of about $4.3 billion due to the 1999 Sydney hailstorm.
There is no doubt the industry has been hit hard in recent times, but there have been more expensive individual events and years in the past.
And any claim of a climate change influence on increasing disaster loss totals to date is simply unfounded and in contradiction to the international scientific evidence. After summarising the peer-reviewed literature on this point, the Special Report of the Intergovernmental Panel on Climate Change (IPCC) Managing the Risks of Extreme Events and Disasters to Advance Climate Change Adaptation (SREX) concluded:
Long-term trends in economic disaster losses adjusted for wealth and population increases have not been attributed to climate change, but a role for climate change has not been excluded (high agreement, medium evidence).
The major cause of increases in the insured and economic costs of weather-related disasters has been more assets and people in harm's way. And recent loss experience in Australia reflects this.
For this reason, the authors welcome the recent announcement by the Federal Government of $100 million in funding for disaster mitigation projects. It represents an important and positive initiative towards managing future disaster losses, especially in the short term, and reducing this nation's vulnerability to natural disasters.
Climate change is an important concern, and deserves policy attention. However, making supportable scientific claims is important as well. Those who point to increasing disaster losses as a signal of human-caused climate change are doing no favours for those working to address growing losses and accumulating greenhouse gases in the atmosphere.