Vaginas are so hot right now. If that sentence shocks you, then you've been out of the cultural loop. Thanks to a new wave of television and autobiographies by some very funny women, female privates have moved to the front and centre of popular entertainment.
Male bits, once the only game in town, are now chiefly of interest only as a sidebar to hilarious female riffs on misfiring, awkward and unsatisfactory sex, thanks to recent work by the likes of Lena Dunham, Britain's Phoebe Waller-Bridge (writer, actor and star of BBC series Fleabag), and now Amy Schumer, whose smash hit "femoir", The Girl With the Lower Back Tattoo, recently hit stores.
This is all part of a new movement – what I like to call "gross-out feminism". It is gleeful, honest to a fault, and practised exclusively by women who long ago kissed goodbye to the capacity to be embarrassed. Its goal – apart from to make people laugh – is to provide a kind of shock therapy to those still harbouring the notion that women don't have bodily functions, trapped gas, or insubordinate periods. Or that women must either be thin or desperately wishing they were so.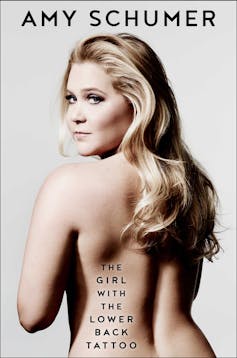 Gross-out feminism works by normalising women through focusing on their bodies: traditionally, the first and final frontier of femininity. It violently pushes all remaining cats out of the bag. Women have smelly, sometimes even extremely malodorous vaginas – Schumer's smells like "chicken ramen"; "baby diaper" morning breath; explosive diarrhoea; acne. They sometimes fart during sex.
You'd be right if you noticed that this type of feminism doesn't look like the iconic polemics of Shulamith Firestone, Naomi Wolf or Germaine Greer. It does not fit the sociological paradigm of Natasha Walter, Ariel Levy or Laurie Penny, all of whom have tackled a classic 20th century feminist subject – objectification – with political panache. And no, it's not related either to the brainy fiction of Erica Jong or Marilyn French.
But gross-out feminism owes much to these. The classic texts of feminism laid down the parameters of the various struggles women engage in on a daily basis. One of these was the battle to be taken as full humans, complete with an independent sexuality. As far back as the 1790s, Mary Wollestonecraft raged against the reductive construction of doll-like femininity.
The new feminism builds on all this, but its toolbox is drawn not from an intellectual arena but rather from a peculiarly modern fascination with personal and especially sexual transparency. Honesty shall set us free: as sociologist Richard Sennett lamented, we moderns trade first and foremost in intimacies. But wrapped tightly in gut-busting hilarity, the relentless personal honesty of Schumer et al loses its potential for hollow narcissism and instead becomes powerful, adding vim to the traditional message to women to be strong and confident.
Schumer in particular paints an honest, if troubling picture of the impact of what Naomi Wolf so famously addressed in The Beauty Myth. Money, pain, time: a bewildering amount of these are required in order for most women to feel presentable, let alone attractive. Schumer nails this, but also admits to her own "beauty myth" victimhood.
Before a date she too waxes, straightens her hair, fasts, and tries to squeeze into Spanx so tight that they threaten to splice her guts in two. Schumer, then, is taking one for the team. She's performing her truth so that we can exorcise our demons. The intriguing implication is that she, like Dunham and Fey, is an everywoman as well as herself. "I am myself," in her words. "And I am all of you."
A new sisterhood
Might this signal a reinvigoration of the idea of a universal "sisterhood" that since the 1970s has buckled under the weight of concerns about racial, ethnic and class difference? Perhaps so.
In her hit sitcom Fleabag, Phoebe Waller-Bridge does similar work to Schumer, if less autobiographical. She doesn't spend much time on her appearance, but when an attractive man calls in the middle of the night asking to come over, waking her up, she excruciatingly manufactures the appearance of having just come in from a night out. She throws off her pyjamas, pulls on her glad rags, a coat, and swigs some wine in preparation. She is soon speaking deadpan to the camera while being taken up the backside. Her sexual honesty is eminently relatable to by millennials, and tinged with sadness. Waller-Bridge's genius is reading with jaded perfection the sexual proclivities of men half her intellect and beauty.
There are caveats, of course. Some might argue that bringing feminism back into the body merely reaffirms the idea that women are principally bodies rather than whole people. And putting sex front and centre emphasises a potentially one-dimensional representation of what it is to be human. Both of these objections are fair. But when it comes to mainstream, massively entertaining representations of women, gross-out feminism may finally be what has been missing all these years, showing once and for all that the "fair sex" is human in both body and spirit. Warts and all.