The car and knife assault on Westminster is the latest in a long line of attacks targeting Western cities. It raises new questions about how to respond proportionately to demands to increase security in urban centres.
Since the early 1990s, London has led the way in advancing counter-terrorist security in the form of "rings of steel". In the financial zones of the City and Docklands there are strategically positioned entry checkpoints, bollards and hi-tech surveillance combined with vigilant and visible policing at times of high threat.
In the last decade, additional measures have been deployed throughout London, centered upon the so-called Government Security Zone encompassing Whitehall and the Palace of Westminster. Lines of crash-rated bollards, concealed barriers in the forms of balustrades and imposing steel barriers outside the Houses of Parliament, have become an everyday feature of London life.
These most recent measures were put in place in the wake of 9/11 and 7/7 due to fears of indiscriminate attacks against public places. But over time, terrorist attacks have become more sophisticated, employing tactics and targeting locations which negate such traditional security architectures. In 2016, attacks in Paris, Brussels, Nice and Berlin highlighted the perpetual threat faced by cities in the "war on terror".
Defence of crowded places
Defending vulnerable urban spaces against terrorism has long occupied state security services, but until recently these seldom impacted everyday life. As we have seen from these recent attacks, the modus operandi of terrorists has changed significantly in the new millennium.
Car and truck bombs targeting major financial or political centres – such as the IRA bombs in the City of London in 1992 and 1993 and London's Docklands in 1996 – have been superseded by person-borne devices, especially suicide attacks. Subsequently, attacks have taken the form of Fedayeen-style mass shootings and the deliberate targeting of crowds with fast-moving vehicles.
Traditional territorial counter-terrorism approaches such as the construction of defensive cordons are now seen as largely inadequate and have had to be rethought. The methods and tactics adopted by terror groups are increasingly novel, innovative and tactically aimed at soft targets and more generally crowded places that cannot be altered without radically changing how citizens experience the city.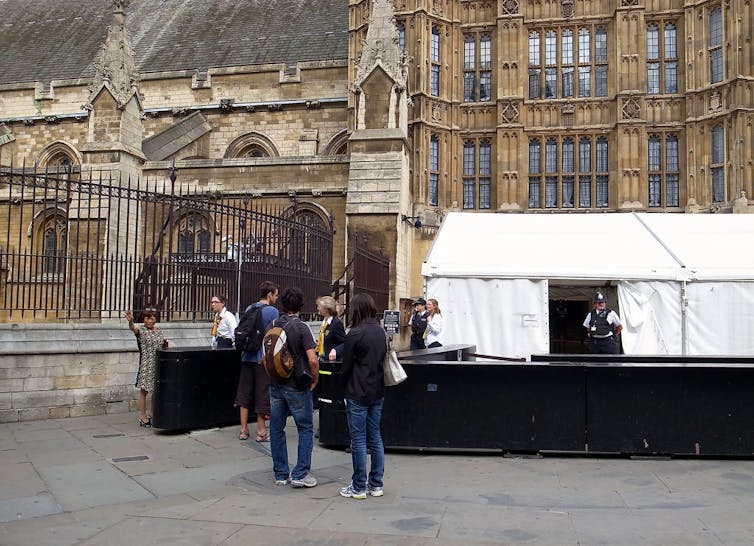 Security aesthetics
Over the last two decades, urban revitalisation and improvements in the public realm have increasingly emphasised inclusivity, liveability and accessibility. However, these "quality-of-life" issues sit uneasily beside concerns to design-out terrorism as security becomes part of the urban design process. In the aftermath of the 9/11 attacks in the US, many highly obtrusive security features – notably concrete planters or steel bollards – were literally "thrown" around key sites in major cities to stop car bombings. They were not necessarily aesthetically pleasing within the public realm.
In the last decade, this initial swathe of security features has slowly given way to subtler alterations to the landscape – although in many cases bollard-type solutions still prevail. There is a predominant view among security experts that security features, where possible, should be as unobtrusive as possible. This had led to them being increasingly camouflaged and subtly embedded within the cityscape.
Examples of such camouflaged features include balustrades or artwork erected as part of "streetscape" improvement. These designs are still capable of stopping a seven-tonne truck travelling at 50 miles per hour.
Evolving urban security
Today, counter-terrorism strategies seek to balance security effectiveness with social and political acceptability. As a result, more integrated approaches to "designed-in" counter-terrorism have emerged. Instead of reacting at pace, a more reflexive response is now possible, taking into account issues such as proportionality and design aesthetics, as well as giving greater responsibility to planners, architects and designers to deliver more humane security solutions.
Yet, the implementation of design-based counter-terrorism has remained in flux, tempered by the increasing cost of urban security in an age of austerity combined with the reluctance of urban developers to consider significant security improvements within their designs. This lack of a regulatory requirement for designed-in security was reemphasised in a 2016 independent report on London's preparedness for a major terrorist incident. It argued that London should become a city where security is designed-in and is part of the city's fabric. It also suggested that a statutory obligation should be introduced for such resilience to be designed into new and existing buildings.
This will not be easy to achieve in the short term. The international reaction to the attack on a Berlin market in December 2016 showed how the difficulties in balancing reactive and proactive counter-terrorism elements within cities has brought us full circle, returning us to immediate post-9/11 security responses.
Increased security inevitable
In the wake of the Berlin attack, the media was awash with security experts promoting the virtues of mitigation measures to restrict access to "Trojan Horse" vehicle attacks. On the ground, markets and other public spaces rushed to put in place makeshift security and extra visible policing to quell public fears.
In a repeat of events in the early 1990s, "ring of steel" security approaches resurfaced in the City of London based on armed checkpoints, rising security bollards and crash-proof barricades. This was in response to a commissioned report that identified newly established areas of London's Square Mile as "highly sensitive" to a hostile vehicle-borne attack.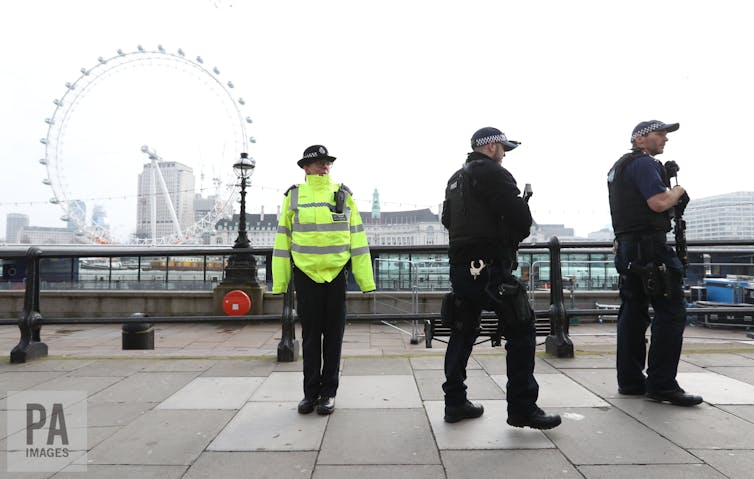 Such an approach, where one area of a city receives extra security protection, has been a long-held aspiration of counter-terrorism professionals. It could become a prominent vision of how to proceed with designing for terrorism threat if attacks remain an everyday fear in crowded city locations.
The attack in central London will once again raise the spectre of a city under siege with talk of lockdowns and war zones and with the deployment of armed police on the streets to keep us all safe. This is an understandable short-term reaction. But a longer term question remains: how do you protect soft targets from terrorism through urban design and do so in a way that is both effective and does not destroy the vibrancy of an open and accessible city?
In time, the provision of security in central London will undoubtedly be enhanced but this may well have an impact on the public realm. To paraphrase a design critic writing about the initial steel barriers placed around the Houses of Parliament a decade ago, the hope would be that while we might live in dangerous times, they don't have to be ugly ones, too.