Sudden infant death syndrome (SIDS) is a devastating and unexpected event in which a seemingly healthy infant dies during sleep in the first year of life. There is no warning or prior indication of any underlying disease.
It's one of the most significant causes of infant death after birth in developed countries, profoundly affecting families and their communities. Despite the previous significant decline in SIDS deaths in the Western world, recent investigations have reported a plateau in rates.
What we know
SIDS is complex, and the diagnosis is one of exclusion, meaning a complete post mortem examination and investigation of the circumstances of death aren't able to explain the cause of death.
---
Read more: What causes autism? What we know, don't know and suspect
---
Many theories from both animal and human studies have attempted to understand what causes SIDS, with multiple abnormalities reported in a number of functions and systems in the body. This includes the brain, heart, lungs, gastrointestinal system, hormones, and immune system. As well as metabolic, infectious, nutritional, environmental and genetic factors.
One of the most influential hypotheses is the triple risk model which suggests an increased risk when an infant who is already at risk is exposed to certain stressors such as a lack of oxygen, at a particular age.
What we suspect
To date, the precise cause of death in SIDS has not been identified. But there is substantial evidence the syndrome results from a combination of circumstances where breathing and heart rate are compromised, in an infant who also has abnormalities in important brain function controlling these systems. These are in place at a specific period of postnatal development.
Many studies in SIDS victims have supported the concept that SIDS infants are not entirely "normal" prior to death. These infants have some form of underlying vulnerability exposing them to an increased risk for sudden death.
---
Read more: What causes depression? What we know, don't know and suspect
---
It's thought SIDS, or at least some SIDS cases, are caused by some form of underlying neural (nerve) or systematic abnormality in the brainstem that impairs critical responses to life-threatening challenges. For example, a lack of oxygen during sleep.
This failure is thought to result from abnormalities in a network of neural pathways in the brainstem that control breathing, autonomic control (the regulation of our internal organs), and arousal. Abnormalities in various brainstem chemicals have been reported.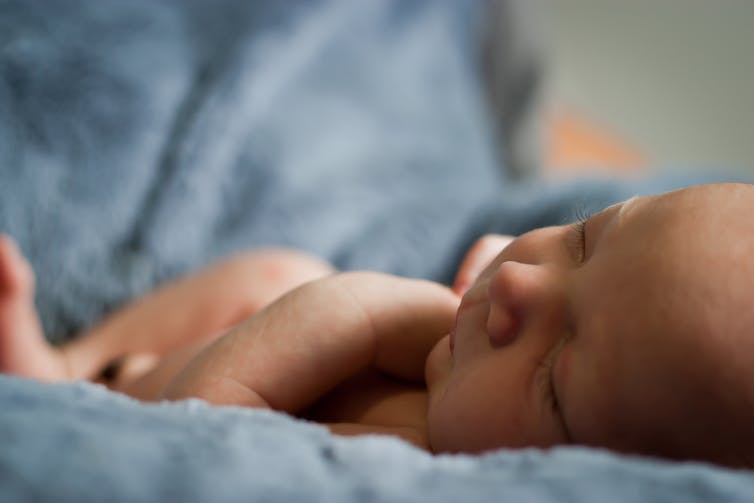 Abnormalities in the expression of the brain chemical serotonin (the mood hormone) in the brainstem have been the most significantly and consistently observed in SIDS infants.
This system is a key player in regulating the brain's control of the upper airways (nose and respiratory tract), ventilation and gasping, keeping body temperature stable and ensuring the baby gets enough oxygen.
Abnormalities in this system have been reported in many studies of SIDS infants from varying ethnic, social and cultural backgrounds.
Given the complex role of this system in the brainstem, associated abnormalities are probably responsible for impaired defence mechanisms. This includes head-lifting, crying, gasping for air and arousal from sleep, in response to a lack of oxygen. But it's still not clear whether these abnormalities are the primary cause of SIDS, or a secondary symptom.
---
Read more: What causes Alzheimer's disease? What we know, don't know and suspect
---
A recent study has revealed promising findings in the quest to find out the cause of these brain chemical abnormalities in SIDS. In this study, some of the SIDS infants were found to have a significant developmental abnormality of another important chemical messenger, "Substance P", in multiple regions in the brainstem. These regions are intimately related to heart and breathing function and autonomic control.
This means abnormal Substance P transmission in the brainstem could result in dysfunction of critical responses to harmful situations, such as a lack of oxygen. So if an infant experiences a life threatening situation during sleep, they might not be able to execute the motor responses to protect themselves.
This abnormality could potentially explain why it's more dangerous for infants to sleep on their front, given it's been known for many years infants sleeping face down are at greater risk of SIDS.
It's thought if an infant has this underlying vulnerability in brain chemistry, and breathing becomes compromised by sleeping face down, the infant is then at greater risk of death because they can't respond in the normal way by lifting their head out of danger.
What we're yet to find out
Unfortunately, there are to date no tests or markers in the body that can help prevent or diagnose SIDS. But researchers from around the world are working towards using what we already know about SIDS and further trying to understand why SIDS occurs in some infants. And if we can find out who is more at risk, we could prevent future deaths with genetic screening for these brain chemical abnormalities.
Identifying a cause might also provide some form of closure for families who are left to make sense of, not only the death of their child, but the heartache that comes with the uncertain diagnosis of SIDS.