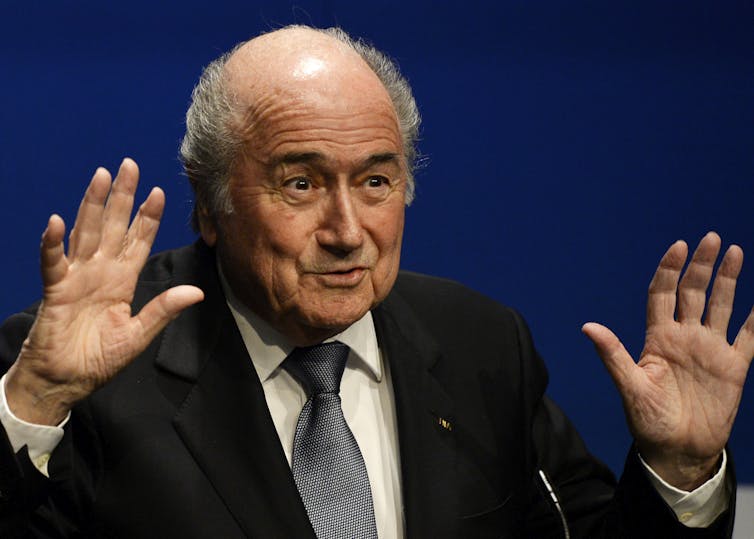 In the brouhaha surrounding Qatar winning the bid to host the 2022 World Cup, five of the World Cup's six sponsors have raised concerns over the allegations surrounding this decision.
FIFA has a total of 22 sponsors at present, including six global partners, (Adidas, Coca-Cola, Hyundai-Kia, Emirates, Visa and Sony). These partners have paid an estimated $200m each for the rights to be associated with FIFA over the four-year World Cup cycle period.
Sponsors will be concerned about reputational damage if some of the allegations prove to be true. Some fan groups are already calling for a boycott of products linked to FIFA sponsors in the light of the bribery claims. This currently appears to be a localised rather than a global protest movement.
The sponsors have been quietly vocal about the allegations. The last thing they need so close to the tournament are distractions when they are aiming to showcase their products. The last World Cup in 2010 delivered TV audiences of up to 3.2 billion viewers.
Where does FIFA's money come from?
Last year FIFA had total revenues of nearly $1.4 billion, even though it was not a flagship tournament final year. Those revenues came from the following sources: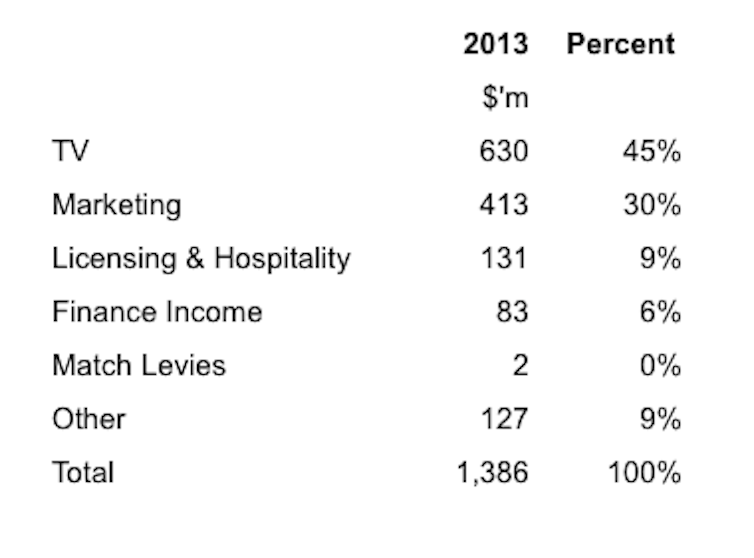 With commercial revenues generating nearly a third of FIFA's total income, the organisation is answerable to those who contribute so much to its income stream.
This means that if the sponsors act in a united way, they could encourage FIFA to reopen the bidding for the 2022 World Cup finals. Whether there is the will from the sponsors to do this remains debatable.
FIFA's president, Sepp Blatter, also faced demands to step down when he attended a meeting of UEFA, which represents European footballing countries. While UEFA seems to be a lone dissenting voice in relation to Blatter's position at FIFA, Europe is the biggest generator of TV income for the organisation. Last year it contributed more than $300m of the total TV rights in relation to the World Cup. But Blatter is popular with the other confederations that make up FIFA. This is partially due to his generosity in distributing FIFA money to these confederations and their members.
If both UEFA and sponsors act together, their combined financial power within FIFA could result in a shift of behaviour and the removal of Blatter.
Where does the money go?
As rapidly as the money is generated, FIFA manages to spend nearly all of it as is revealed from its 2013 income statement: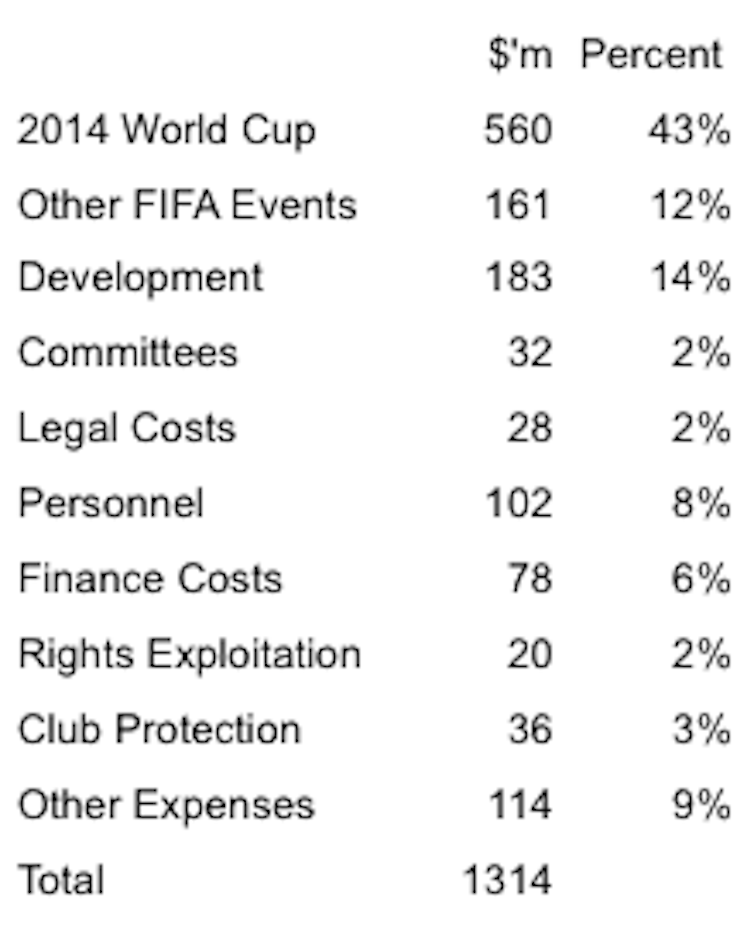 FIFA therefore made a profit last year of $72m compared to $89m the previous year. This is substantially lower than the $202m made during the last World Cup Finals held in South Africa in 2010.
One figure that is noticeable by its absence from the above list is income tax. FIFA is a "charitable organisation" and as such pays next to no tax in its domicile of Switzerland. FIFA insists as a condition of awarding the finals that it pays no tax in the country where the World Cup Finals are hosted. This rule also applies to the players who appear in the tournament.
The large number of countries who put themselves forwards to host the tournament suggests that this is deemed a price worth paying by governments, who place prestige above tax revenue generation.
Some of the other costs also appear intriguing. FIFA had 452 employees according to the 2013 accounts, with an average salary of $168,000 (including all other benefits this rises to $225,000). This seems very generous for an organisation that likes to consider itself to be a "charity" – it includes what appear to be very worthwhile pension benefits (although Sepp Blatter has nobly agreed to put himself forward for re-election in the role next year, despite being 78).
Scrutiny facing distraction
With football now being driven by money, its governing body faces greater scrutiny than ever before. Historically it has always taken the view that it is self governing and self perpetuating in its current form. There have been recent, high profile allegations that cronyism and nepotism have been able to flourish.
In an era of social media campaigns, guerrilla marketing and increasingly probing media scrutiny, where sponsors and TV companies have enormous influence, FIFA's house could come tumbling down.
The smart money, however, is that once the football starts it will distract attention from FIFA's house of shame – for the present, at least.