Wherever we look there seems to be amazing feats of physical, mental and skilled endeavour in sport. Cycling is often cited as one of the most elite and the climax of the Tour of Britain yesterday saw Bradley Wiggins claim the crown.
But what is it that makes someone an elite athlete? And what is it that makes someone like Wiggins the best of the best?
The answer is a complex mix of nature and nurture. It's often been said that to be an Olympian you need to "choose your parents carefully" and sport geneticists believe you need the right genetic ingredients to create a world-class athlete. There are over 200 genotypes (the variations of each gene in our DNA) associated with athletic performance.
Having the right combinations can lead to a person being predisposed to outstanding physical capacities. But it's likely that the influence of certain athletic genotypes will be greater in more discrete "pure" athletic sports like weightlifting and some track and field events, while team sports, games or technology-heavy sports such as football and cycling may not be so greatly influenced by genetic advantages.
However, most coaches and sport scientists would agree that you are unlikely to succeed without a mix of favourable socio-economic factors, resources and hard work to catapult you from potential to podium. And this blend is likely to be quite unique to each sport.
Marginal gains
Advances in preparation and training are increasingly informed by the evidence-based sport sciences of physiology, biomechanics, psychology, nutrition and performance analysis.
Sir David Brailsford, head of Team Sky and Team GB's Olympics cyclists, is famed for coining the phrase "marginal gains"; the notion that if small improvements are made in all the factors influencing performance then the sum of these will contribute to final performance success. Sir Clive Woodward, former rugby union player and coach, also holds a longstanding belief that no stone should be left unturned in the quest to be the very best.
Road cycling, and events such as the Tour of Britain demand massive aerobic capacities and athletes expend vast amounts of energy (about 5-6000Kcal per day) for a period of three weeks. Typically, elite cyclists have a VO2 max (the maximum capacity of the body to transport oxygen during exercise) of 70-80ml/kg/min - a measure of their aerobic power. This is double that of a healthy member of the public.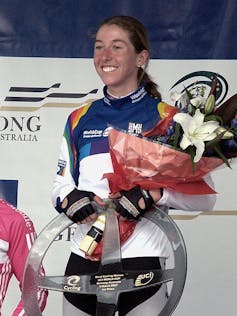 To make the most of this, bike research technology ensures bicycles are bespoke for each rider to attain the most aerodynamic and energy efficient position for long hours in the saddle. Physiological laboratory testing will assess the cyclist's ability to sustain power output over long periods of time. Performance analysis also helps detailed, strategic team tactics. Training and nutrition can be planned to the heartbeat, a given power output or gram of protein or carbohydrate that the cyclist requires for training, and the event.
Preparing for the tour is extremely tough, but cycling teams meticulously plan their preparation so athletes "peak" just at the right time when the event starts in late July.
Contrast that with football - or most other games or team sports for that matter. It is often questioned whether professional footballers train hard enough when compared to sports like cycling but players and coaches still talk of "burnout". But football has different challenges in order to "peak" for performance. The football season could be seen as either a nine-month event of 50 games or 50 individual events separated by three to six days. Peaking for a competitive season is not as simple as a sporting season that leads towards a single major event.
Being a professional footballer
A professional footballer is also likely to possess a VO2 max of 55-65 ml/kg/min, significantly less than a cyclist. However, although football has an endurance component, game-defining moments of tackles, interceptions, dribbles and ultimately goals, are mostly characterised by explosive, dynamic movements involving accelerations, decelerations, sharp changes of direction and physical contact. So a player is likely to be able to execute speeds of over eight to nine metres per second, while changing direction and riding a tackle then recovering and repeating similar actions 20-30 times per game. We should also remember they still cover 10-15km every game.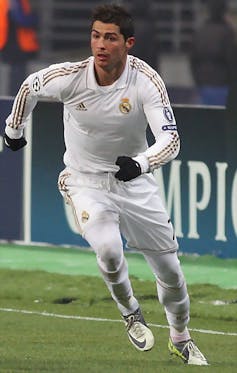 A simple observation of the range of statures of players - Cristiano Ronaldo's physique compared to Lionel Messi's for example - shows a typical player is difficult to define.
The variability of team play, the opposition and the reliance on highly skilled techniques mean determining where those marginal gains are is complex.
Football has embraced sport sciences to find these marginal gains but it's difficult to accurately quantify the workload of a player during a match or training to work out how much recovery they require. Establishing new interventions takes time. Coaches and managers can be reluctant to embrace new strategies as the scientists may find it difficult to present match play evidence that it will make a difference.
However, it's notable that football has embraced science when it comes to performance analysis; tactical and strategic planning to inform coaching is integral to match preparation. It's a challenging process. And coaches readily accept technology that can quickly inform coaching and tactics. But because optimal training levels are very difficult to ascertain and execute, it's impossible to conclude that "players don't train hard enough".
Working out what goes into making an elite athlete isn't a simple feat. But it seems that to achieve at the very highest level the budding athlete, packed with the right genetic make up, will build capacity, peak at the right time for major events and, of course, be in the right place at the right time. Not to mention the psychology - having the inner drive to fulfil that potential.