The campaign for the French presidency revealed a stark fault line on Europe. The openly pro-European Emmanuel Macron called for the EU to be strengthened while the staunchly anti-EU Marine Le Pen promised a referendum on Frexit. Victory for the former therefore raises interesting questions about what his stance will be on negotiating the UK's exit from the union.
British headlines after the first round of voting portrayed Macron as bad news for Brexit. The Daily Telegraph described him as "the standard-bearer for open borders and the liberal global economic order" while the Guardian and the Financial Times both suggested he would drive a hard bargain in Brexit talks.
Macron believes in a strong France within a strong EU and is very keen to rekindle a Franco-German engine that has been stuttering for many years. He also wants to make the eurozone stronger, with specific proposals to establish a eurozone budget along with a parliament and a finance minister.
The new president has made no secret of his deep distaste for Brexit, defining it as a crime that will leave the UK facing servitude. He has repeatedly stressed the integrity of the EU's four freedoms and insisted the UK should not be allowed to pick and choose from the menu. He is also very sceptical about future trading arrangements, based on the premise that "the best trade agreement for Britain is called membership of the EU". His hard stance was all too clear when he explained that the UK could only hope for a Canadian-style agreement, which of course excludes many sectors. The financial sector in particular, so important for Britain, is heading for a rude awakening as he rejects any possibility of financial passporting rights.
At the same time, Macron sees opportunities for France in Brexit. Most notably, there is the chance to attract banks, researchers and other talent across the channel.
Then, there is Le Touquet agreement, which sees migrants trying to reach Britain facing border checks in Calais rather than Dover. He has strongly hinted that he would consider dropping this deal and leaving the UK to manage its own checks.
Bad for whom?
But whether Macron really is bad news for the UK's negotiating position depends on the true meaning of the nebulous mantra "Brexit means Brexit". Beneath the brouhaha, four broad stances can be distinguished: Brexit as a stepping stone to dismantling the EU, with each country following Britain's glorious lead out of the EU; the have-your-cake-and-eat-it position, where Britain would leave the EU but keep its advantages; the "soft" Brexit based on a new close relationship with the EU; and the "hard" Brexit, with all ties severed and trade carried out under the World Trade Organisation (WTO) framework. Macron's victory brings with it a mixed bag of good and bad news for everyone.
For those who supported Le Pen hoping that she would bring the whole house down, due to France's central role in the EU, Macron's victory is bad news. The EU is not going to disappear any time soon and the dream of a brand new world order arising from its ashes is not going to be fulfilled just yet.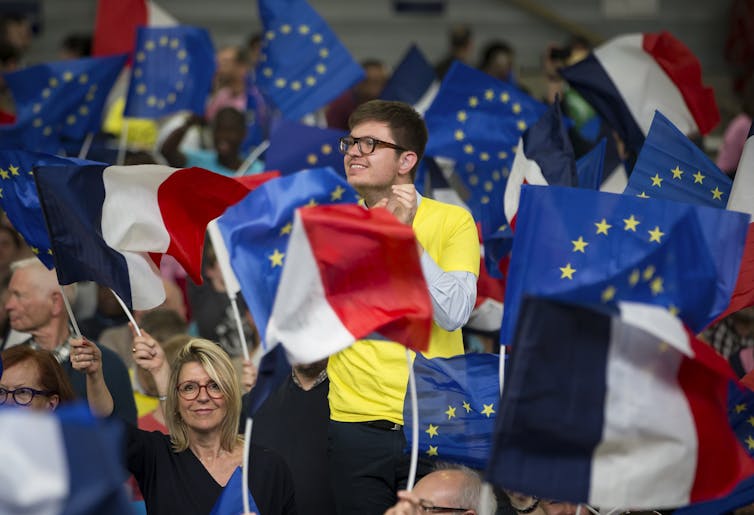 For the have-your-cake-and-eat-it battalions and "soft" Brexit supporters, Macron's victory is, on the face of it, also bad news. His refusal to give Britain any special arrangements or a comprehensive trade deal make that clear enough. And yet, Macron may well, as counter-intuitive as it sounds, turn out to be not such a bad news after all.
A victory for Le Pen would have plunged the EU into existential turmoil, leaving no time or inclination to spend time talking about Brexit. The UK would have been pushed so low down the list of priorities that a deal would never even have been in the offing. A Macron victory is therefore not entirely bad news. The same goes for "hard" Brexit. Had Le Pen won, the UK would be falling back on WTO tariffs with a president intent on protectionism for France.
And of course, Brexit is not a national obsession in France as it is in the UK. Far more pressing matters are already piling up in Macron's in-tray, from sluggish economic growth to the terrorist threat. He also needs to fight for a parliamentary majority, or engineer one, in June. For all anyone knows, Macron might end up having to work with political partners who will push him to soften his stance on Brexit.
Macron will undoubtedly be vilified as a die hard pro-European who wants to bully Britain out of a good deal but let's not make him into a bogeyman. Yes, he will take a hard stance and try to get some of the spoils for France, but why shouldn't he seek the best deal for his own country? His priority is the eurozone and a new relationship with Germany. Britain's fate is secondary. And let's not forget that the Brexit negotiations are to be carried out by the EU as a whole. France has undoubtedly a big voice but it won't decide all by itself. And at least under Macron, Britain will not be trying to strike a deal with a burning ship.