A blockbuster art exhibition can double the annual attendance of an art museum and pull in significant amounts of money. Bring Vermeer's The Girl with a Pearl Earring to the Frick Collection in New York and there will be line of people snaking around the block. But there are signs that the blockbuster game is no longer what it was.
Rising costs, the growing difficulty of securing loans, and a lack of curating talent have made the blockbuster exhibition a hazardous enterprise.
Two visionary curators
The modern museum blockbuster was largely a development of the 1960s. Two figures of the time – the Met's Thomas Hoving and the National Gallery's J. Carter Brown – played a large role in the phenomenon. Notably, both were young: Hoving was just thirty-six in 1967 when he became director of the Metropolitan, and Brown only thirty-four in 1969 when he became director of the National Gallery. Their intense rivalry spurred exhibitions of financial and visual extravagance; they injected vitality in institutions that had been widely regarded as stuffy and backwards-looking.
Hoving took the lead, although his first ventures were surprisingly modest by modern standards. The first of them, grandly titled In the Presence of Kings, was a rather haphazard assortment of paintings, sculptures, coins, furniture, crossbows and other bric-a-brac from the Metropolitan Museum's own collection – all possessing some sort of tenuous link to royal ownership.
For all its flimsiness, the show was a smash success.
Carter Brown took note, and managed to grab most of the credit for the blockbuster that remains an icon of the genre: 1976's King Tut. The exhibition – which featured the treasures of the Pharaoh Tutankhamen's tomb – opened with much fanfare at the National Gallery. It then made stops at museums across the United States, including the Metropolitan, drawing an astonishing eight million visitors.
While Hoving's first ventures were often done on-the-cheap, Brown spared no expense, and worked with a brilliant high-strung, imperious designer, Gil Ravenel, who built whole buildings within the museum on the scale of a major Hollywood stage-set. For example, when he reconstructed a 19th century Paris salon, the cost was equivalent to running the Philadelphia Museum of Art for a year.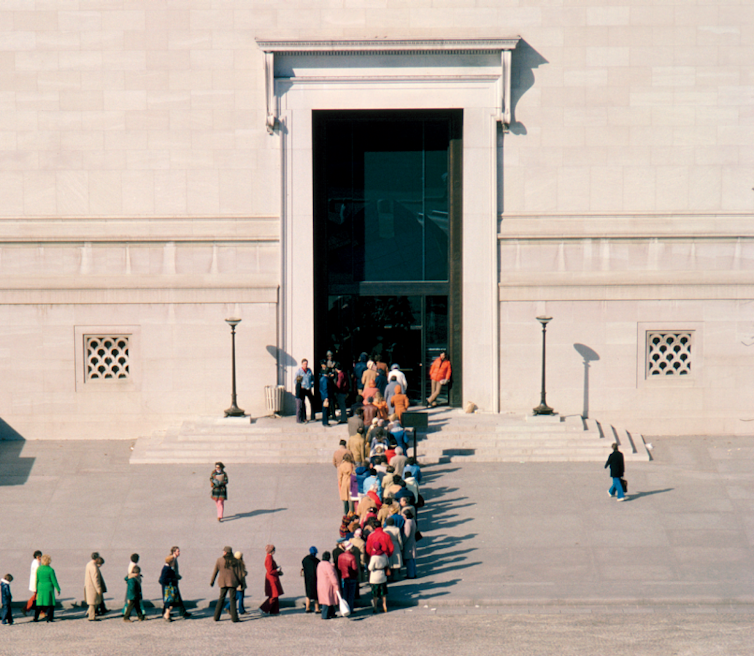 Challenges today
Even in their heyday, blockbuster exhibitions posed financial risks. What has made them even more challenging to mount today is the staggering rise in art values for blue-chip pieces, such as Impressionist and Post-Impressionist paintings. A recent Van Gogh exhibition in Cleveland, which contained only thirteen Van Gogh paintings, had an insurance value of more than a billion dollars.
Spending more money generally brings in more people, but favorably balancing cost and attendance when organizing exhibitions can be problematic. For example, every show organized by the Cleveland Museum over the last fifteen years has lost money.
In addition, negotiating loans can be a nuisance; they're often highly dependent on the whims of individuals and sometimes-ornery conservators and curators. For example, when I was organizing my Thomas Hart Benton exhibition in Kansas City, I had loans approved for paintings located in cities ranging from San Francisco to New York City. The only major painting whose loan was not approved was one from the Spencer Museum of Art in Lawrence, Kansas – less than fifty miles from Kansas City.
The case against blockbusters
Some claim that – aside from posing a financial risk – blockbusters are also predictable and shallow, that the public has grown weary of exhibitions that feature the same limited cast of famous painters: Monet, Picasso, Van Gogh, and so forth. Others say that the scholarship attached to the exhibits is often dull – and in some intuitive, visceral way, the public picks up on this fact. The money spent on securing works of the greats, they argue, could be better spent on promoting lesser-known artists.
There is an upside, however: because blockbusters require raising substantial sums of money, there's generally cash left over for serious scholarship. Technical examination with X-rays, infrared reflectography, and nuclear fluorescence somehow don't ever seem to get done unless performed around a blockbuster exhibit. Nor is it easy to publish a major catalogue without a blockbuster to provide a pretext.
Take a page from Alfred Barr
Exhibitions are popular when viewers sense that they're taking part in something unique and slightly risky – something based on scholarship that's pushing forward and breaking new ground.
A master of this approach was the legendary Alfred Barr, who served as director of the Museum of Modern Art from 1929 to 1943, and remained on the staff until 1968. Even in the days before the modern blockbuster, he created thoughtful, innovative exhibitions on a modest budget. To this day, they're considered landmarks in their field.
People who went to Barr's exhibitions had often never heard of the movements and artists he presented, though thanks to him they're now familiar: Cubism, Fauvism, Futurism, Constructivism, Surrealism, and so forth. Often, viewers were initially dismayed by the art he put on view. But they knew that they would be intellectually and emotionally stimulated in a way that was exciting and unique, that he was challenging them.
They knew that when they stepped back into the outside world, they would be inwardly changed.
Where are the stars?
Yet the increasingly bureaucratic structure of museums and grant-giving organizations seems to have drained the exhibition business of its creativity and personality-driven curators.
In Hollywood, the great movies often depend on an auteur, whether it's the director – think John Ford, Alfred Hitchcock and Stephen Spielberg – or the producer, like David Selznik, who churned through seven directors producing Gone with the Wind.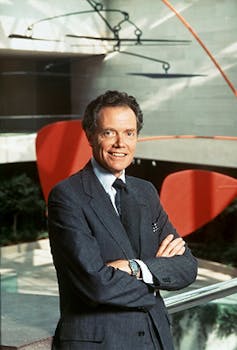 Thomas Hoving and J. Carter Brown were characters worthy of Hollywood: they possessed the arrogance, the egomania and the creative flair that bold exhibitions require. Today's curators are more timid; many make decisions through a committee, and often prefer to delegate to teams of consensus-seeking scholars. Rarely will the majority of decisions be left to a passionate individual with a singular point of view.
While part of the current crisis of blockbusters is due to economic factors, more deeply it's due to a failure of imagination, and a lack of intellectual originality and courage.
If the blockbuster exhibition is ever going to be revived, it needs to focus less on showcasing expensive objects, and more on becoming a vehicle for new scholarship and new ideas.