The federal budget has been delivered and Australians are headed for the polls. In this series, Reform Revisited, we ask writers for innovative ways to tackle our reform agenda.
---
Imagine two teenagers. Let's call them Jack and Alaysa. They go to Imaginary High School somewhere in Australia.
There are no year levels or set curriculum. Students move on to the next stage when they are ready, irrespective of age. They partner with teachers to design what they learn and how they are assessed.
Traditional subjects are replaced with real-world problems. Kids are still learning maths and English – they're applying their knowledge to build and race a billycart and to market products at a local fair.
Students develop their capabilities and give back to their communities. They might be out revegetating the local creek, mentoring preschoolers or restoring furniture.
Students are totally absorbed in what they are doing, studying areas they have chosen which clearly matter to them. Four topics that catch your eye are the challenges of migration for kids, why the internet is changing punctuation, what it's like to be an apprentice, and an exploration of different school systems across the world.
Students are creating products, producing blogs and sophisticated multimedia presentations.
Classes have students of different ages. Teachers from different subjects are working together. At times during the week, lessons last for a whole morning or afternoon.
Rather than having an identical timetable to others in their year, students here have a personal plan, which is updated twice a week.
Students have the flexibility to work part-time, engage in physical activity and community service. They create electronic portfolios to show what they have learned. In some cases these exist as "open badges", digital proof that they have reached certain levels of accomplishment.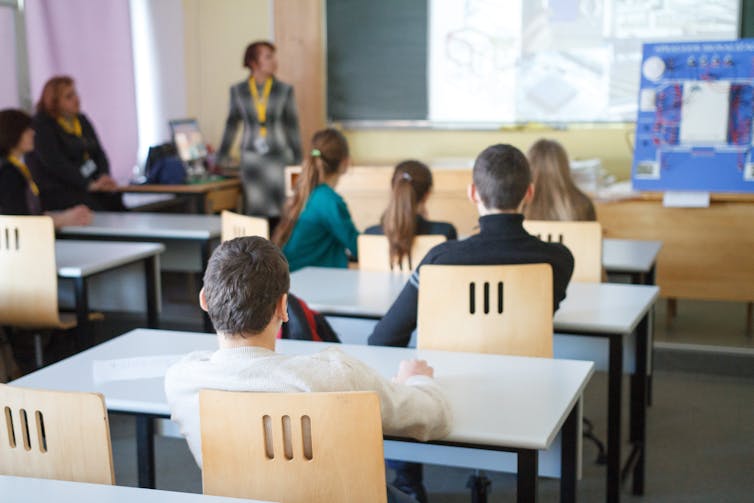 Why schools need to change
The current system is clearly not working for a large number of students. Levels of disengagement within schools are high and increase as students pass through secondary school.
To carry on batching children into year groups and teaching them the same content partly explains why there are high levels of disengagement, stress and underachievement.
Schools recognise that today's complex world needs students who are capable in different ways.
There is growing disquiet about the capacity of education to meet future skill needs and a recognition that we need students with a different set of capabilities.
The American educational reformer John Dewey was making these kinds of arguments a century ago in his book Democracy and Education. Dewey believed that students thrive in an environment that allows them to interact with the curriculum, and that all students should have the opportunity to take part in their own learning.
Creativity expert Ken Robinson became a TED-talk phenomenon as a result of his savage critique of assembly-line schooling. He called for a radical rethink of the school system so that it nurtures, rather than undermines, creativity.
Australian Council for Educational Research CEO Geoff Masters has called for us to view the school curriculum as a roadmap rather than a series of identical short road trips. We should measure children's learning in terms of breadth and depth, with the roadmap laying out the ultimate learning goals. Each student's journey would run at their own speed.
International education advisers Guy Claxton and Bill Lucas have similarly reimagined schooling in their book Educating Ruby. They suggest the core purpose of education should be to build young people's capabilities to function in their lives beyond school.
We need to shift the focus away from teaching to the test towards learning for life.
How do teachers fit in with this?
The teacher's role is vital in this new approach.
Where once teachers imparted knowledge and skills for an age-related syllabus, today they need to be coaches, critics and experts in learning. They need to be able to ensure that students get the very best out of their time in class.
Teachers need to strike the balance between encouraging independent learning and providing students with guidance. They have a key role in cultivating confident, curious learners who can take risks and learn from their mistakes. Feedback loops are critical, with students and teachers providing regular feedback to each other to achieve quality learning.
But could this really work?
The Centre for the Use of Research and Evidence in Education (CUREE), an international centre of expertise in evidence-based policy and practice, shows some of the benefits of a shift towards more independent learning.
CUREE found that independent learning could improve academic performance, motivation and confidence. Studies showed some students in particular, such as those with special learning needs and socially excluded children, felt more engaged in their learning.
However, learning needed to be scaffolded with support and feedback. Teachers played a key role in facilitating students' independence. Further empirical evidence would strengthen understanding of the size of the effect.
Education professor John Hattie reminds us that:
"the biggest effects on student learning occur when teachers become learners of their own teaching, and when students become their own teachers".
In other words, what's needed is a rethinking of roles for teachers and students.
Making Imaginary High a reality
Across Australia some of these ideas are being put into practice. Some schools have dropped the notion of year levels to enable them to meet children at their point of need and acknowledge that not all students learn at the same pace.
Computer programs are enabling instruction tailored to the student by assessing where they are at and providing a tailored curriculum.
Capabilities, such as personal and social capability and critical and creative thinking, are being embedded in the curriculum. Work is under way to develop assessment measures. Teachers across Australia are working on developing new models of practice to support this approach.
We need to accelerate the change. We are wasting too much of students' learning time and are failing to amplify their talents. To continue along the current path is increasingly unscientific, unjustifiable and plain dull.
• Read more in the series here.