Astur lives in Belfast, a city divided by long looming peace walls, one legacy of the Northern Ireland "Troubles". She comes from Somalia, a country riven by conflict, war and torture and took many months to reach this place of barricades and reconciliation, of hope and gaiety – a place of enduring confusion and ongoing division.
Successive cataclysms of political authoritarianism and ethnic conflict in Somalia forced her to flee with her two small children. She eventually arrived in Northern Ireland, a hotspot of political acrimony.
Over the course of carrying out our new research on what life is like for asylum seekers and refugees in Northern Ireland, we met many people just like Astur.
Her journey took her across intimidating and harsh landscapes, impoverished cityscapes and uninhabitable refugee camps. She encountered torturers, rapists, murderers and smugglers. Elfin, with large brown, kind eyes, she is a modern-day heroine who brought her children – against all odds – to what she believes is a place of sanctuary. It is in Northern Ireland that she hopes to make her future. She is committed to – and engaged with – the community in Belfast.
A new host
Northern Ireland is a relatively new host to asylum seekers and refugees, and currently doesn't have a refugee integration strategy in place. While asylum and refugee laws still come to Northern Ireland from the UK Home Office, Northern Ireland is responsible for integration.
Northern Ireland also remains outside of the UK policy of dispersal which relocates people who are have claimed asylum around the state. That means asylum seekers, outside of the UK-wide Vulnerable Persons Relocation Scheme, arrive independently to Northern Ireland to claim asylum.
Asylum and Refugee statistics for Northern Ireland are conflated with Scotland as part of Home Office policy, so it's difficult to say how many people have claimed asylum in each place. This also hampers genuine attempts at developing and designing efficient programmes and strategies for asylum seekers and refugees in Northern Ireland.
Proximity to the Irish border – which people reportedly cross both ways to claim asylum – as well as security and policing make the situation more complex in Northern Ireland than elsewhere in the UK. This potent constellation of factors makes Northern Ireland a unique place through which to examine the experiences of asylum seekers and refugees.
Living in hardship
Astur lives in a largely Republican area, on a street with painted flagstones that sparkle green and gold, while flags of the same colour flap in the air, politicising the grey streets. She told us:
Northern Ireland is now my home, my children they say they are from here, they are getting an accent, even with all the hardship, we don't want to live anywhere else.
Hardship is the hallmark of the asylum and refugee experience in Northern Ireland, as it is elsewhere. While strong vibrant NGOs, charities and government bodies rally together to improve the lives of those seeking asylum in Northern Ireland, our research flagged a number of areas that need improvement.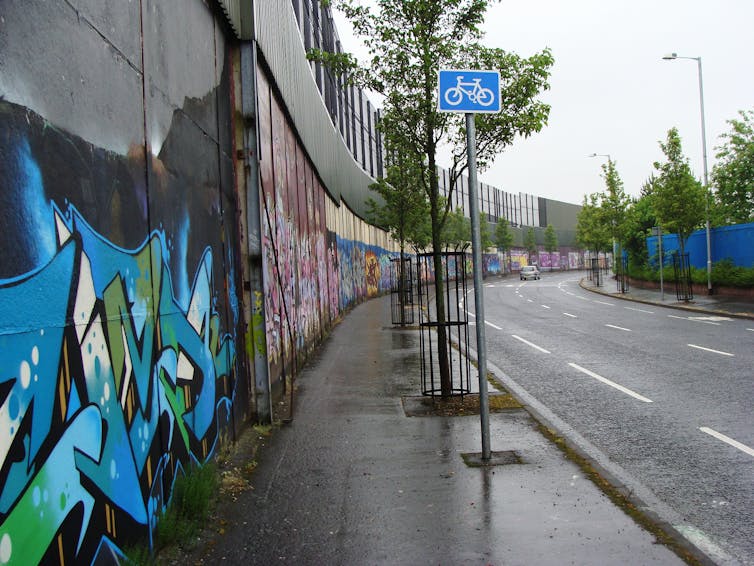 Like elsewhere in the UK, the Home Office policy of contracting out the housing needs of asylum seekers to private companies means housing conditions have deteriorated. Enforced destitution is also very visible – asylum seekers can be seen sleeping in parks or on the streets of Belfast, huddled together against the harsh northern climate.
Astur's accommodation was substandard – smelly, mouldy and cold – her children huddled together on the small tattered couch in the centre of the living room. With her unequivocal cheer, she told us: "It is cold and dark in here, but we have many kind, kind neighbours who look out for [us]."
Astur's status is uncertain – an anxiety she hides well. Her experience of the asylum legal system in Northern Ireland, like many of those we spoke to for our research, was characterised by bureaucratic failures, miscommunication and a system of interview and assessment reminiscent of her experience of interrogation in Somalia.
She is disappointed with many of her experiences in Northern Ireland – including a lack of support for her mental health needs caused by her experiences of torture and rape. She has also faced endless, constant waiting for her asylum claim to be processed and has been moved multiple times from one kind of accommodation to the next. She told us she lacks opportunities to access education and retrain as she waits to hear the outcome of her asylum application. Yet she continues to hope to be granted refugee status.
Our report calls for the development of a refugee integration strategy and an accompanying organisation resembling a refugee council in Northern Ireland. We make a number of other recommendations, for example to improve mental health support and housing conditions for asylum seekers and refugees. This will be key to making the lives of asylum seekers and refugees in Northern Ireland better.
As night falls on the street where Astur lives – and the gates on the nearby barricades shut, closing off one community from another – Astur finishes her day with a prayer. Like many of the people we spoke to, she prays for certainty, assurance that she might be given leave to stay in order to rebuild the fragments of a difficult life.