In summer 2023, the publication American Theatre declared unequivocally that live theater was "in crisis" – particularly regional, nonprofit theaters. Writing for The New York Times, Isaac Butler preferred the phrase "on the verge of collapse."
The numbers are stark. Not only have dozens of theaters across the country closed their doors since the COVID-19 pandemic hit in March 2020, but those that are still open have also contracted their seasons massively, producing 40% fewer shows than in 2019.
What can regional, nonprofit theaters do to survive?
One place to look for ideas is the tourist town of Branson, Missouri. Scholars and theater critics have ignored this mecca of live entertainment that attracts millions of people a year, largely because of its reputation for cheesy performances and political conservatism.
I'm a theater and dance historian at Washington University, a liberal arts institution in a city. My politics differ from that of most Branson residents. But that's precisely why I am in the process of writing a book about the town's entertainment industry. In an age of polarization, could I challenge myself to approach the place with an open mind? I expected to feel discomfort; I did not expect to feel envy. In Branson, people really seemed to believe in theater's power.
And nowhere more so than at Sight & Sound, a for-profit Christian theater. On a Wednesday afternoon in May 2023, I joined 2,000 other patrons to watch their performance of "Queen Esther," a musical retelling of the biblical story of Hadassah.
In "Queen Esther," Hadassah adopts the name Esther and conceals her Jewish identity in order to marry the Persian emperor Xerxes. She faces challenges in the royal court and doubts herself. Eventually, she learns to trust in God that she was "made for such a time as this" and bravely saves the Jewish people from annihilation.
The Old Testament story is not as well known as those of Noah or Moses, nor does the musical feature any celebrity performers. Yet approximately eight times a week, 40 weeks a year, Broadway-sized crowds watch "Queen Esther" in a town of 12,000 people in the Ozark Mountains.
Embracing the spectacle
Sight & Sound's formula is seemingly simple: "spectacle meets story."
In one scene of "Queen Esther," over a dozen women in bejeweled gowns twirl with lengthy scarves, turning the stage into a hypnotic, swirling sea of color. In another scene, 45 cast members sing from windows and doorways across a 300-foot-wide set that wraps around three sides to immerse the audience in live surround sound. At several points in the show, Xerxes and his men gallop up the aisles on real horses. Members of the royal court also ride a mechanical, full-sized elephant across the stage.
Nonprofit theater has long resisted the siren call of spectacle. For artists who have adopted the theories of cultural critics Theodor Adorno and Max Horkheimer, outlandish, flashy performances reflect cynical pandering to the sensory pleasures of the masses to make money.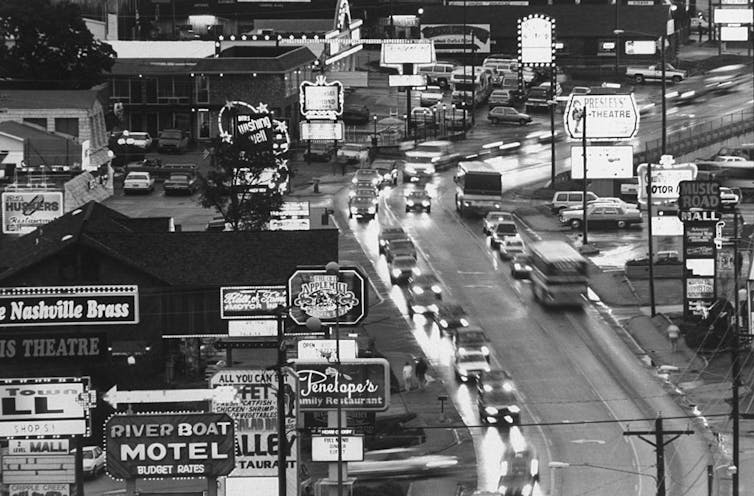 But spectacle creates an experience that only live performance can offer: a visual, auditory and even – in the case of the horses in "Queen Esther" – olfactory. The effect transports an audience to another world, drawing people off their couches with the promise that they, too, can become part of an experience to remember.
While some theater owners are beginning to recognize the value of spectacle, there's another lesson from Sight & Sound: the value of offering hope that seemingly insurmountable obstacles can be overcome.
What do audiences really want?
In the wake of the commingled disasters of recent years – the COVID-19 pandemic, George Floyd's murder, climate change and an insurrection at the nation's capitol – university dance and theater departments, as well as nonprofit theaters, have changed their mission statements to include social justice as an explicit aim of their programs. They promise productions that confront racism, homophobia and authoritarianism head-on.
Musicologist Jake Johnson has written about today's dominant impulse toward "theater to make the present dystopia even more real."
But theatergoers have not necessarily responded positively. Since 2020, some audiences and critics have complained that theater is tilting too far toward preachy messages. And when staring out at empty seats, practitioners cannot help but question their faith in theater's power to effect social change.
Sight & Sound's success suggests that the problem is less with the message of social justice and more with the approach.
"Queen Esther" is an ancient story of antisemitism, after all. But as Sight & Sound Chief Creative Officer Josh Enck explained in a 2022 podcast, the shows seek "not just to inform or educate" but "to inspire" – particularly since "inspiration is at the core of who God is."
The animatronic elephant lumbering across the stage with a jeweled headdress is not a distraction from the serious business of salvation, but rather a way of unlocking an audience member's sense of awe and wonder.
People flock to Branson
Sight & Sound is also earnest, a feature that fell out of favor with high-art theater at the dawn of the 21st century, when the sense that everything was fake led to productions that dripped with irony and cynicism.
Today's compounding sociopolitical crises have shaken the theater world out of complacency. But in the fierce urgency to confront the world's myriad problems, earnestness is still seen as simplistic, naïve or even duplicitous.
Sight & Sound expanded to Branson in 2008 because its earnest approach fit with the town's long-standing entertainment industry, which began back in 1907 with the publication of Harold Bell Wright's wildly popular novel "The Shepherd of the Hills."
Tourists flocked to see the real-life inspirations for the characters, and local residents often obliged by performing versions of themselves. In 1959, the Mabe family began performing the Baldknobbers Hillbilly Jamboree to provide nighttime entertainment to tourists who had come to boat and fish during the day. The following year, an outdoor drama based on Wright's novel opened, as did a theme park called Silver Dollar City that recreated an 1880s Ozark village.
Over time, dozens of theaters were built, featuring variety shows that combined country, gospel, Broadway tunes, comedy, magic tricks, dance numbers, acrobatics and even animal acts. Musicals that fit Branson's brand of family-friendly, Christian entertainment also popped up along its strip. Many shows featured singers such as Andy Williams, whose greatest hits had been released decades earlier.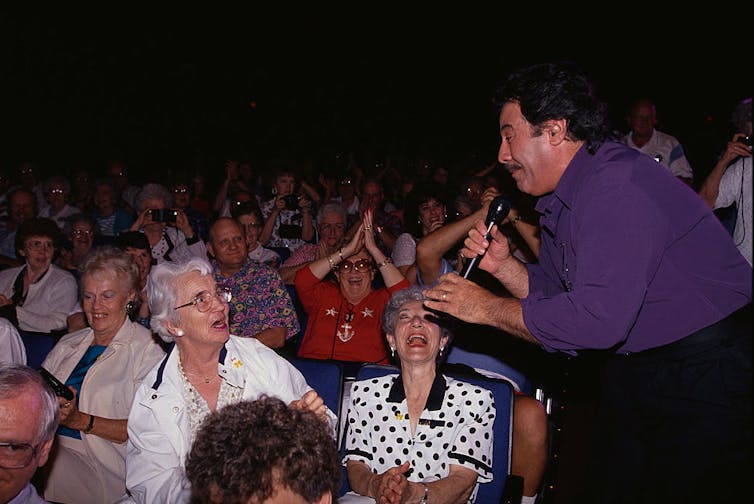 Some of Branson's performers didn't qualify as stars at all. "The Shoji Tabuchi Show," arguably the most popular in town during the 1990s, was headlined by a fiddler who had never produced an original hit song or been featured on the radio.
Branson performers – whether acrobats or singers or comedians – shared something in common: earnest messages of appreciation for their audiences, whom they greeted in person during intermissions and after shows.
Ignoring the sneers
In 1991, the Ozark Mountain tourist destination burst onto the national scene when it was featured on "60 Minutes."
Reporters from the coasts flocked to the Ozarks in disbelief after the segment aired. Wasn't America supposed to be obsessed with youth and celebrity, not aging or unknown singers? And wasn't earnestness merely hucksterism in disguise to dupe audiences into parting with their hard-earned money?
The coastal critics scrambled to come up with the wittiest insults. One called Branson a "cultural penal colony." Another preferred the term "Town of the Living Dead." Even "The Simpsons" couldn't resist piling on.
The show went on, undeterred: In 2021, a record-breaking 10 million people came to visit.
While not every show has survived the COVID-19 pandemic, clearly some performers are doing something right. Comedians like Stephen Colbert have continued to mock Branson, but live theater is in too much of a crisis to dismiss the town's approach.
The town demonstrates that theater can return to the mission of imagining new, better worlds onstage and inviting audiences to join in that mission with them. It can be the stuff of spiritual transcendence – even if it grabs your attention by galloping down the aisle on a horse.
This article was updated to clarify that Shoji Tabuchi never produced a record featuring songs that he had written.