Malaysia Airlines was hit with two extraordinary crises this year that have rocked the confidence of customers and left the company struggling to manage the damage. Lone passengers are posting pictures of otherwise empty planes on social media, cabin crew are leaving and commentators are questioning its ability to survive intact. It is a challenge, certainly, but not an impossible one.
The disasters which befell the airline were extraordinary, shocking events. First, the disappearance of flight MH370 in March with 239 people on board, then the shooting down of MH17 over Ukraine in July with 298 lives lost. Both were mysterious and tragic accidents, from a company with a previously unblemished safety record. And crucially, both incidents brought the airline a mass of criticism over how it responded.
The financial impact has been clear. In March, after MH370 disappeared, the firm came under fierce pressure from the Chinese victims' relatives and consequently sales from China plummeted 60%. There has also been a sustained decline in the company's share price, which lost 21% since August 2013.
To be fair, the airline was already experiencing financial problems with losses of MYR1.17 billion (£222m) in 2013, partly as a result of fierce competition from low-cost operators. But losses in 2014 will be much worse and the airline's major shareholder, Khazanah Nasional (Malaysia's sovereign wealth fund) has announced plans to address this by buying up the remaining 31% of the shares to suspend trading, getting rid of 6,000 staff and appointing a new chief executive.
Rebuilding response
It is all a powerful reminder that how a company handles a crisis can determine whether or not the company survives. Union Carbide never overcame the loss of shareholder trust and the cost of damages imposed on it after the Bhopal disaster in 1984. It was eventually bought out by Dow Chemical.
BP's share price plummeted by more than 50% in the month after the Deepwater Horizon incident in 2010. Costs imposed by US courts have reached nearly £30bn. The company's crisis response was widely criticised and resulted in the sacking of CEO Tony Hayward.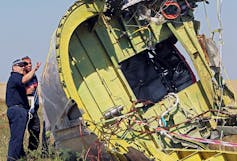 In order to survive, Malaysia Airlines needs to learn from its mistakes. It must develop a flexible crisis response capability; respond to the emotional needs of its public, not just their informational needs; and conduct a post-mortem on how they can handle crises better in future. The company also needs to rebuild the relationship with its global passenger base in order to refill its planes, particularly the Chinese and the Dutch. This requires a careful nurturing of trust first in its domestic market, then in its international markets.
As far as practical measures go, as a state-owned airline, all government business air transport should, from now on, be mandated through Malaysia Airlines, as should that for all employees working on Malaysian government contracts. The airline should then offer favourable rates for volume procurement contracts to other governments.
It should also reward its loyalty card holders and frequent flyers with more favourable rates, but for a fixed time period only. Finally, a special promotional fixed period offer should be made to other volume buyers, including physical and online travel agents, which is more attractive than that of similar competition such as Emirates, Singapore and Cathay Pacific.
The airline should immediately give up all loss-making airport slots and sell off any old planes. However, while tackling supply by lowering costs will help, stoking demand is fundamental in the current climate. This is not a simple process, given that people now associate Malaysia Airlines with danger and tragedy.
Trust up
To survive this crisis they need to reposition the brand. They should take advantage of the fact that they are wholly owned by the government, as this should instill a sense of trust with the public in Malaysia at least. In the interim, they need to publicise what degree of responsibility they will bear and the changes they have now made to improve safety. They could, through government contacts, commission a fast but independent audit into their safety record to provide content for promotional messages.
Crucially, Malaysia Airlines must have a better crisis management system in place should disaster strike once again. It faced intense criticism of its communications abilities after MH370 – even informing relatives families via text message – and things were only marginally better after MH17. Its recovery plans now have to battle through the perceptions created in those days and weeks when planning, transparency, responsibility and decisiveness could have made such a difference.
Repositioning the airline will require a significant communications budget, top global communications agencies, and no small degree of honesty. They might also need to find institutional investment partners if equity gets tight as it struggles with a new supply/demand curve and to fill empty seats. The company should be careful, however, to resist simply discounting prices long-term and across the board, as this would drive a decline in the firm's image. It won't be easy, and it will probably take several years before Malaysia Airlines can regain passengers' esteem on an even footing with rivals.