David MacDonald's recent analysis for The Conversation Canada proposes a radical rethinking of the place that First Nations' people occupy in a modern liberal democracy.
He points to New Zealand's Mixed Member Proportional Representation (MMP) system, used to elect the country's Parliament since 1996, as a potential path forward for Canada's Indigenous.
Maori have been guaranteed representation through designated seats since 1867. That's something Canada might consider as part of its commitment to the United Nations' Declaration on the Rights of Indigenous Peoples that states:
Indigenous peoples have the right to participate in decision-making in matters which would affect their rights, through representatives chosen by themselves in accordance with their own procedures, as well as to maintain and develop their own indigenous decision- making institutions.
No clear winner in New Zealand election
New Zealand elected its 52nd Parliament this weekend. It's a 120-seat Parliament that guarantees seven members elected from a geographically based Maori electoral roll.
Other Maori have been elected by voters from the 64 geographically based general constituencies, and from national party lists, from which 59 members are elected.
List seats are allocated to ensure that the total membership of the Parliament is proportional to each party's share of the national vote. Since the MMP system's introduction, Maori representation in Parliament has remained at least proportional to the Maori share of the national population.
Provisional election night results indicate that neither of the two large parties will be able to form a government alone.
The conservative National Party won 58 seats, three fewer than the number required to form a government. The main opposition Labour Party will hold 45, the nationalist New Zealand First Party nine, the Green Party eight and the libertarian ACT Party one.
The Maori Party failed to win any seats, but despite that trouncing, Maori politicians have still been elected from all parties but ACT. That means whoever forms the government, there will be Maori representation.
No real improvement in Maori lives
Since 2008, the National Party has governed with what are known as confidence-and-supply agreements with the Maori Party, grounded in Maori cultural values and an unapologetic politics of self-determination.
The Maori Party obtained policy commitments from the National Party in return for its support.
But it hasn't been enough to result in sufficient improvement in Maori living standards, educational outcomes and employment numbers, or to reduce the Maori burden of disease and incarceration rates.
Significant progress in these areas was needed to allay Maori reservations about an alliance with a conservative party that they'd never before supported in great numbers.
MMP is a system that encourages democratic contest and gives Maori voters genuine choice. But the Maori Party's failure to bring about sufficient progress towards self-determination helps to explain Saturday's significant swing by Maori voters to the opposition Labour Party.
The Labour Party won all seven of the Maori seats and left the Maori Party with no parliamentary representation.
Nonetheless, the system still reflects the diversity of Maori opinion and their presence in the country's politics.
Paula Bennett's tenure, as the National Party's Maori deputy prime minister, depends on negotiating a coalition or a confidence-and-supply agreement with the nationalist New Zealand First Party, led by another Maori who once served as deputy prime minister, Winston Peters.
Kelvin Davis, meantime, is the Maori deputy leader of the Labour Party.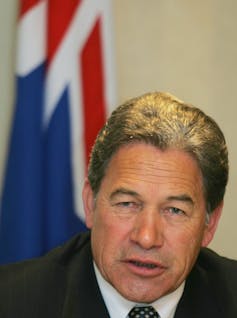 Peters, whose party could determine the next prime minister, believes that Maori should be integrated into a singular political community.
His view is consistent with the Royal Commission on the Electoral System's argument that the need for all parties to solicit Maori votes (Maori constitute around 15 per cent of the national population) means that there will always be meaningful Maori representation drawn from the party lists and that Maori are increasingly likely to be elected to represent general constituencies.
Labour leader rejects referendum
But others contend that in a Maori constituency, Maori candidates are free to use their own culturally reasoned arguments to win over voters in ways that may not make sense to a broader constituency, nor reflect that constituency's priorities.
What's more, they argue, Maori voters are free to assess Maori candidates according to their own cultural values and aspirations.
Labour leader Jacinda Ardern has indicated that her party won't go along with a referendum on the Maori seats as a requirement of a coalition with New Zealand First.
New Zealand's MMP electoral system provides a foundation for substantive and inclusive liberal citizenship for Maori to facilitate the re-emergence of tribal entities.
The Maori party advocated for greater tribal authority while in government. Maori voters will expect that advocacy to continue given they largely believe full citizenship is not realized through the state alone.
In short, Maori people and policy influence New Zealand politics in ways that First Nations in Canada do not.
The depth and breadth of Maori representation in the New Zealand parliament does, as MacDonald suggests, mean that a New Zealand-style proportional representation system is one that Canada's First Nations may want to entertain for themselves.