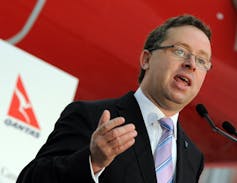 Qantas has announced a sweeping review of its business that will include a new Asian premium airline, a new Japan-based low-cost carrier, a fleet overhaul and up to 1,000 job losses.
Under the plans, Qantas will buy new Airbus A320 aircraft to expand into new markets in Asia and begin direct flights to Santiago, Chile.
Domestic flights for the new Jetstar Japan airline with partners Japan Airlines and Mitsubishi, are set to begin in 2012 with international flights planned.
A premium Asian airline that will not be badged as Qantas is part of the strategy.
Qantas chief executive Alan Joyce says this approach is essential to return its international business to profitability.
But unions have already threatened to take legal action against the airline if they attempt to move maintenance jobs offshore.
The Conversation asked Professor Greg Bamber at Monash University's Department of Management for his analysis of the Qantas strategy.
Firstly, what are the factors driving this announcement?
There is a combination of factors that are driving airlines such as Qantas and some other legacy airlines to restructure their business models. These include the growth of new low cost airlines. Jetstar, Virgin, Tiger are prominent Australian examples, while internationally there is Air Asia in this part of the world, Ryanair and and easyJet in Europe.
In the United States, South West Airlines in particular pioneered this new entrant style of airline that operates on a lower cost basis. (See our book: Up in the Air: How Airlines Can Improve Performance by Engaging their Employees.)
That's not the only factor of course. We've had the global financial crisis and the growth of airlines based in the Middle East and in Asia, as well as much economic turbulence from factors such as higher fuel and airport charges.
And airlines are a volatile business - they face all kinds of turbulence, not only economic. As you've seen recently, if there is volcanic ash, an outbreak of terrorism or war, or plagues like SARS, airlines are very often the first to feel the brunt.
Is this Qantas effectively moving its base overseas to make staff and maintenance costs cheaper? Could we eventually see lower paid Asian staff working domestic routes?
Qantas denies it's moving its base overseas. It is keeping its head office here in Australia, but it's trying to set up overseas subsidiaries, in particular a low cost airline in Japan modelled on Jetstar, and a premium airline. It hasn't yet said where that would be based, but two candidates are Singapore and Kuala Lumpur in Malaysia.
There is concern among the workforce and unions that represent them about the possibility [of lower paid Asian staff replacing or working with Australian staff]. But in the press conference this morning and subsequent media release, Qantas didn't address that issue, saying the business will be for operation in Asia, rather than Australia.
But your point however is pertinent in relation to maintenance operations. Qantas group has run down some of its maintenance operations in Australia and is using some alternative maintenance arrangements offshore.
That's of concern to the Australian Licensed Aircraft Engineers Association, which has protested today following the Qantas announcement and has threatened to take legal action against Qantas.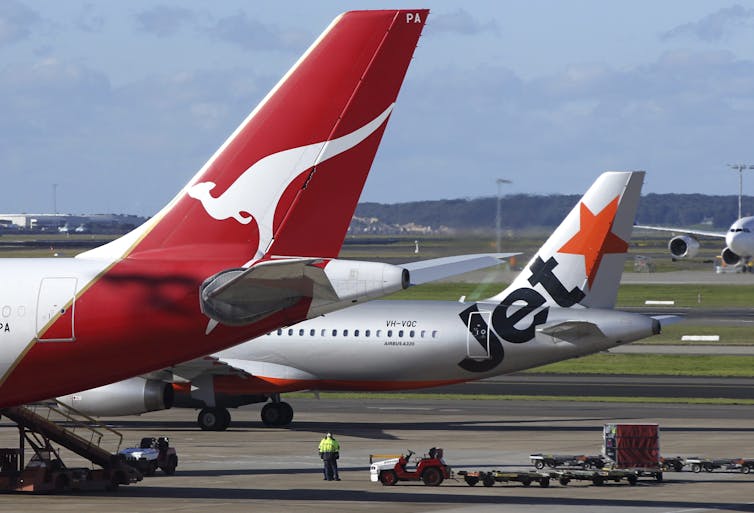 They claim the move breaches the Qantas Sales Act. What is the Qantas Sales Act? And should we expect strike action?
I don't think we'll be facing strike action soon on this particular issue. Today's announcement will be followed by further details on Sunday and it will take some time to work the details of implementation.
You don't start new airlines overnight. There are lots of clearances from safety regulators (the equivalent of the Civil Aviation safety Authority (CASA) in other countries to be overcome, so we're looking at the medium term.
However, Qantas is facing industrial action from its pilots currently and also has tense relationships with other categories of its workforce such as licensed engineers and ground staff represented by the Transport Workers Union. So on three fronts Qantas is facing industrial turbulence in Australia, which is unfortunate.
And it's probably unnecessary - I have have written before, most workforce disputes could be avoided if possible by employers like Qantas working through these issues in a consultative style and through the processes of collective bargaining, mediation, and arbitration.
My understanding is the Qantas Sales Act is about maintaining Qantas business in Australia rather than seeing it sold off or moved offshore. This was passed at the time Qantas was privatised in the 1990s.
Qantas has been careful to say its new premium airline will not be using the Qantas brand name - it will be leveraging the Qantas experience and reputation, but not branding it as such.
That's how Qantas is probably seeking to avoid running into difficulty with the Act.
What will be the impact on its brand as Australia's flagship legacy airline? And what about safety concerns?
Qantas has a fine reputation in Australia and internationally, but increasingly consumers are looking for value for money rather than simple blind loyalty to a brand name. That's partly what is driving Qantas to improve its cost base.
Qantas has been adept at avoiding its mainline brand being diluted by Jetstar by keeping these two brands reasonably separate and autonomous, at least in appearance. Other big old legacy airlines like British Airways and United in the US have earlier tried to set up new entrants before and most of those attempts failed because the new entrant tended to cannibalise the brand of the parent.
Qantas learned from the mistakes of others and it has avoided Jetstar competing head-on with Qantas.
No doubt Qantas will try and build on that learning to try to avoid these new airlines in Asia from competing with its original brand.
Qantas's safety record will be at risk but I'm sure Qantas will be working hard to minimise any risk and any perception that safety could be compromised by this move.
Safety standards are regulated in the airline industry around the world by national and international regulators.
Although to some extent there has been deregulation, there is still an important role for regulation, as we saw in Australia when CASA grounded Tiger.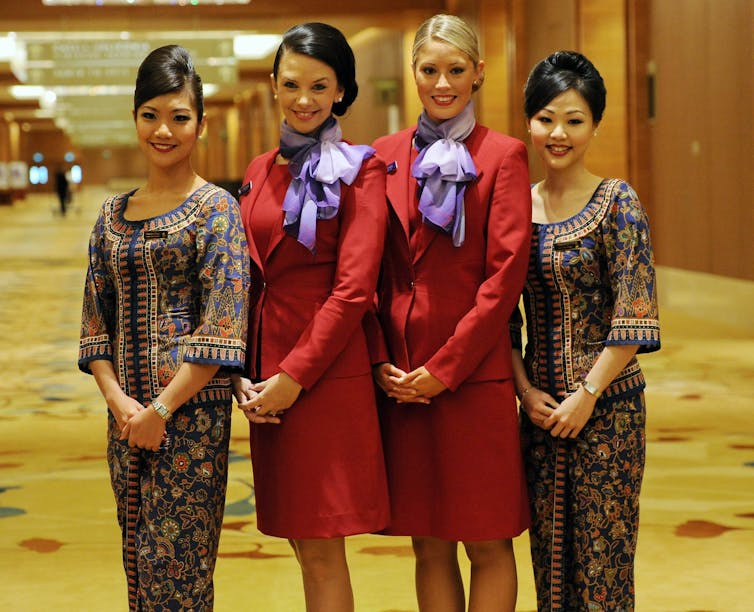 What will be the impact on Tiger and Virgin Australia?
Tiger is a subsidiary of Singapore Airlines which is a major international competitor of Qantas, and Singapore has an alliance awaiting regulatory approval with Virgin Australia.
Virgin also has alliances with the US airline Delta, Etihad and Air New Zealand. So this strong group of alliances set up by the new CEO of Virgin Australia has been a wake-up call to Qantas. To some extent, Qantas is trying to play the same game of building a bigger international network in a virtual sense rather than its own aircraft flown by its own pilots and cabin crew around the world.
My hunch is that internationally, Qantas will be focusing on its two most lucrative revenue generating routes, the kangaroo route to London and its routes to the US, which goes to Los Angeles and Dallas. Qantas International does fly other routes but it's finding it hard to generate profits from them.
So Qantas will be working more closely with British Airways, American Airlines and the Malaysian airline system, and probably other members of the Oneworld Alliance, to streamline its international business.
It is aiming to reduce its costs to an extent, but still give its customers access to a wide range of international markets.