Since 2011 nearly 5m people have fled Syria, creating one of the biggest refugee exoduses in recent history – and the number continues to grow. Globally, millions more have been forced to flee their homes due to war, conflict and persecution – latest figures indicate that there are an estimated 65m displaced people across the world.
A displaced person is someone who has been forced to leave their home or place of habitual residence – a phenomenon known as forced migration. And for these people, the first line of assistance from their hosts – and the international community – will always be the real basics: food, water, shelter and health-care. But education – and, in particular, higher education – often lags behind.
Displacement can affect a wide range of people, but whatever your position it almost always leaves you poorer and less able to access education. In Syria, the Institute of International Education estimates that more than a quarter of Syria's young people – men and women – were participating in education before the conflict.
Among the Syrian refugee population alone it is estimated that there are 2,000 university professionals and 100,000 students qualified to go to university. Failing to provide an opportunity for lecturers to continue to teach, and students to continue to learn, not only represents a huge waste of talent, it is also devastating for those who see their careers terminated or their aspirations in tatters.
One suggestion is that universities use their capacity to translate teaching materials into Arabic to offer courses that can be taught locally in refugee camps in Lebanon or Jordan by displaced refugee academics. But this has not been easy, and is still yet to really come to fruition. SOAS students have also been regular visitors to the camps in Calais, bringing both support and cultural activities.
Of course, these are all small steps. The demand for higher education among refugees remains large and the response of the higher education sector in the UK is still inadequate. Yet even small steps are important if we are to address the climate of intolerance and indifference towards migrants and refugees.
The sanctuary of education
As an undergraduate student, I volunteered in my third week at university to organise a "Brown Rice Week" to raise money for refugee students. That was in the mid-1980s and the refugees were mostly in Africa. The money we raised through forgoing meals for a week for a bowl of brown rice a day, provided enough money for more than a dozen refugee scholarships for students from around the world.
Refugee studies – then a nascent subject area at Oxford – became my professional area of work for around 20 years. So when a return to 1980s levels of forced displacement emerged in 2015, I understandably wanted to do something.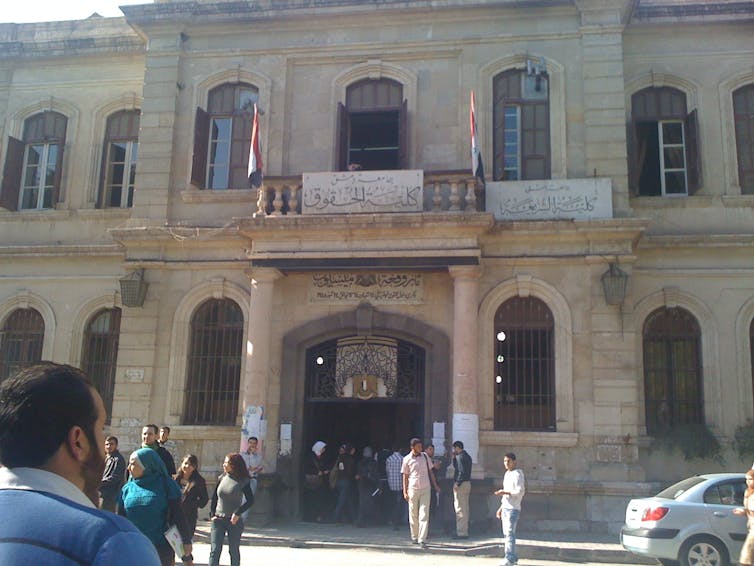 This is why a number of UK universities have recently launched Sanctuary Scholarship schemes. These scholarships are available to displaced people from anywhere in the world who are living without the relative security of refugee status. These are people who are in the often long process of seeking asylum, or have some other form of temporary leave to remain in the UK.
These are the real people in need. These are the people unable to apply to attend UK universities because they don't qualify for home fees – unlike those with refugee status in the UK. They also don't qualify for a student loan and potentially other means-tested support – again unlike recognised refugees. And we're working with these people because we want our scheme to make a real difference.
Student support
Our student community, particularly those involved with the Solidarity with Refugees and Displaced People Society, have played an absolutely crucial role in setting this up. They pushed for the scheme, but their involvement did not just stop there. They have remained actively engaged and they have influenced how it has developed in a very positive way – highlighting design issues, raising awareness of the scheme, and networking with supportive partners.
We hope to work with our students and the wider academic community to build this scheme into something really significant. We want universities to be a place of sanctuary for students and scholars who have fled conflict and human rights abuses.
This is surely also an area for wider collaboration between UK universities. Each university acting separately inevitably only takes small steps – and each initiative risks making the same mistakes. Working together, we can play a much bigger part part in making our institutions truly open to those who want to pursue their dreams.