When Education Secretary Betsy DeVos and first lady Melania Trump visited Excel Academy Public Charter School last spring, DeVos praised the school as a "shining example of a school meeting the needs of its students, parents and community." Melania Trump called the charter school "an exceptional example of a school preparing young women both academically and personally so that they may succeed in a global community."
The visit made international headlines due to the fact that it also featured Queen Rania Al-Abdullah of Jordan. In terms of publicity, a school could not ask for a better platform.
Unfortunately, we now know the praise the school got during its brief time on the world stage did not match its poor performance.
On Jan. 11, the DC Public Charter School Board voted unanimously, 6-0, to shut down the Pre-K-8, all-girls school at the end of the current school year. The board action wasn't because of some sudden turn of events after Secretary DeVos, Melania Trump and Queen Raina paid their visit. Instead, records show, it was because the "trend for student performance over the past several years has been negative, despite any benefits that may have occurred from learning in an all-girl setting."
Excel Academy charter school now joins the 200 to 300 charter schools that are shut down each year across the nation due to poor performance, financial shortcomings and low enrollments.
The Excel case magnifies how the cost of charter school failure is born by parents and their children, communities, educators and local residents. Indeed, many of the 700 or so girls who currently attend Excel must now scramble to find another school by next fall.
The closure of Excel represents a prime opportunity to focus on what we know about school choice and to move the discussion beyond ideological and partisan debates.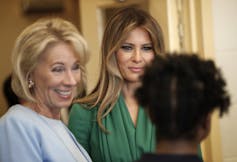 This is particularly crucial since between fall 2004 and fall 2014, overall public charter school enrollment increased from 900,000 to 2.7 million students. During this same period, the percentage of public school students who attended charter schools increased from 2 to 5 percent, and the percentage of all public schools that were charter schools increased from 4 to 7 percent. In addition to increasing in number, public charter schools have also generally increased in enrollment size over the last decade.
In 2017, the number of students enrolled in charter schools surpassed 3 million nationwide and the number of charter schools reached 6,900.
This past September, the U.S. Department of Education awarded US$253 million in grants through the Expanding Opportunity Through Quality Charter Schools Program to states and nonprofit charter management organizations. This level of funding is consistent with the level of federal support for charter schools in previous years.
Given all these developments, there is no better time for an honest discussion about what the research shows about charter school performance.
As the author of several books on school choice and a researcher who is currently examining the impact of choice policies on families, schools and neighborhoods, there are five points I would highlight that are based on the research on charter schools.
As new charter schools continue to open at a rapid pace while others are shut down, charter school operators and supporters should pay close attention to what took place at Excel, which first opened its doors in 2008. This is particularly true for new charter schools that may be struggling academically.
Darren Woodruff, chair of the DC Public Charter School Board, explained how many of the steps that Excel planned to take to turn things around were too little too late.
In a written statement, Woodruff said Excel's recent changes – including the planned addition of a chief academic officer and a school turnaround plan – all represent "welcome steps that ideally would have been implemented when the first indications of decreased student performance became evident."
"However," Woodruff said, "without these steps more fully in place and clear data on their impact, this Board lacks convincing evidence that Excel represents the best opportunity for these young girls that we all care so much about."
The lesson for charter school leaders and advocates is that these kinds of things need to be in place on day one. This is especially important since the research shows the first three years of a charter school are so crucial.