It died not with a bang, but with a whimper.
Last Friday, Melbourne Art Foundation executive chair and gallerist Anna Pappas announced the unthinkable: that after 28 years and 14 incarnations, the biennial Melbourne Art Fair, which was slated to be staged at the Melbourne Exhibition Buildings this August, would not be going ahead.
This development came as a shock to many in the wider visual arts community who were left scratching their heads; at a time when every major city worth its salt has its very own art fair, how did Melbourne, which prides itself on the complexity and strength of its cultural fabric, manage to lose one of the premier events on its artistic calendar?
But to those with an insider's view of the Australian commercial art marketplace, the demise of the Melbourne Fair came as no surprise.
According to Pappas, quoted in [The Guardian], the foundation's full board of six members voted unanimously to cancel the fair after three major Australian commercial galleries elected to stay away from the event in 2016.
As Pappas explained, the absence of Roslyn Oxley9 Gallery, Tolarno Galleries and Anna Schwartz Gallery meant that the fair:
"would not be cutting edge … we have no interest in becoming an affordable, mediocre art fair.
In an interview with Henri Neuendorf of artnet, meanwhile, Anna Schwartz was quoted saying that she had never indicated she was intending to participate in the fair.
Pappas, in the same article, highlighted the fact that many Australian galleries are exercising their discretion to allocate available funds to exhibiting at what she describes as "the big, international art fairs".
But according to the aforementioned gallerists' websites, in recent years their presence at international fairs has been muted: Roslyn Oxley9 exhibited at Art Basel HK in 2013, 2014 and 2015 and Frieze NY in 2013; Tolarno had a stand at Art 13 in London in 2013, Art Basel HK in 2013, 2014 and 2015, and Paris Photo in 2014 and 2015; and Anna Schwartz Gallery was represented at Art Basel HK in 2011, 2014 and 2015, and at The Armory Show in New York in 2011.
Art Basel HK 2015 hosted 231 exhibitors from 37 countries. Six of those galleries were Australian. Looking farther afield, however, Australian dealers rarely venture to the larger American and European fairs.
What Pappas' statement highlights is the economic truism that in a competitive marketplace choices are informed, in part at least, by what represents the best value for money. In this instance, actions speak louder than words. Anna Schwartz, Roslyn Oxley and Jan Minchin of Tolarno sent the fair a very clear message: by choosing to forgo it, they deemed it to represent poor value for money.
Figures show that the international art fair landscape is congested; galleries are spoiled for choice. In 2015, The Art Newspaper's calendar listed 269 fairs around the world. That makes it highly competitive for those who are attempting to attract exhibitors. Economic theory tells us there are two options available to a seller who is competing for oxygen in a teeming marketplace.
One approach is to find a way of standing out from the crowd by differentiating a product from competitors. This is a good tactic when, as now, buyer ennui threatens to settle over a jaded marketplace. Recent figures reflect a contraction in the art fair sector that in many quarters is ascribed to what Georgina Adam has dubbed "fair-tigue"; Skate's Art Market Research demonstrated a 7.4% decline in attendees at the top 20 art fairs in 2014.
The other tactic is to compete on price. In this instance, an entity might choose to undercut competitors by charging less for a comparable product. Alternatively, the seller may resort to "value adding". In the case of an art fair, exhibitors may be offered enticements such as larger stands and subsidiary benefits such as VIP guest tickets.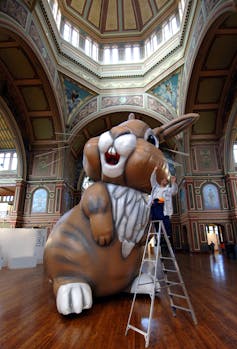 This brings us to an important distinction. An art fair is not, and can never be, a biennale no matter what its aspirations. Art fairs exist to serve the commercial needs of those who use them to buy and sell art.
The works of art on display at the fairs reflect this reality. They tend to the conservative, with a focus on two-dimensional works that are easy to hang on walls. For this reason, it is often the satellite events associated with art fairs that bring out the more challenging art forms. Rather than the fair itself, this is where visitors have the opportunity to savour the true flavour of a city's visual arts scene.
For practitioners, this represents the real benefit of the Melbourne Art Fair to the broader arts community. Still, just as a motor show or grand prix is important to a city's motoring enthusiasts, an art fair plays a central role in a major city's cultural life. It attracts interstate visitors and makes a statement about the city's cultural aspirations.
When you boil it down, other than the products on display, an art fair's format and default layout - serried row after row of anonymous walled booths separated by narrow passageways – barely differ from other trade fairs such as the Melbourne Home Show, or Sexpo for that matter. When I questioned local art dealers about the reasons for the fair's demise, the one consistent answer was that it had lost sight of its primary function, which was to act as a trade fair.
Sage advice to the Melbourne Art Foundation board would have been to know what you do well, and pay someone else to do what you don't. Event management in the 21st century is a highly specialised field. This is why it's no surprise to find that the biggest and most successful international art fairs are managed by marketing leviathans. Of the 20 most attended art fairs in 2014, five were managed by MCH Group Global Live Marketing and three by Reed Exhibitions.
So where did it all go so wrong for the Melbourne Fair? In this unapologetically commercial arena, the fair's not-for-profit management model is an anomaly. Although Frieze London - one of the world's biggest contemporary art fairs - does have a non-profit arm that runs a program of associated events, the fair itself is run as a commercial entity.
One can only imagine the challenges the Melbourne Art Fair organisation has faced since August last year when the board of the foundation terminated its contract with Tim Etchells, director of Single Market Events. His management company was responsible for exhibitions including the Doctor Who Festival, London, and London Fashion Week. He also has an enviable reputation in art fair management; in 2013 he set up Art 13 in London, now in its fourth edition, and in 2008 he established Art HK, which he has since sold to art fair behemoth Art Basel.
Under the SME banner, Etchells' subsidiary company, Art Exhibitions Australia, signed a 20-year contract with the foundation to manage the Melbourne Fair. Etchells is also responsible for managing the Sydney Contemporary art fair (which is a commercial enterprise). The idea was that having the one management company responsible for both the Melbourne Fair and Sydney Contemporary would avoid conflicting interests and ensure the biennial events didn't cannibalise each other.
But the agreement was terminated last year. Etchells remained at the helm at Sydney Contemporary and oversaw its highly successful 2015 event.
Let's face it; the terms "not for profit" and "commercial art fair" are fundamentally incompatible. It has been almost 30 years since the Melbourne Art Fair was established by the Australian Commercial Galleries Association. Since then, there has been a seismic shift in the art market. Although the fair maintained a strong profile under the 11-year reign of former director Bronwyn Johnson, the transformation in the art market means that the old ways of doing business don't work any more.
Perhaps more than anything, the Melbourne Fair's steadfast refusal to move with the times has been its Achilles' heel. Galleries and buyers alike want a great deal more than was on offer. Value for money now means something entirely different. Art fairs must cater to the new breed of collector whose greatest issue is that they are time-poor; the supermarket-style smorgasbord of cultural offerings at an art fair means choices – and purchases – can be made quickly and spontaneously.
But these buyers – and the gallerists who are struggling to find the most effective ways of capturing their interest – have high expectations of the art fair as a commercial forum. Art at this level of the market is a luxury good; it must be displayed and presented in a context that acknowledges this. Marketing is foremost, operations must be efficient and highly professional, and facilities - from the structural integrity of the walls of the booths to the selection of restaurateurs granted the concessions for catering - of the highest standard.
Given the expectations that come with the monumental fees charged by art fairs, it seems the board of the Melbourne Art Foundation made some ultimately costly decisions, such as the failure to appoint a director to oversee curatorial decisions.
For their part, dealers spoke with their feet. Those who chose not to exhibit at the fair passed judgement on the decisions made by the board.
With funds already budgeted to the fair and Melbourne Art Week by government agencies including Creative Victoria and the Australia Council, the framework is in place to stage an exciting new event in 2016 for Melbourne's art scene.
It will be interesting to see what germinates in the city's creative community over the next few months. An email to dealers circulated in recent days proposed a meeting between interested parties to find a way forward. Once the smoke clears, perhaps what will emerge from the ruins will challenge some of the sacred cows that have stunted the Melbourne Fair's evolution in recent years.