Facebook has just acquired the mobile messenger service WhatsApp for US$19 billion. Launched in 2009 by two former Yahoo employees, in just over four years WhatsApp has grown to 420m monthly users.
Why is it so popular? Founder Jan Koum told the New York Times in 2012, "We are providing a richness of experience and an intimacy of communication that e-mail and phone calls simply can't compare with."
Facebook has been pushing its own messenger service to its users, but without much success. Markos Zachariadis at Warwick Business School, said, "Facebook's purchase of WhatsApp is in many ways an admission of defeat."
The explosion in the number of smartphones in recent years has also seen a boom in instant messaging services. Popular services such as WeChat, Line and Viber each have more than 100m users. WhatsApp tops that chart in not just number of users but also engagement. With the per-day volume at 19 billion messages sent and 34 billion received, the messaging service will soon trump the total global SMS volume.
According to Sotirios Paroutis, also at Warwick Business School, Mark Zuckerberg is out to make Facebook a truly mobile company with Instagram and WhatsApp. "In the past WhatsApp founders have been vocal in their objection to be acquired by a larger firm. So beyond their own reward package, the promise to keep WhatsApp as an independent service seems to have helped bring the two parties together," he said.
Show me the money
With only 55 employees, WhatsApp's $19-billion valuation could, in an alternate universe where each employee was given an equal share, fetch US$350m per employee. This is nearly five times what employees of Instagram would have got when that company was bought out for US$1 billion in 2012.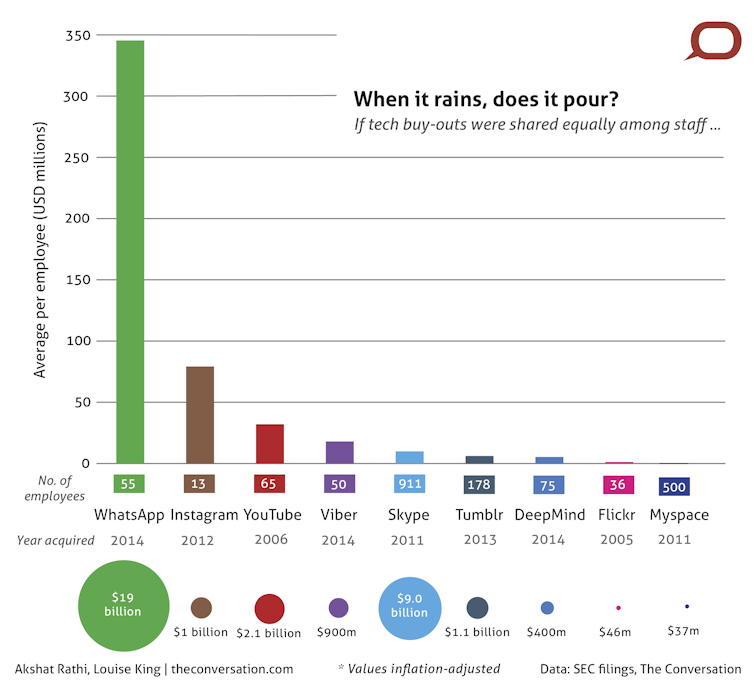 While founders take away big chunks of the proceeds from such deals, with so few employees the windfall can still make many others rich. But in some cases, like that of Skype's acquisition by Microsoft, the unequal distribution can leave employees with nothing. Worse still, Felix Salmon at Reuters points out that because of the way these deals are structured, employees can do little to fight back.