For tens of thousands of refugees displaced by the war in Bosnia and Hercegovina 25 years ago, the first painful hours after being ejected from their homes were often spent in football stadiums. Some found themselves in stadiums for their own protection, while for others the football stadium was the last they would see of their former community before being expelled in the name of ethnic cleansing. For others still, corralled into stadiums by armed paramilitaries, the football ground would be the last thing they would see.
The three-way conflict that engulfed Bosnia between 1992 and 1995 left 100,000 dead and forced half the country's population to relocate. Used by Serb, Croat and Bosnian government (primarily Bosniak, or Bosnian Muslim) forces, football stadiums and sports infrastructure were part of this – and football clubs themselves suffered alongside the population: some clubs embraced narrow ethnic identities, whereas multi-ethnic clubs became targets.
While many footballers took up arms, hundreds more were displaced by the fighting. Some Serb players fled east to Serbia and continued their careers at clubs in Belgrade and Novi Sad, Velež Mostar FC's Nikola Jokišić among them. Borac Banja Luka FC continued to compete in the Yugoslav football leagues for the duration of the war, playing "home" matches at stadiums across Serbia. Other teams played in the competitions of the incipient Bosnian Serb state.
Talented Croat and Bosniak players headed westward, signing for clubs in neighbouring Croatia or venturing further afield. Like thousands of their compatriots, many footballers rebuilt their lives in countries across western Europe and, while there is a long tradition of Yugoslavia's best players making profitable moves abroad, the war turned a steady stream into a flood. While the most talented Bosnians found themselves welcome at some of Europe's best clubs, others scrambled to secure any contract they could in order to escape.
When in 1993 Bosnian Croat forces harnessed Velež Mostar's Bijeli Brijeg Stadium to round up Bosniak civilians from west Mostar, the football club was also a victim. The team had strong links to the failed communist order and espoused a multi-ethnic identity that was ill-suited to the Bosnian Croat project. The team was expelled along with the civilian population.
Ejected from its home, Velež gradually resumed activities in Bosnian government-held territory and competed in Bosnia and Hercegovina's first wartime championship of 1994. Other clubs, such as Željezničar Sarajevo FC, split along ethnic lines and rival incarnations laid claim to the club's history on either side of the front line.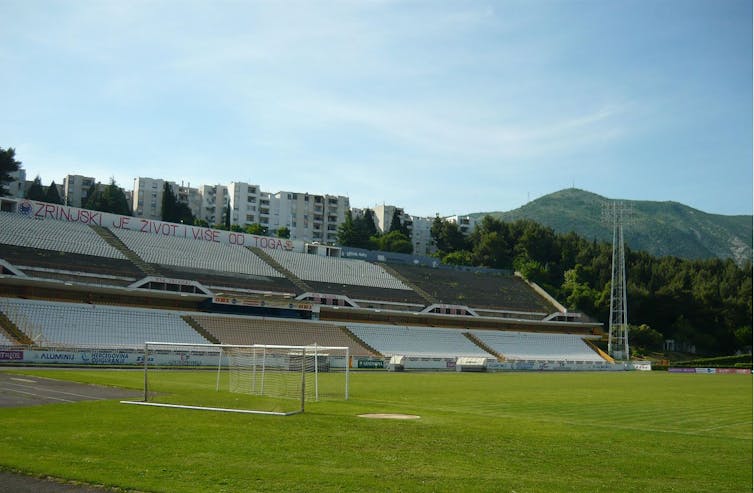 Croat forces and international peacekeepers used Tomislavgrad's football ground as a reception centre for Croat civilians fleeing fierce fighting in nearby Bugojno. Footage of this operation shows women chatting quietly on rugs laid out under the goal posts, surrounded by hastily-packed bags of prized possessions while their children play on the pitch.
When the Dayton Accords brought the war to an end a year later, Bosnia was recreated as a federal state, implicitly recognising the results of ethnic cleansing. Territorially, Bosnia's three principal ethnic groups remain largely separated today, although there is a unified football league and national team. Yet Velež has been unable to return to its west Mostar home: Zrinjski Mostar, a resurrected Croat club that had been banned during the communist era, now plays at the Bijeli Brijeg Stadium. Displaced Velež play their football several miles east of the town at a hastily prepared ground in the village of Vrapčići.
A changed landscape
Inside Bosnia today, the football landscape is irrevocably altered. East of Sarajevo, a large new settlement is now home to thousands of Serbs who left the capital as a result of the war. There, inhabitants who once backed Sarajevo's leading football clubs now gather around Slavija FC, another team resurrected in the early 1990s that boasts a proud Serbian identity.
Elsewhere, Velež and other prominent Bosnian clubs have fans among the displaced supporters who have built new lives beyond the Balkans, who often gather together to celebrate the club that shared their fate. Professional footballers who were child refugees in the 1990s retain strong emotional attachments to Bosnia, even though they have lived the vast majority of their lives in western Europe.
In the UK, Norwich City FC's new Bosnian signing Mario Vrančić, originally from the town of Bosanski Brod, spent most of his life in Germany. Nevertheless he – like other compatriots in similar positions, including his own brother – has proudly represented Bosnia and Hercegovina at international level.
Those who passed through football stadiums after being thrown out of their homes were not the worst affected. Bosnian Serb forces attacking the UN-protected "safe area" of Srebrenica in the summer of 1995 took thousands of Bosniaks who sought refuge there to detention facilities, including the football grounds of lower league Bosnian teams. As described by witness testimony from UN personnel and in the proceedings of the International Criminal Tribunal for the former Yugoslavia, men and boys were separated, bussed to other facilities, and executed.
A US U-2 spy plane captured images of hundreds packed onto a football pitch in Nova Kasaba, surrounded by guards. On its return, the spy plane saw only mounds of freshly dug earth in the adjacent field. Some 8,000 men and boys were massacred in the days following Srebrenica's fall, one of the darkest moments in Bosnian history, but also in the history of Bosnian football.