Since 20 children were gunned down at Sandy Hook Elementary School in December 2012, we've seen public calls for the release of crime scene photos – the idea being that the visceral horror evoked by images of young, brutalized bodies could spur some sort of action to combat the country's gun violence epidemic.
The day after the Parkland, Florida, high school shooting, a Slate article echoed the demand for crime scene photos to be released, arguing that if Americans could actually see the bloodshed, we might finally say, "Enough is enough."
As a scholar who specializes in photojournalism ethics, I've thought extensively about how journalism can responsibly cover gun violence, balancing the moral imperatives of seeking truth while minimizing harm. I've also studied how images can galvanize viewers.
Fundamental questions remain: What is the line between informing audiences and exploiting victims and their families? Should the media find a balance between shocking and shielding audiences? And when it comes to mass shootings – and gun violence more broadly – if outlets did include more bloody images, would it even make a difference?
The limitations of a photo
On the same day of the Parkland shooting, my research on news images of mass shootings was published. Given the intense yet fleeting nature of media coverage, I wanted to examine how news outlets cover these crimes, specifically through the lens of visual reporting.
The study analyzed nearly 5,000 newspaper photos from three school shootings: Virginia Tech, Sandy Hook and Umpqua Community College. Of those images, only 5 percent could be characterized as graphic in nature.
Most depicted the shock and grief of survivors, family and friends. These elements certainly make up an important part of the story. Nonetheless, they create a narrative where, as the Slate article put it, "mass shootings are bloodless."
Does that matter?
Research has shown that when audiences feel emotionally connected with news events, they're more likely to change their views or take action. Photographs of violence and bloodshed can certainly serve as a conduit for this emotional connection. Their realism resonates, and they're able to create a visceral effect that can arouse a range of emotions: sorrow, disgust, shock, anger.
But the power of images is limited. After particularly shocking images appear, what we tend to see are short bursts of activism. For example, in 2015, following the publication of the harrowing image of a drowned Syrian boy lying facedown in the sand, donations to the Red Cross briefly spiked. But within a week, they returned to their typical levels.
The ethics of violent imagery
If a graphic image can inspire some action – even it's minimal and fleeting – do media outlets have an obligation to run more photos of mass shooting victims?
Perhaps. But other concerns need to be weighed.
For one, there are the victims' families. Widely disseminated images of their massacred loved ones could no doubt add to their already unthinkable grief.
Moreover, we exist in a media landscape that overwhelms us with images. Individual photographs become harder to remember, to the point that even graphic ones of bloodshed could fade into ubiquity.
Another concern is the presentation of these images. As media consumers, so much of what we see comes from manipulated, sensationalized and trivialized social media feeds. As a colleague and I wrote last year, social media "begs us to become voyeurs" as opposed to informed news consumers. In a digital environment, these images could also be easily appropriated for any number purposes – from pornography to hoaxes – and spread across social media, to the point that their authenticity will be lost.
There's another unintended consequence: Grisly images could inspire another mass shooting. Research indicates that news coverage of mass shootings – and in particular the attention given to body counts and the perpetrators themselves – can have a contagious effect on would-be mass killers.
Journalism has a responsibility to inform audiences, and sometimes a graphic image does that in a way that words can't.
However this doesn't mean that any and all gruesome images should be published. There are professional guidelines for deciding whether to publish these types of images – mainly, to consider the journalistic purpose of publishing them and the "overriding and justifiable need to see" them.
The extent to which graphic images should be present in our news media is an ongoing debate. And it's one that must continue.
A new image emerges
Following mass shootings, there's a predictable pattern of news media coverage. There are the breaking news reports filled with speculation. Then details of the perpetrator emerge. Reporters and pundits question whether or not it was an act of terrorism. Elected officials respond with "thoughts and prayers," and debates about mental health and gun control rage. Finally, there's coverage of the vigils and funerals.
But this time, there's something new: images of resistance.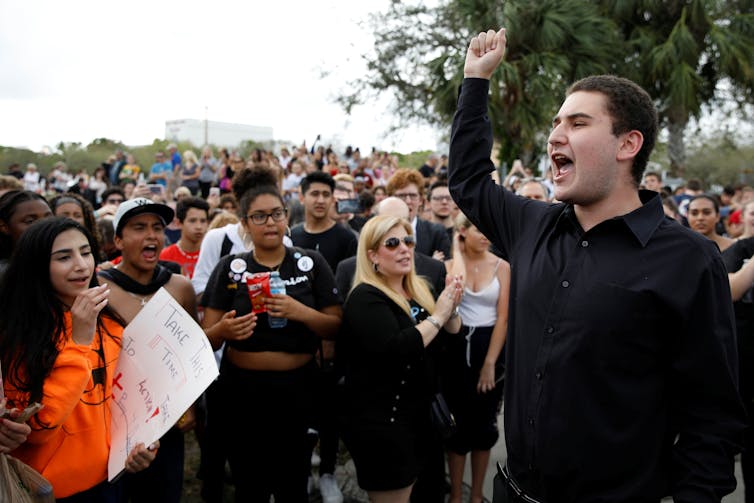 Students at Marjory Stoneman Douglas High School are stepping up and demanding action from the country's elected leaders.
In an impassioned speech, senior Emma Gonzalez chastised lawmakers, stating, "We are up here standing together because if all our government and president can do is send thoughts and prayers, then it's time for victims to be the change that we need to see."
This, in the end, may prove to be more effective than any images of bloodshed or grief. Fanning across the news outlets and social media networks, these images of resistance seem to be spurring action, with school walkouts and nationwide protests against gun violence in the works.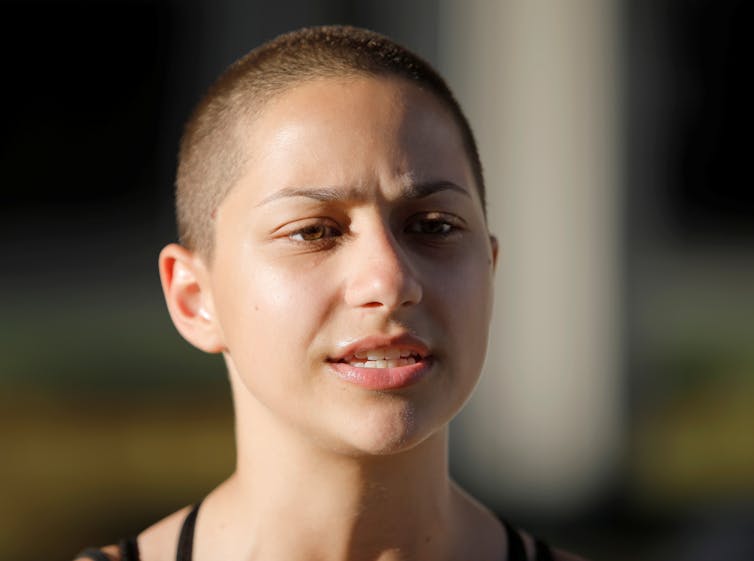 Illustrations of protest, courage and resilience – from high school students, no less – might have the power to sink in.
Perhaps it will be these images – not those of bloodied victims – that will stir people from complacency and move them to action.