This week's nominations for the Helpmann Awards, which recognise the performing arts in Australia, have caused a storm of discussion, particularly about the state of Australian musical theatre. The winners will be announced on July 26.
There are exciting new Australian works nominated in dance, theatre and cabaret. But it is undeniable that the musical theatre nominations reflect a strong bias towards international content and artists. Although it may be thrilling for audiences to see shows direct from Broadway, they provide few opportunities for Australian performers and creative teams at the highest level.
Brilliant Australian composer and performer Eddie Perfect tweeted:
There have been numerous attempts to increase support for Australian performers and original musical theatre, but major productions of original Australian musicals are the exception rather than the norm. None were nominated for Helpmann Awards this year. Dream Lover, a musical about the life of Bobby Darin using his songs, deferred its eligibility until 2018.
While Australian performers have been nominated, the shows they're in are dominated by musicals developed on New York's Broadway and London's West End such as Kinky Boots, Aladdin, The Book of Mormon, and My Fair Lady. Three international performers are nominated for Best Male Actor and one international performer nominated for Best Male Actor in a Supporting Role. All of the female nominees are Australian.
All of this year's Helpmann Award musical nominations for Best Direction and Best Choreography are international artists, including Julie Andrews (of Sound of Music fame), Casey Nicholaw and Jerry Mitchell. Of the musical theatre entries, the nominees for costume and scene design are also international artists.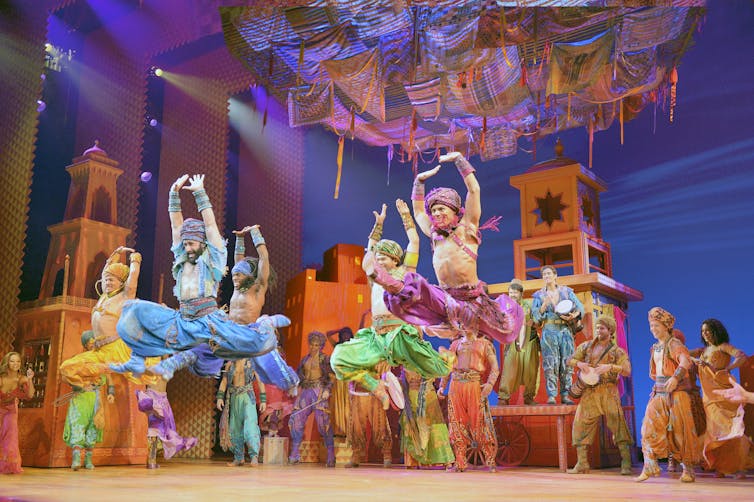 An international history
I strongly believe that this discussion should not be entirely about the Helpmann Awards, but about the industry more generally. Importing international productions and performers is not at all new to Australian theatre. In some ways, this could be traced back even to the J.C Williamson productions beginning in the 1870s.
These were mainly new productions of imported shows that had some overseas actors. But they generally used local directors (including Melbourne-born Minnie Everett, believed to be the only female director of Gilbert and Sullivan musicals at the time). After concern about the number of imported actors performing lead roles, they later started to include some of our great performers, such as Nancye Hayes in 1967's Sweet Charity and Jill Perryman in Funny Girl (1966).
It wasn't until the 1980s with productions such as Cats, The Phantom of the Opera and Les Miserables, that Australia's musical theatre industry focused on replicating Broadway and West End shows by bringing over their original creative teams. Even then there was a strong commitment to Australian talent which built the careers of many of our great musical theatre performers including Marina Prior, Anthony Warlow, Debra Byrne and Philip Quast.
Since then, our main-stage musicals have been dominated by international production teams, with some notable exceptions, such as David Atkins' new production of Hairspray in 2010.
What about Australian performers?
Australian musical theatre performer training is, undeniably, world-class, with Australian performers in demand on Broadway and the West End (such as Caroline O'Connor, Simon Gleeson, Hayden Tee and Hugh Jackman). But it seems that leading role opportunities for local performers are becoming more limited.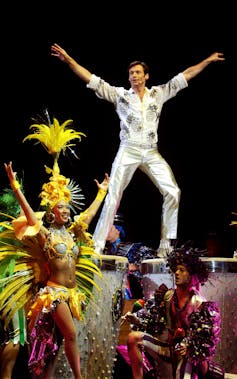 Outrage followed the casting of international performers in leading roles in Aladdin, My Fair Lady, and The Book of Mormon.
Until it was dissolved in 2012, an agreement between Live Performance Australia (the governing body of the Helpmann Awards) and the Media, Entertainment and Arts Alliance (MEAA - the arts and media union) regulated the number of international performers in Australian productions.
There was some progress in December 2016 when Kinky Boots producer Michael Cassel signed an agreement with the MEAA to prioritise Australian actors. Indeed, Cassel's production of Beautiful: The Carole King Musical has been cast entirely with Australian performers demonstrating this commitment. We need to see more of these commitments, and a greater commitment to training performers from diverse backgrounds.
Supporting new musicals
We have longed for the "great Australian musical" for many years. Major success stories over the years include Hot Shoe Shuffle (1992), The Boy From Oz (1998), Keating! The Musical (2005), Priscilla: Queen of the Desert (2006), Dusty (2006), Shane Warne The Musical (2008), King Kong (2013), Strictly Ballroom (2014), Georgy Girl (2015), Ladies In Black (2015) and Dream Lover (2016). Some of these shows have been well-received, even getting international productions. But of these only Keating!, Shane Warne, and Ladies in Black have entirely newly-composed musical scores.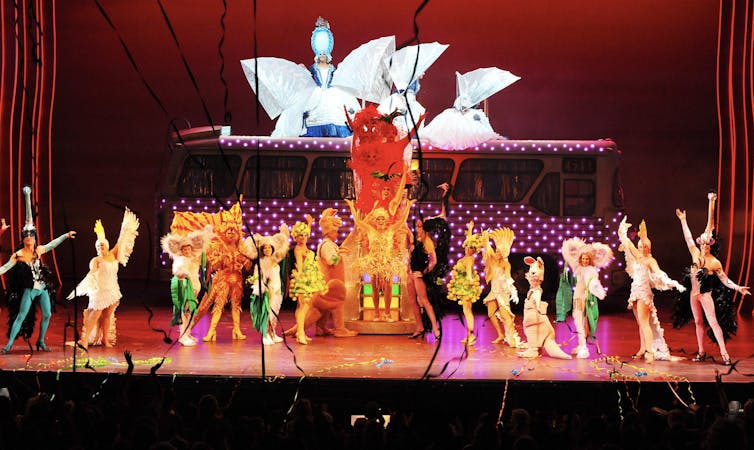 At a 2015 symposium, Jason Marriner, CEO of Melbourne's Marriner theatre group, proposed a million-dollar fund to workshop ten Australian musicals, then raise half the money to bring the productions to the stage. But to my knowledge, there have been no results of this proposal to date.
Previously, the Pratt Prize was the major force in the development of new Australian musicals, including Matthew Robinson's Metro Street and Paul Keelan and Gary Young's Side Show Alley, but this prize ceased in 2008.
There are now many excellent organisations supporting the development of new Australian musical theatre including New Musicals Australia, which receives government funding, and Home Grown. Both organisations are actively developing new works. Later this year Melba by Nicholas Christo and Johannes Luebbers will premiere at the Hayes Theatre.
Tertiary institutions around Australia have long supported the writing and workshopping of new Australian musical theatre, although there is no specific tertiary course in writing for musical theatre in Australia that I'm aware of.
Show us the money
There are many ideas to bring new Australian musicals to the stage. Replying to Eddie Perfect's tweet, David Yazbeck, a renowned Broadway composer, proposed a bank funded by a ticketing surcharge that could only be accessed for developing Australian shows.
In many ways, he is right – benevolence is the only really practical solution. Whether it comes from the corporate dollar, government funding or individual contributions such as crowdfunding is the real dilemma.
Government funding is unlikely, as funding for the arts in Australia is already stretched thinly. State governments could invest in Australian work with the hope of attracting the tourist dollar, as it has done for well known Broadway productions such as Wicked, but this could be an undesirable risk. There is already a wide range of government funding at all levels available for the development of new work (including fund matching which encourages crowdsourcing campaigns), but this often requires a performance outcome of some description.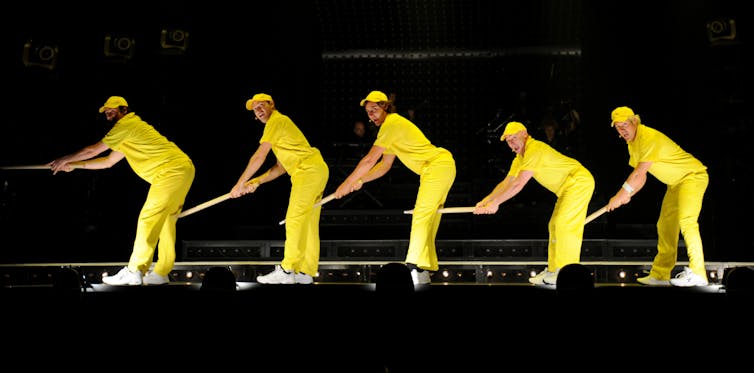 Funding from any sector most urgently needs to be put towards the workshopping and developing of Australian musicals during the writing process, rather than into performance. Broadway shows go through an extensive workshopping to try to refine the book and musical score to its best possible form. Early reviews of Strictly Ballroom and Georgy Girl suggested that these shows still needed work, and these are not isolated cases. If producers were able to take more time to develop works before trying to recoup their investment, the musicals may prove more successful both artistically and financially.
Companies that already receive funding (including the state theatre companies and Opera Australia) should also be encouraged to prioritise the development of new musicals, or, at least, new productions of existing musicals using Australian creative teams.
Eddie Perfect's comment that "original Australian music theatre is in real crisis" opens a can of worms. But by strongly supporting Australian performers, creative teams and the development of new Australian works, we may see an exciting new turn in the history of Australian musical theatre.