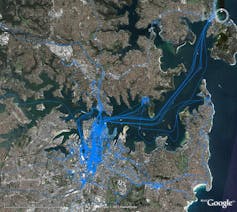 Cities are shaped by flows of people, money and goods.Tourists flock to their most famous sights, but guiding them through the city to their less obvious attractions can be lucrative for the locals.
The types of activities and spaces within cities that satisfy a tourist's needs are often concentrated into quite distinctive geographic areas. A large part of a newcomer's view of a city will be shaped by how he moves between these precincts in search of highlights.
The way tourists move through cities is complex and not well understood. However developing that understanding makes it possible to inform decisions about the location of services and facilities catering to tourists' needs.
It can also indicate the extent to which tourists are exploring the city and any difficulties or barriers they encounter when moving about, such as poor signage or unpleasant pedestrian environments.
Overcoming these problems may not only enhance the tourist's experience of a city but solutions may also benefit the wider community.
Until recently, tracking where tourists go relied on labour-intensive methods such as surveys, traffic and people counts, travel or trip diaries, and observation. But these methods tend to be imprecise and often intrusive.
Travel diaries change behaviour and the experience of a place simply by requiring the participant to regularly record their movements. Survey methods suffer from problems of inaccurate recall of activities and timing.
So for the past four years, researchers in the Urban Tourism Program at the University of Technology Sydney have been examining tourists' spatial behaviour using GPS technology, alongside more traditional methods.
This allows us to track tourists' trails precisely, telling us exactly where they go and when.
It has provided valuable insights into how tourists view and use the city, and raised issues about urban design features which can facilitate and enhance tourist experiences.
The methodology has captured the richness of the individual tourist experience and explained such things as serendipitous actions, barriers to movement, methods of orientation and decision-making.
To date, studies have been conducted in Sydney, Canberra, London and Melbourne. In each city tourists were recruited at their accommodation and asked to wear or carry a GPS device that would record their location, time, speed, distance and direction for a day.
They were instructed to go about their activities as they normally would, ignoring that they were wearing a device.
At the end of the day each participant was interviewed while viewing their trail, which had been downloaded onto a laptop and overlayed onto a Google Earth map.
They were asked to then explain their pattern of behaviour, in particular highlighting any difficulties they encountered while moving about the city.
Some basic demographic information about the participants was also gathered at this time.
The studies illustrate the extent to which spatial behaviour is influenced by topography, the location of attractions, transport services, and the availability of information. In summary:
Sydney
Tourists generally move around Sydney's core or "spine". They look at the Opera House, the Harbour Bridge, head into the CBD via the main shopping area, George Street, and come back down the adjacent Pitt Street.
Their trails suggest that Sydney has a successive arrangement. That means the links between different areas are fragmented, with limited ways to move between them.
Successive arrangement results in people becoming stuck in a core and finding it difficult to penetrate beyond the main areas. It is inward looking and limits perceived opportunities for experiencing a greater variety of urban spaces.
This type of spatial system tends to generate repetitive movements and the Sydney trails indicate a high degree of repetitiveness, with participants returning to the same places and using the same routes. So tourists are missing out of a lot of what the city has to offer.
Melbourne
Overall, tourists' spatial behaviour in Melbourne represents "simultaneous" arrangement. That involves a sequence of lively spaces connected to each other. It provides people with many choices in terms of sight and movement and is characterized by a system that enables the tourist to cover different parts of the city. Simultaneous arrangement encourages the tourist to freely move from one space to another, facilitating exploration and "by-chance-encounters". Characteristic of this arrangement are mixed use zones, spatially integrated networks and mixed transport modes.
Melbourne, with its laneways, free city circle tram and tourist shuttle bus, appears to offer the tourist an integrated system for making their way around the city. The city's focus on creative art and enlivening small places (micro spaces) may also facilitate "by-chance-encounters" for tourists. It enables them to easily and enjoyably make their way from one space to another.
Canberra
The geographic focus of many visits in Canberra is the Parliamentary zone on the southern shores of Lake Burley Griffin. In spite of numerous attractive cycle ways around the whole lake area, tourists only used paths to access sites such as the Canberra Visitors Centre and the National Museum of Australia.
Our research indicates an emphasis on the use of private vehicles and a disinclination to experience Canberra by cycle or foot. Canberra has a number of cycle paths around the city and between major attractions, but few tourists used these paths for either cycling or walking.
There is little apparent inclination to connect with Canberra beyond its "national capital" image.
London
Tourists' spatial behaviour around London also represents "simultaneous" arrangement. Major attractions are dispersed around the city, acting as anchor points to draw people to different parts of the city.
Our studies in Sydney, Melbourne and London show that tourists are prepared to walk between 10 and 30 kilometres a day.
The studies also indicate the importance of planning and designing streetscapes that offer respite, distinctiveness and sociability.
Walking the city enables tourists to become connected, which enhances the experience of being in the city.
According to Lynch in "Community Strengthening through Urban Sociability", connectedness is achieved in cities that allow maximum scope for activity for people of all ages and backgrounds. It is organised so that its form and functions are easily understood and provides access to resources, services and information when needed.
Tracking tourists reveals important information which can assist authorities to realise such goals.