A homeopathic flu product is being advertised in South Africa despite the fact that an internationally based review, and an update to it, have found the product to be ineffective.
The South African Advertising Standards Authority received complaints four years ago about the advertising of oscillococcinum, a homeopathic remedy which claims to relieve flu and flu-like symptoms. A year later it ruled that advertising of the remedy could be continued. The decision, however, was based on earlier out-of-date studies.
Its ruling, in July 2012, came just months before a Cochrane systematic review concluded there was insufficient evidence to show any benefit from taking the drug. A 2015 update to the review confirmed this finding.
But this conclusion has not yet been considered by the authority, and the remedy's advertising has continued unabated.
Misinterpreting the evidence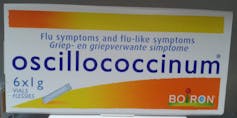 The authority evaluates advertisements by using its advertising code of practice, but only when complaints have been made. All advertisements should be legal, decent, honest and truthful. A complaint is initially ruled on by a committee. Its decision can be appealed through an appeals committee and ultimately a final appeal committee.
The complaint was eventually dismissed after going through all three committees.
The dismissal was based on a report from a general practitioner who is also qualified as a homeopath. The doctor used a Cochrane systematic review to provide evidence for the product. The review's authors' conclusion was that the evidence and data were not strong enough to make a general recommendation to use Oscillococcinum for routine or first-line treatment of flu and flu-like syndromes. Note that advertising is in effect a "general recommendation".
Systematic reviews are done on many medicines. These use predefined criteria to evaluate relevant studies of a particular medicine. Combining specified findings (data) from smaller studies can result in a larger sample size from which new or more accurate conclusions can be drawn.
The Cochrane Collaboration is the best-known, most-respected and credible organisation involved with systematic reviews in medicine.
The conclusions from the 2006 Cochrane review, which are now no longer accessible, were based mainly on combined data from two old studies. These studies used a sample size of less than 800 participants. It calculated that oscillococcinum reduced the time that someone was ill with flu by an average of 0.28 days – six to seven hours. This is clinically insignificant in the context of what is usually a seven day illness.
The other study the GP-Homeopath used showed that only an unpredictable seven out of every 100 people benefited from using oscillococcinum. Therefore, for 93% of people purchasing oscillococcinum, there is no benefit.
An explicit finding in the 2006 review was that:
… there is insufficient good evidence to enable robust conclusions to be made about oscillococcinum in the prevention or treatment of influenza and influenza-like illness.
The authority's final appeal committee gave more credence to, and placed more weight on, the GP-Homeopath's anecdotal "expert" evidence of treating patients with the product than the scientific data.
Updated findings
The January 2015 Cochrane review update re-confirmed that there was insufficient evidence that oscillococcinum prevents or treats flu or flu-like illnesses. It further stated:
Our findings do not rule out the possibility that oscillococcinum could have a clinically useful treatment effect but, given the low quality of the eligible studies, the evidence is not compelling.
The authors have strong connections to homeopathy. I consider their qualifier that the "possibility" remains that oscillococcinum could have a clinically useful treatment effect, despite the evidence not being compelling, not credible.
They themselves calculated that a sample of 1600 participants would be needed to provide an accurate finding. This is double the size of the sample in the combined studies used for the 2015 meta-analysis. The authors state that such a large trial would "require substantial financial and organisational resources".
A quasi-landmark ruling
The advertising authority's final ruling was considered by the complementary medicines industry to be a landmark ruling. Complementary medicines have not been adequately regulated in South Africa for decades, and more than 155,000 untested products were on the market at that time.
The Health Products Association of South Africa said:
We believe a necessary precedent has been set and like to think it contributes importantly to the debate on appropriate and relevant control of complementary and alternate medicines, for which the association has long been campaigning. Hopefully it will also help encourage sensible reflection on the free-for-all that has developed in place of this control.
Although this announcement was subsequently removed from the association's website, unless the advertising standards authority receives a new complaint about the advertising and packaging of oscillococcinum and rules against it, the product will continue to be misleadingly promoted.