"Burning Man is Silicon Valley", tech magnate Elon Musk declared last year. But the annual festival in the middle of the Nevadan Black Rock desert may seem an unlikely place to encounter the dotcom aristocracy. Its lunar-barren landscape is a world away from the plush campus greens of the Googleplex. Thousands gather together in tribes every year to stage musical and theatrical performances, exhibit art, run workshops, "gift" free booze and food (money is outlawed) and construct fantastical welded artworks mounted by dancers and DJs who blare out whomping dubstep into the cacophonous night.
The spectacle is all the more awe-inspiring given how inhospitable the terrain it inhabits is. The cracked dry earth is so alkaline that it can cause chemical burns on the soles of naïve barefooted burners – "playa foot" as it is known. Temperatures range dramatically from searing desert heat in the day to almost freezing at night. And dust storms are common enough to make facemasks and goggles an essential accessory.
But the festival has long been a magnet for the West Coast's digerati. The first ever Google doodle, in 1998, doubled up as both a tribute to Burning Man and an out-of-office reply for founders Larry Page and Sergey Brin as they made their way out to the desert.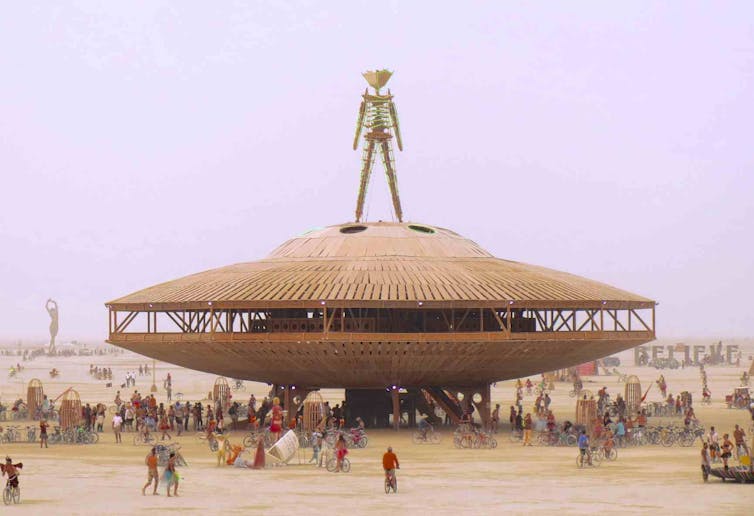 The list of other tech luminaries who have attended is long. It includes Facebook's Mark Zuckerberg, Amazon's Jeff Bezos, Reddit's Alexis Ohanian and Dropbox's Drew Houston. Up until recently they have blended in harmoniously. But lately reports of VIP-enclaves charging upwards of $25,000-per-head for five-star catered service have jarred uncomfortably with the festival's core values of decommodification, radical self-reliance and radical inclusion. Focusing on these extravagances of a select few, however, overlooks the broader affinity between the festival and the West Coast's technocracy.
Building utopia
The key to this relationship is their shared lineage in the counterculture of the 1960s, and more specifically, the New Communalist movement, that saw thousands of young Californians go back to the land to build utopian communities. In 1968 Stewart Brand created the Whole Earth Catalogue, a book in which he knitted together these disparate communities into a single forum. In doing so, it is widely recognised that he laid the ideological blueprint for the internet and, as it happens, Burning Man too.
Growing up in Cold War America, Brand feared both the rigid bureaucracy of the Soviet Union abroad and the creeping corporatisation of American life at home. For Brand the key to both individual and social salvation from these twin evils was to do away with rigid hierarchies, whether governmental or corporate, and replace them with distributed networks of technologically empowered individuals who would voluntarily come together in common cause.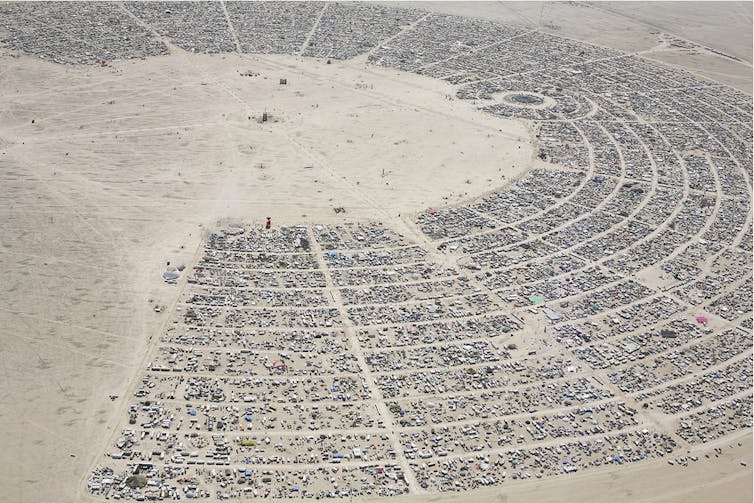 Likewise, Burning Man is best understood not as one community or centrally-directed event (such as more traditional music festivals) but as a network of lots of little communities that hive together once a year to build their utopia in the desert. The effigy they burn on the penultimate night of the festivities provides a focus, but each group also brings their own contribution: a music venue, a bar, a food tent, a workshop, a theatrical performance, an art car welded into an enormous motorised fire-breathing dragon.
Everything is voluntarily produced, funded via altruism and offered as a "gift", free of charge, to "the playa" (as the festival site is termed). Distributed and alone these groups can only hope to produce one small piece of the puzzle, but networked together they create a spectacle in the desert far greater than the sum of its parts. It is a form of socio-economic organisation that is analogous to the internet – we all produce the content free of charge, which when linked together creates the socially transformative online community of the world wide web.
California dreaming
The problem with utopias, however, is that they can only ever be imagined. The New Communalists never quite eradicated hierarchy and inequality. They reproduced traditional gender roles and they tended to be sustained by the wealth of their mostly white, mostly college-educated membership. The same demographic trends in Silicon Valley are widely reported.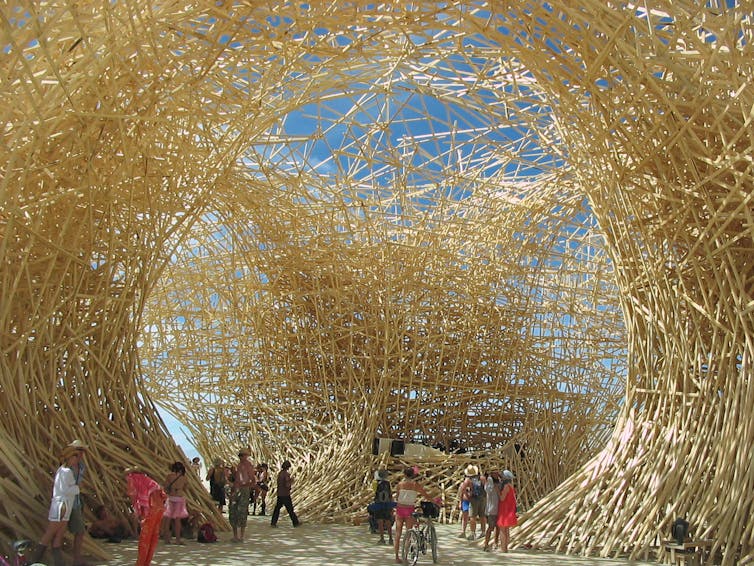 As for Burning Man, last year 87% of attendees were white, 58% male, 95.4% had some form of higher education and the majority of participants spent in excess of $1,000 to attend. The gifting economy may be noble in its intent, and Burners would say that the economic value of a gift is not the point, but a system based on altruism tends to appeal to the self-satisfying generosity of those with the deepest pockets.
In 2013 Google CEO Larry Page responded to a question about how the tech giant could help make the world a better place: "There are many exciting things you could do that are illegal or not allowed by regulation." What was needed, he proscribed, were safe spaces (like Burning Man) of free experimentation.
Burning Man is Silicon Valley because it is premised upon the same libertarian idea that social progress can be achieved through the free collaboration of a network of empowered individuals. It is a microcosm of what Richard Barbrook and Andy Cameron famously defined as the "Californian Ideology" – that unlikely amalgamation of "the free-wheeling spirit of the hippies and the entrepreneurial zeal of the yuppies" that has catapulted Google, Facebook, Apple and others to global dominance.
It remains to be seen whether the common good they have created is to the good of all.