Immigration policy will be a critical issue in forthcoming state (Victoria, NSW) and federal elections. The disproportionate impact of immigration on population growth and public infrastructure in Sydney and Melbourne is the key issue.
If we look to the example of another immigrant-friendly country, Canada, however, we can see how giving states and territories a greater role in immigration target setting and selection can help take the pressure off major cities without drastically reducing immigration rates.
Immigration certainly impacts on Australia's population to a greater degree than most Western nations. Among OECD countries, only Switzerland and Luxembourg have a higher percentage of foreign-born people than Australia.
Today, 28% of the Australian population was born overseas. The key issue for Australia is that immigrants are more likely to live in large cities than smaller cities or regional areas. According to the Australian Bureau of Statistics, 85% of immigrants live in major urban areas, compared to just 64% of Australian-born people.
---
Read more: Refugees are integrating just fine in regional Australia
---
Indeed, according to the International Organisation for Migration (IOM), Sydney is now equal-fourth in the world (with Auckland and Los Angeles) with the highest percentage of foreign-born residents (39%), while Melbourne is not far behind (35%). Nearly two-thirds of residents in Sydney, Melbourne and Perth have at least one parent who was born overseas.
A new state-based approach?
The stress that rapid population growth has placed on Melbourne and Sydney has recently become a topic of much debate. This week, Prime Minister Scott Morrison pledged to reduce the annual permanent immigration cap of 190,000. Australia accepted just 162,417 immigrants last year, the lowest level in a decade.
Morrison has also called for a major rethink of the "top-down" approach to immigration in Australia, allowing states and territories to request the number of skilled migrants they'd like to admit each year.
The states and territories currently have a limited ability to nominate applicants for certain skilled visas. But state-nominated and regional visa approvals have fallen in recent years to just over 36,000 last fiscal year following tighter restrictions.
Morrison wants to see a bigger role for states and territories:
This is a blinding piece of common sense, which is: how about states who plan for population growth and the Commonwealth government who sets the migration levels, actually bring this together?
What we can learn from Canada
The Canadian government gave provinces a say in setting targets and selecting economic immigrants – similar to Australia's skilled migration intake – in the early 1990s. Quebec was first to receive a high degree of autonomy in the process – it was given the right to set its own level and selection criteria for all economic immigrants. (The ability to speak French was a must.)
---
Read more: How Canada is inspiring Scandinavian countries on immigration
---
Quebec was also granted the right to set all of its integration programs, funded by Ottawa every year. The payments reached C$540 million this fiscal year, or C$13,500 for each newcomer.
After Quebec was given this authority, the other Canadian provinces demanded the same. But they received far more limited rights than Quebec. They can nominate the number of economic migrants they need as part of the national immigration target set by the federal government, but they can't independently set their intake target and selection criteria like Quebec.
While provinces nominate – or in Quebec's case, decide – annual intakes, all cases are still routed through Ottawa for application integrity testing and vetting for criminality, health and security. Ultimately, final approval rests with Ottawa.
Last year, the Canadian government set an ambitious target of admitting 1 million total immigrants from 2018-2020. The target for next year is 330,000 immigrants, of which about 190,000 will be economic migrants. The remainder will enter under the family reunification category and the refugee, humanitarian and protected category.
About one-third of the economic migrants (61,000) will be admitted through the Provincial Nominee Program. This figure excludes Quebec, which will set its numbers separately.
How the Canadian system encourages rural immigration
Giving the provinces a greater immigration policy role has helped to dramatically shift the settlement of immigrants beyond Canada's biggest cities.
According to immigration statistics, 34% of economic migrants in 2017 landed in destinations outside Canada's three most populous provinces, Ontario, Quebec and British Columbia – compared to just 10% in 1997.
After immigrants arrive, the key issue for the provinces is retention, since immigrants can leave at any time. The provinces put a strong emphasis on ensuring that economic migrants receive a strong welcome on arrival and are provided with support programs, including education, access to local migrant community networks and assistance finding a job for those who are not sponsored by employers.
---
Read more: Newcomers find jobs, prosperity in Atlantic Canada -- if they stay
---
One of the biggest success stories of the Provincial Nominee Program is thinly populated Manitoba, which has added 130,000 migrants since 1998. Ninety percent have gotten a job within a year of arriving and nearly the same number has ended up staying in Manitoba permanently. New arrivals also express some of the greatest feelings of belonging of all immigrants in western Canada.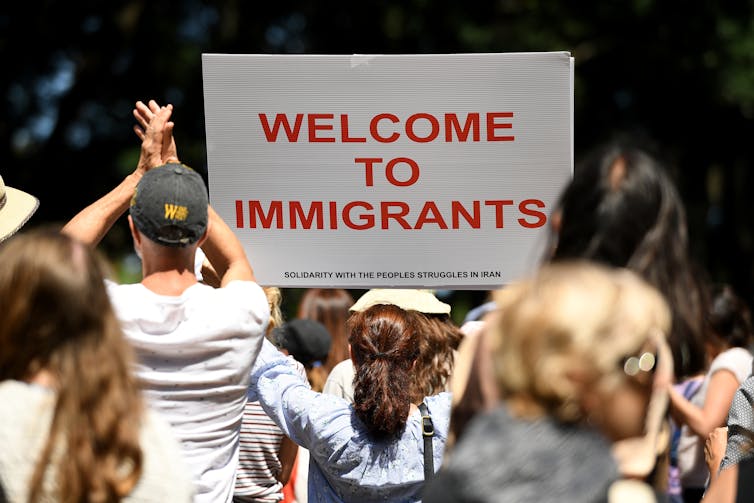 Why this could work in Australia
South Australia, Tasmania and the Northern Territory – as well as other regional and rural areas across Australia – want more immigrants and refugees.
Attracting immigrants to less-populated states is the easy part: those willing to settle outside Sydney and Melbourne can receive more points if they are skilled migrants, possibly making the difference as to whether they come to Australia or not. The key issue is retention.
---
Read more: Where are Chinese migrants choosing to settle in Australia? Look to the suburbs
---
My fieldwork with refugees in Australia has shown that the majority of these migrants love living in regional communities and have received a warm welcome from locals. Our research also found they are willing to stay in regional areas if they can get jobs there. Another way of encouraging more immigrants to settle in regional areas could be to offer them priority in the family reunion process.
Importantly, Canada also doesn't politicise immigration policy. Australia should follow Canada's lead by giving the states a bigger seat at the immigration policy table and resisting the temptation to blame immigration for complex growth problems in our overcrowded cities.
Reducing the immigration intake cap will have no significant impact on reducing congestion or strain on public infrastructure in Sydney and Melbourne, but it could severely constrain economic growth.