A few years ago, my then four-year-old daughter came home from preschool wanting to know who the soldiers were and why they died.
As a history teacher for nearly two decades, I thought I had it covered. This was my moment to shine as a parent and educator. Unfortunately, I had grossly overestimated my capabilities. I found myself stumbling over explanations and unable to find the words. Anyone who has tried knows it's nearly impossible to describe to a four-year-old the machinations of war in a non-terrifying way. How would I unpack the complex cultural participation in commemorations? I resorted to telling her:
I'll explain it when you're older.
I know, I know, shame on me.
But it got me thinking about how we position our students to engage meaningfully with wartime narratives and commemorations. I think we're missing valuable opportunities to teach students how to critically evaluate memorialisation as a historical artefact. This deserves our attention because artefacts embody the ideological value systems of the community that create it and the society that, 100 years later, continues to use and observe it. In critiquing Remembrance Day, students will likely learn a great deal about the social and political customs of their own community.
How do schools now participate in commemoration?
What happens now is fairly straightforward. Schools will consult a website such as the Australian Government Department of Veterans' Affairs to find a runsheet. Students will be organised to speak, taking heed of the advice for the commemorative address to "highlight the service and sacrifice of men and women in all conflicts". A wreath may be purchased, a minute's silence will be observed, and a recording of The Last Post and The Rouse and the Reveille will be played.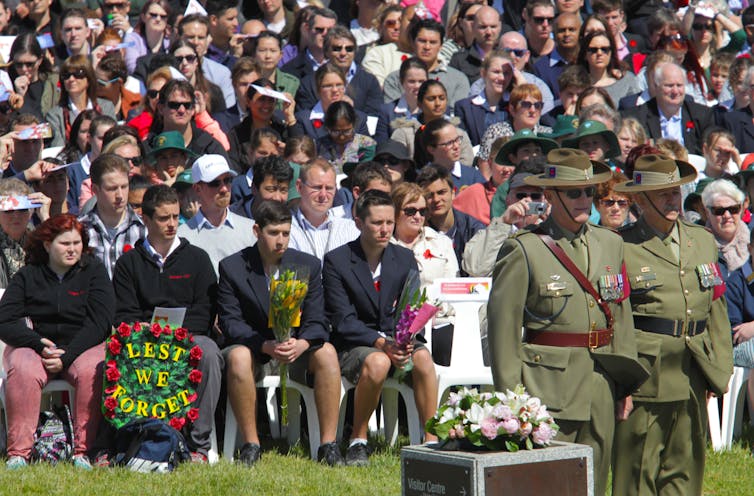 The concern is that uncritical engagement in the social act of commemoration is creating generations of historical tourists. These "tourists" are not enabled to understand that memorials and commemorative services are interpretations of the past, or that such services are a representation of how present-day society believes it should interact with that past. They simply pass through without understanding the full context. Asking pupils to organise and participate in a commemorative event, or providing red paper to make poppies, will not help students develop capacity to recognise that memorial sites and the framing of historical narratives are responses to the context of the time they were created.
Why is this important?
Memorials and commemorative services use rhetoric that speaks to national identities. Political leaders are adept at using these monuments, ceremonies and rhetoric to respond to current social anxieties in a way that often creates further divisions.
As historical tourists attending commemorative services, students (and the adults they grow into) are at risk of accepting without question nationalistic and political agendas that may not be in their best interests. I want my students and pre-service teachers to recognise the political, social, and economic factors that influence how a society conducts and participates in memorialisation of the past. Recognising and understanding this influence leads to active and proactive citizenship.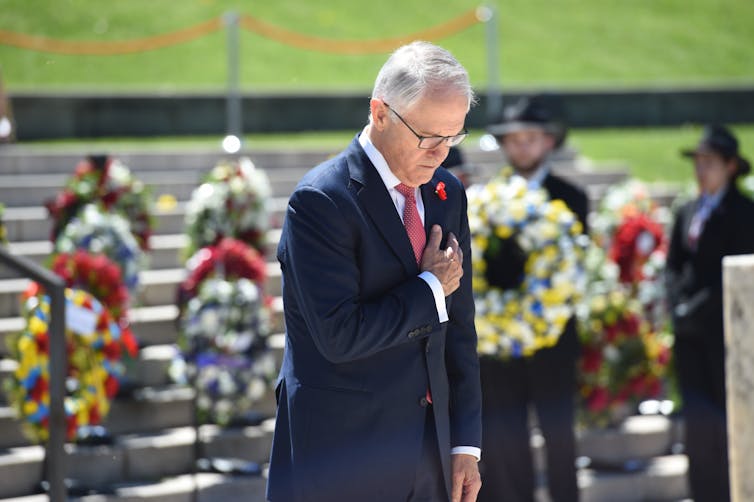 Preparing our students
How can teachers best prepare primary and secondary school students to think critically about memorialisation? Here is some sound advice from around the globe.
Monique Eckmann from the University of Applied Sciences Western Switzerland says:
the history of memory has to be studied; it is important to understand the context and the history of the decision to create a memorial or a commemoration day. Which advocacy groups took the initiative to propose a memorial place or a commemorative date, when, and for whom? What groups were involved in memorialisation politics? What victims are named, who is mentioned in the official memory, and who is not included in it?
Alan S. Marcus, assistant professor of curriculum and instruction at the Neag School of Education at the University of Connecticut suggests:
providing students with or asking them to research the public and private purposes and missions of the memorial, and asking students to discuss how they may influence what is displayed,

asking students to interview other visitors at the memorial to learn about their experiences and how those visitors understand the monument and the commemorative services conducted there.
Barnaby Nemko, Head of History at St Helen's School in Northwood, London, set his students the task of producing their own photographic memorial of the first world war, which would serve as a record for future generations. The aim was for pupils to construct their own First World War photo memorial based on what they experienced on their day trip to the site of Ypres. Subsequently, the pupils would have to justify their choice of "exhibits".
As a history teacher, I see great value in all these strategies. So I was surprised by the results of Nemko's study. The work his students produced displayed a complete lack of understanding that the photographic memorial they created was indeed an interpretation of the past. He found that the historical monuments elicited such a strong emotional reaction from the students that it impaired their analytical skills, which were otherwise well developed in relation to other kinds of historical accounts.
What about the place of commemoration in pre-school?
My second child attends a different preschool. Fortunately, there are no commemorative activities offered at this centre. I am more than a little relieved. I avoid stumbling again through the murky waters of attempting to explain war and remembrance to a child under the age of five. More importantly, I just don't think she's ready to engage in the horrors of war and the complexities of how societies construct narratives to memorialise such events.