Craft beer is big business. In 2021, craft beer sales in the US (the biggest beer market by sales) totaled US$26.8 billion (£22 billion) and represented 13.1% of overall sales of beer. And it's a growing market.
In 2015 there were 4,803 craft breweries in the US, by 2021 there were 9,118. The number of UK craft breweries, in that same period grew from 1,527 to 1,755. While the sales and growth are impressive, what matters more is what these figures represent – a growing interest in a superior quality beer from both producers and consumers.
Equally important is the ideological shift in the beer market they signify. Big beer (large corporate breweries such as AB Inbev) singularly seeks and values profit. Craft beer, while also motivated by profit, equally values community, quality and independence.
A brief history of craft beer
The craft beer movement began as an act of resistance. In the years after the second world war, the beer market had become controlled by big, corporate beer producers who offered little in the way of variety or quality.
Mediocre lagers produced by the likes Budweiser or Heineken dominated the market to such a degree that they were basically the only choice. Early craft brewers refused to accept this and began researching forgotten beer styles, honing their brewing skills and putting business plans together.
Their efforts produced better and more interesting beers, but through their rejection of corporate beer's profit-over-all ideology, they also produced a new community of enthusiasts with a value system that distinguished them from the corporate beer scene.
What makes a craft beer 'authentic'?
The values of the craft beer community (what it considers important about itself) revolve around authenticity and community membership.
Being seen as more or less in line with these values is how individuals or breweries rise and fall in status. According to anthropologist David Graeber, these values are also how the craft beer scene works to increase the status of craft beer within the rest of society.
For craft producers, authenticity is judged on production size (the smaller the better) and if, as Graeber explains, they "use the best ingredients, work slowly and purposefully, make the best beer possible, and care about every step in the process".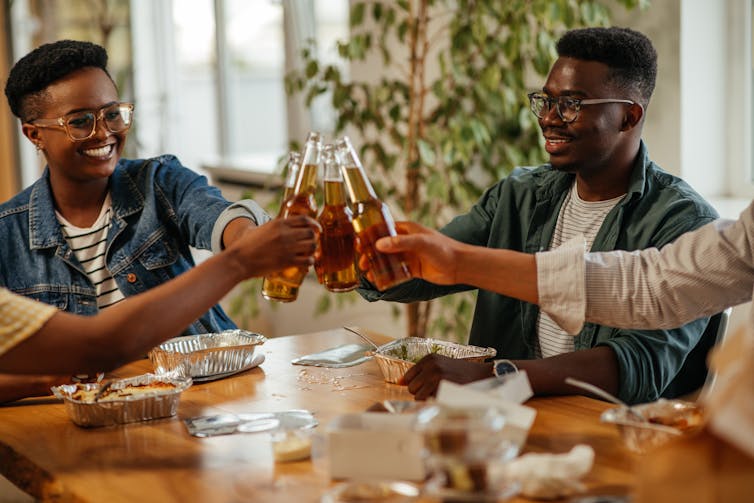 The idea of authenticity for craft consumers is more nuanced – they may not always drink craft beer, but still consider themselves members of the community. For enthusiasts, community membership is built around a shared interest in craft beer and a shared understanding of the group ideology.
Good reputation in the community for craft beer producers is achieved by making great beer, being present at beer festivals, partnering with pubs for tap takeovers and educating people so they can better appreciate craft beer. It's also achieved by working and sharing resources with other craft breweries.
Craft beer consumers become members in good standing by exhibiting their knowledge of craft beer, drinking it and discussing and promoting it to others. All of this reinforces the community's values but also works to recruit new members.
Craft values in practice
These values are not merely ideological – they manifest in practice. Craft beer festivals that showcase and promote craft beer as a better and more community-engaged option are examples of this, as are craft beer bars and pubs. But there are a few exemplary stories in the craft scene that really highlight its values and ideology.
During the great hops shortage of 2008, the industry was left scrambling. Jim Koch, of Boston Beer Company, opened his hops reserve exclusively to craft brewers so that they could continue to participate in the market.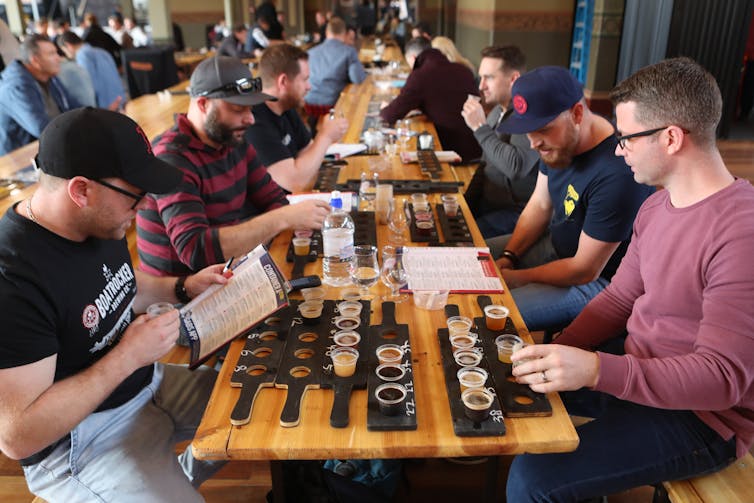 At a time when he could have squeezed needy breweries for profit, Koch asked that they pay only what the hops had cost. This cemented Boston Beer Company as a member in good standing and despite the brand's massive size it is still considered part of the craft scene.
Another is the Collaboration, Not Litigation incident. Two craft breweries, Avery Brewing and Russian River Brewing, found that they both had a beer named Salvation. Instead of engaging in a legal battle, the breweries collaborated on a beer that was a blend of both their versions of Salvation – "Collaboration, Not Litigation Ale".
These stories are often rolled out when the socially focused community values of craft beer come into question. They serve as a kind of evidence that there is a tangible community around craft beer and that it is more than a collection of people who like superior beer.
There is also a well known example of craft beer policing its own boundaries. In 2011, Greg Hall, owner of the craft brewery Goose Island retired. AB Inbev stepped in and bought the brewery. They kept the name but cut corners, reducing the beer quality in every measurable way.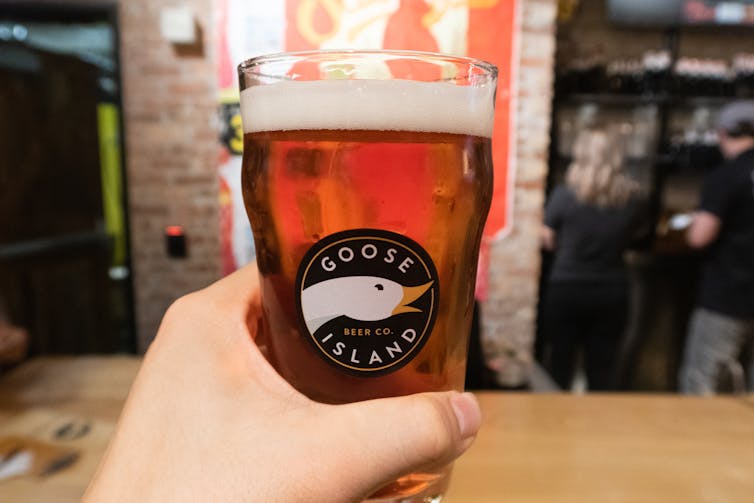 Despite this inferior product being released under the Goose Island label, the craft community was not fooled. They saw this faux craft beer as a cynical money grab and an intrusion on the culture. Goose Island had eschewed the values and broken the community's trust. They were no longer considered craft and were lumped in with the other profit-over-quality corporate breweries.
Sure, craft beer is a product, but it is also a practice and a community. Craft breweries seek profit, but unlike big beer, they are not willing sell an inferior product to increase revenue. Rather, they seek to make innovative and inspired products.
Craft drinkers know this and reward these breweries with their attention and purchases. This community is unified around their shared values – break the values and you violate the community standards. Adherence to them keeps the community growing.
So, crack open a craft beer, enjoy the effort that went into making it, support the community and do your part in resisting the corporate mediocrity that big beer tries to foist on us all.